Andre Debose #4 of the Florida Gators runs after a catch before being forced out of bounds.
August 25, 2011
There has been little love offered in the direction of the Florida Gators this summer. In fact, the coaches and writers thought so little of the 2011 Gators, they nearly left them out of their Top 25. The Gators have endured a major overhaul in the coaching staff and suffered a few casualties along the way, most notably the exit of Janoris Jenkins, a potential first-round draft pick.
So the Gators have gone through camp with a chip on their shoulders, adopting the mentality of their coach, as a blue collar group, guaranteed to outwork their opponents, pledging to prove everyone wrong and shock the college football world.
The real question is whether or not this is possible. Every team in the nation feels they are going to shock the world in August. They seem to have a different opinion by October.
But this team might have reason for optimism. After all, Urban Meyer hardly left the cupboard bare when he exited for the little league fields. In fact, his last three recruiting classes finished Nos. 1, 5 and 4 in the nation, according to ESPN class rankings. The 2010 class was heralded as one the top classes ever recorded. Of that 2010 class, 15 players are expected to either start or contribute in 2011. The defensive line that Will Muschamp has suggested is thin starts four defensive linemen that were considered five star recruits. He is right though, since the SEC is such a defensive line league, there is a need for depth at the position, but the Gators have to feel good about their starting rotation.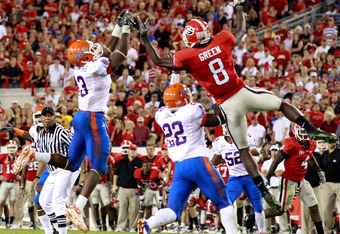 A.J. Green #8 attempts to catch a pass against Jelani Jenkins #43 and Matt Elam #22
The Gators also have great depth in the secondary, where Matt Elam, a former five star recruit from the 2010 class, attempts to take over for Ahmad Black. The Gators linebackers have two returning starters from 2010 in Jelani Jenkins and Jon Bostic, and Muschamp seems convinced Ronald Powell will be a major threat at the Buck position. Barring injury, the reality is there might be two or three schools in the country that have more talent on the defensive side of the ball than the Gators.
The offensive side is a little more suspect. Charlie Weis seems to have successfully implemented his offense in the offseason, the question is whether Johnny Brantley can shake off his 2010 funk and successfully lead the Gators. No one questions Brantley's skill set, but he's yet to prove he's a winner, and he won't have much room for error with the talent behind him.  
I for one hope Brantley returns with a fabulous season, I think he endured the brunt of the 2010 shortcomings, especially when Steve Addazzio ran off to the MAC. He's handled himself with a lot of character, I think all of GatorNation is pulling for him to succeed.
Behind him, he has tremendous talent in Chris Rainey and Jeff Demps. When you add in Trey Burton, Mack Brown and Mike Gillislee, the backfield offers size, speed and quickness.
The tight end position is anchored with Jordan Reed, who has proven to be a gamer after stepping in at quarterback in 2010. He creates major mismatches in the secondary, the way Aaron Hernandez did in 2009, and may be more athletic. Gerald Christian has great size and athletic ability, also, and will provide a nice punch when the Gators move to a two tight end set.
The offensive line is the group most in question, since they have to replace so many starters. However, Matt Patchan is back after missing all of 2010, and has shown great signs of staying healthy through camp. Xavier Nixon and Jon Halapio were consistent starters throughout 2010 and will add plenty of game experience to the front. Chaz Green, James Wilson and David Young have all contributed and Jonathan Harrison and Ian Silberman continue to impress the coaching staff on a daily basis.
No one is going to deny the Gators schedule is downright ugly, especially the month of October, which offers up Alabama, LSU, Auburn and Georgia. With South Carolina and Florida State waiting at the end of the road, there would be no shame in an 8-4 season; however, something tells me the Gators are better than 8-4. Maybe it's the talent, maybe it's the staff, or maybe it's the fact that Muschamp is known as a poor-mouther, who knows, but something tells me GatorNation is in for a surprise in 2011. This team carries a persona about them, a mental toughness, which could just translate into a few wins, maybe even a few upsets. Who knows, they may just shock the college football world.
Like the new article format? Send us feedback!