Auburn Football 2011: Clint Moseley: Take a Lesson from Kodi Burns
August 23, 2011
A Little Background
Clint Moseley came to the Plains of Auburn in 2009, a quarterback with a stellar high school career. He led his Leroy, Alabama high school team to a 15-0 record and their third state Class 2A championship. He also won MVP honors in that game and All-State honors for the season. 
Auburn recognized his talents and Moseley was red-shirted in his freshman season, given the wealth of quarterback talent ahead of him, such as Chris Todd, Barrett Trotter and Kodi Burns. 
As I've said before, red-shirting only means the coaches have faith and that you get to learn more with one additional season to play the game. I believe the Auburn coaching staff in 2009, Head Coach Gene Chizik's first year, believed enough in the future of Clint Moseley to save his talent for future greatness. 
Fast forward to 2011. Clint Moseley, as a redshirt sophomore was embroiled in a heated quarterback competition with Barrett Trotter and freshman Kiehl Frazier.  
Lots of attention was on Frazier for many good reasons. 
He was a 5-star national high school recruit, a dual-threat quarterback with incredible stats and a style that resembled Cam Newton. However, even Frazier admitted he needed to learn the system further and gain some maturity with the Tigers. Evidently, Offensive Coordinator Gus Malzahn agreed but there was a lot of praise for Frazier from Malzahn and Chizik as to how quickly he learned the system and how far he came in the 2 weeks of preseason practice.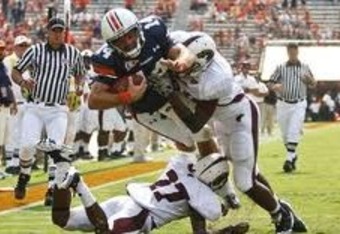 Barrett Trotter has been in the Tiger system one year longer than Moseley and has learned a lot through the competitions of Chris Todd, Kodi Burns, Moseley and Cam Newton. 
Trotter too was red-shirted early on, and he maintained a good attitude through it all. He was patient enough to know his day would come as it did this year.  He was chosen as the Auburn starting quarterback with Moseley as his backup. 
Kiehl Frazier's placement at third runner-up didn't faze that freshman at all since he seems to understand where he has to go. His fate, as to redshirt or not, is still up in the air. 
Clint  Moseley's Reaction
I provide this lengthy preamble as background for the reaction of Clint Moseley to the announcement that Trotter would start and he would be the backup. 
Standing in front of microphones to provide some comments for the press, Moseley tried hard to fight back tears, his emotions clearly showing.  He said, "Biggest disappointment of my life, period." Further, he said, "My whole life is right now," and at the beginning of the preseason he had said, "Twenty years of doing what I love to do and it's all right now. Now or never." I don't think he's put in twenty years playing the game, but I get what he's saying.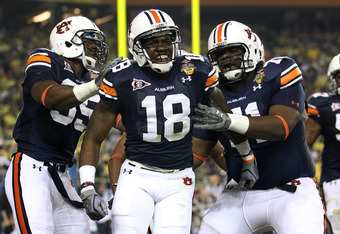 I also completely understand working so hard toward something you truly want in your heart; it's a passion for the game and I can relate and empathize. But, football operates as a Team and it's not all about you.  
Kodi Burns as an Example
Kodi Burns understood that Team attitude and the idea that there is no "I" in the word. He repeatedly experienced the same disappointment; I'm sure, over his entire career with Auburn.  
In his first year, there were hopes by him, the coaches and the fans that he would be the starting quarterback; aspirations that were never completely fulfilled. Still, Burns was all about a whatever-I-can-do-for-the-team attitude. 
Coming into the program as a dual-threat, Kodi played some great football at quarterback, albeit sporadically. He could run and pass with the best of them on occasion, but some consistency is needed in order to maintain the starting role. His destiny as a consistent starting quarterback was not fulfilled. 
So Kodi settled into a utility role at running back and receiver, doing what he could for the good of the team. He seemed to relish the position. But, it wasn't all about his ability. Kodi became a team leader, rallying the troops with his positive attitude and his performance. 
Who can forget his touchdown reception in the BCS title game or the game-winning run in the Chick-fil-a Bowl against Clemson in the final seconds.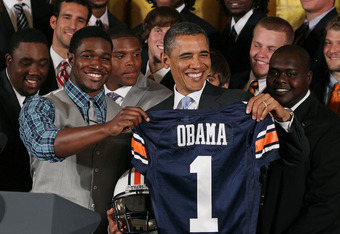 The fans loved him and the team loved him. It didn't matter that he wasn't in the starting quarterback role; he was playing Auburn football. 
Kodi left a mark on last year's team, so much so that they appointed him to present a championship jersey and helmet to President Obama on their visit to DC.
I have to believe that this legacy lives on with the team that takes the field this year. 
Clint Moseley was there and should certainly understand what I'm talking about.  He would be wise to take a page from Kodi Burns' playbook and get behind the starting quarterback and get behind the Tiger offense should injury come calling for Trotter.
The backup quarterback position is a vital role.  He could be the one that makes a difference for the Team first and for himself, no matter what position he plays. 
But, after his last appearance before the press, I believe Clint Moseley has some soul searching to do and figure out whether it's the Auburn Tigers he's playing for or himself. If he needs some inspiration, just look to Kodi Burns.