Samir Nasri to Manchester City: Why Arsenal's Season Is Already in the Dumpster
August 23, 2011
The gift of hindsight has surely left Arsene Wenger ruing his inaction during the first two and a half months of the summer transfer window. The French manager, who has gained respect for the resilience he displays in holding on to his best players, has looked powerless in his attempts to prevent club captain Cesc Fabregas and star player Samir Nasri from departing the Emirates.
Wenger finds himself in an almost unprecedented situation. Despite antagonising rival fans over recent seasons, lacking the financial prowess of his rivals, and despite not winning a trophy for six years, the Frenchman has always been viewed with an incredible amount of respect. Now it seems that in some circles that respect is starting to turn into pity. Samir Nasri's imminent departure to Manchester City is an unfortunate twist of fate that has come at the most unwelcome of times for the Gunners.
Their season has got off to a horrific start; they were poor against Newcastle and outperformed by Liverpool following the red card of Emmanuel Frimpong. Two key players are suspended for the next two league games, Jack Wilshere is injured for another two weeks, qualification for the Champion's League is far from a certainty and Arsene Wenger has been given a two match European touchline ban by UEFA.
Although Samir Nasri has only had one truly great season at Arsenal, he is undoubtedly their best player following the departure of Cesc Fabregas. Despite the fiasco surrounding his future, he was the best Gunners player against Liverpool. No other player looked half as menacing in Wenger's midfield.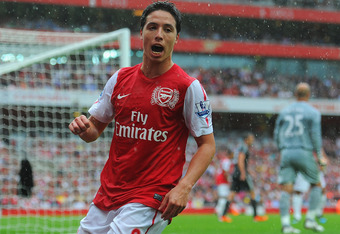 The 23-year-old midfielder's versatility is an invaluable asset to Arsenal. He is capable of playing in both the centre of midfield and out wide.
He is a competent passer of the ball, a good decision maker and is capable of turning defence into attack in a matter of seconds, simply by running with the ball at his feet.
The only other players in the Arsenal squad capable of doing this are Gervinho, Theo Walcott and Aaron Ramsey, and none of them do it as well as Nasri does.
Furthermore, he has developed a keen eye for a goal. Scoring goals is something that Arsenal has long struggled to do, and without Nasri in the team, Robin Van Persie's workload will only get heavier.
It is difficult to see how Arsenal can have a good season unless things change, quickly.
It is easy to get carried away and condemn Arsenal to a season of failure, but the reality is there is still time to turn things around.
If the club are to proceed, however, Wenger will have to go against his normal character and break the bank to sign players.
Rumours suggest that Wenger is considering launching bids for Eden Hazard and Yann M'Villa. Both of these are excellent young players and would make good additions to the Arsenal first team.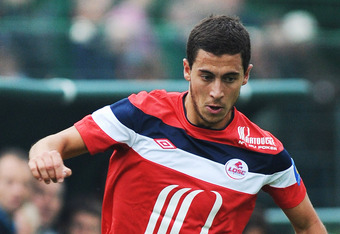 Eden Hazard is effectively a like for like replacement for Samir Nasri. He is capable of playing wide but likes to drift into the centre. He is quick and a good dribbler of the ball. Most importantly, he has the potential to create and score goals. Last season he contributed 16 goals to Lille's cause, scoring nine times and providing seven assists.
However, Hazard is very short. Arsenal's team already lack the ability to play tough, physical football and the arrival of the twenty-year-old Belgian will not improve this problem.
Yann M'Villa will.
The French international, of Congolese descent, is a tough, hard hitting and physical defensive midfielder. He is perhaps good enough to play in the Arsenal first team and he will certainly be brilliant in a rotation system.
Arsenal desperately need strength and aggression in their midfield, and M'Villa will provide this. His arrival, if it does happen, could however impede Emmanuel Frimpong's development. The 19-year-old Ghanaian-born Englishman seems to have a big career ahead of him.  
What these signings—should they happen—do not provide, however, is experience. It is essential that Wenger brings experience into this very young Arsenal team, because frankly, they looked uncomfortable against Liverpool.
For a top four team in the Premier League, this is not acceptable.
Arsenal need to sign players who can make a contribution now and not four years in the future. Players such as Per Mertesacker, Christopher Samba and Phil Jagielka have all been linked to the club and are all players who could make an immediate contribution to the Gunners' cause. They will however do little to ease the club's attacking woes.
Arsenal needs a midfielder who is able to provide a cool head and creative spark to their midfield. Yoann Gourcuff serves as a fine example.
Gourcuff's career trophy haul already boasts a Champions League winner's medal, a Club World Championship winner's medal and a French domestic season treble. No player in the Arsenal dressing room can look back on such an impressive CV.
The France international's style of play has led to him being compared to Zinedine Zidane. He has quick feet, is comfortable running with the ball at his feet, and is able to link the midfield to attack supremely well, either by teasing runs or piercing through balls.
If Arsenal do not add quality to their squad by September 1, it is difficult to speculate what they could achieve this season. They do have a team of very talented players, and it is possible that they could muster together a series of performances capable of winning the FA or League Cup. What they will not win is the Premier League—they are far too inexperienced.
The departure of Samir Nasri is an unwelcome blow to Arsenal football club, although it is not like the fans and manager did not see it coming.
Although one player does not make up a team, Nasri's departure will turn the rift Fabregas left in Arsenal's midfield into a gaping canyon.
If Wenger does not improve the situation in the next week, it cannot be refuted. Arsenal's season has already been severely compromised.