Derek Jeter: What the Captain's Resurgence Means to the New York Yankees
August 23, 2011
Funny to think at the start of the season many people in the baseball world, New York Yankees fans included, were writing off Derek Jeter as being finished.  Since coming off the DL and getting his 3,000th hit, Jeter has looked like his old self in the batter's box.  With Jeter's resurgence at the plate, it creates a new slew of scenarios for the Yankees.
Jeter spent the majority of the first half of 2011 with an average hovering around .260. 
I figured once Jeter recorded his 3,000th hit, the Yankees would move him down in the order.  After all, the Yankees were 14-5 without Jeter in the lineup during his DL stint and were playing great station to station baseball.  The on-base percentage at the top of the order was over .400 and the Yankees weren't so dependent on home runs.
Then Jeter returned. 
Many groaned at the thought of him going back to the top of the lineup because of the great success the Yankees had without him.  Nevertheless, Jeter came back and recorded his 3,000th hit from the leadoff spot.  It was a memorable day to say the least, getting his 3,000th hit with a home run off Rays' ace, David Price.  His game winning hit capped a 5 for 5 day and little did we all know it would be the beginning of Jeter's surge. 
Coming into today, Jeter's average stands at an impressive .290.  Impressive because it is 30 points higher than what he had for the majority of this season.  In his past 10 games alone, Jeter is hitting an incredible .465, an average that speaks for itself in regards to how hot he's been.  It appears that Jeter is back for now and if he sustains, the Yankees will have some decisions to make.
It was unthinkable that the Bombers might be considering a switch at short stop after the 2011 season.  Eduardo Nunez made the Yankees 25-man roster to start the season and it seemed he might be prepped to take over for Jeter if the Captain's struggles persisted.  It seemed realistic the way Jeter was going, but now it's quickly becoming unthinkable again.  So where does that leave Nunez?
The Yankees have a few options in regards to dealing with one of their top prospects.  First of all, we need to get something straight.  Before Nunez can even be considered as an everyday player he has got to get his fielding situation under control.  We've seen some great strides in his game offensively, but in the field, he has been less dependable than the forecast of a Meteorologist. 
Nunez has committed 16 errors this season while filling in at short stop and third base.  That is an alarming stat considering he hasn't been an everyday player and he MUST correct that if he wants to make it in the Majors.
So what are the Yankees options? 
Nunez will clearly have to wait at least another entire season to take over for Jeter at short stop.  With Posada coming off the Yankees' payroll next season, that will free up the DH for the Yankees, a role that may fit Alex Rodriguez very well.
I say that because A-Rod has had injury problems for a few years now, battling hip and knee issues.  It's just a matter of time before the Yankees move him to DH full time to ease his work load and maybe keep his bat in the lineup for more games a year.  Nunez could be the Yankees' solution to replace A-Rod, but not if he continues his horrid defense.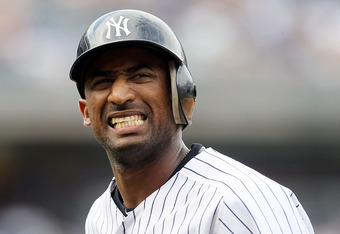 There is no doubt the Yankees will look to add another starting pitcher to their rotation this upcoming offseason to back up CC Sabathia.  With Nunez being highly touted in many circles, he would be a great trade chip to go along with some of the Yanks other top prospects to bring over a top-flight starter. 
By top-flight starter I mean King Felix of course.  That is if that dead-end organization in Seattle ever wants to part ways with him.  From my lips to God's ears.
No matter how you look at it, Jeter's return erases the impossible decision to replace him and creates several new options for the Yankees.  Things will stay the same for now, but expect that to be a different story come 2012.
FOLLOW ME ON TWITTER:  @michaelmoraitis