Signing Taylor Mays Is Too Little Too Late for 2011 Cincinnati Bengals
August 23, 2011
News broke this morning that the Cincinnati Bengals have acquired second-year safety and former second-round pick Taylor Mays from the San Francisco 49ers in return for an undisclosed draft pick.
The safety position was widely considered to be a primary concern for the Cincinnati Bengals during training camp, but when Donte Whitner chose the 49ers over the Bengals, Mike Zimmer and the defense seemed content to make do with what they already had.
It proved to be a head-scratcher for Bengals fans, and following the trade, we get the sense that the Bengals brass expected that they would have to make a move eventually.
Following two preseason games where the Bengals gave up a total of 61 points, the trade for Mays seems to be an admission on the part of the Bengals that perhaps they were wrong and they did in fact need help. It certainly makes a change from the traditional procedure.
Mays played in all 16 games in 2010 for the 49ers, making 38 tackles, resulting in one forced fumble and two passes defended.
Mays is the third member of the San Francisco 49ers defense to join the Bengals ranks this year, and despite a pedestrian rookie season, there is still reason to believe that Mays has all of the physical tools needed. Whether he fulfills the potential his huge size and athletic ability afford him, is a judgement for a later date. 
So what does Taylor Mays mean to the Bengals in the grand scheme of things? Potentially quite a lot. Mays was a highly valued prospect coming out of college, with his size and athleticism leading many to peg him as a first rounder.
However, Mays' stock began to fall in the run up to the draft due to a perception that he struggled with coverage assignments, and being turned around and did not seem passionate about improving those areas of his game.
This is concerning, as despite many suggesting that Mays will be used by Zimmer as a smash-mouth, pass rushing hit machine in Cincinnati, the question of his coverage abilities still remains unaddressed. It should be remembered that seven of the eight touchdowns given up by the Bengals this preseason, have been off of pass plays.
While the AFC North is a division where a run-stuffing defense is integral, the Bengals will have to rely on Mays to be much more versatile than he was in San Francisco, as the likes of Ben Roethlisberger are no strangers to picking apart the Bengals secondary.
While Mays could make a difference in Cincinnati, it will likely not come immediately. Much like the legions of new faces on both sides of the ball, Mays will need time to adjust. With only two weeks until the regular season and Mays only likely to practice for at most two days before the Bengals meet the Carolina panthers on Thursday, Bengals fans might have to wait until next year to make a fair judgement on Mays.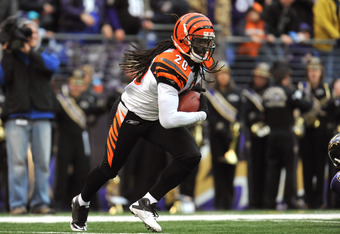 The situation that Mays finds himself in echoes Jacksonville Jaguars former first-round pick Reggie Nelson who has revitalized his career in Cincinnati at free safety after being traded to the Bengals on cut-down day last year. Following a strong preseason from Nelson, Mays will likely compete with Chris Crocker for the starting strong safety position come opening day.
Regardless of whether or not Mays makes an immediate impact, he certainly adds depth to a Bengals backfield that appeared paper thin. With 134th overall pick Robert Sands perceived as a project, and Gibril Wilson recovering from a torn ACL, the Bengals will welcome another body in the backfield.
How the Bengals intend to use Mays is yet to be seen without having seen him practice with the team. I am not suggesting that he is a poor acquisition. Instead, much like the incredibly green Andy Dalton, Mays will very much be a work in progress this year, and his transition may take quite some time.
Despite familiar faces in former 49ers Nate Clements and Manny Lawson, plus fellow USC alumni Rey Maualuga and Keith Rivers, the Bengals defense remains significantly new as a collective, and there is a steep learning curve ahead.
Mays' first order of business will be to gel within a new system and develop consistency with new-look defense, which may take some time considering the close proximity to the regular season that he finds himself in, with vastly fewer practice hours remaining before opening day.
Yet, following the Whitner debacle, and the Bengals subsequent shaky performances in the preseason, I can't help but feel like Lewis and company are trying desperately to plug holes in a sinking ship. I hope I'm wrong, but the Bengals have had plenty of time to bring Mays into the fold, and have subsequently sacrificed a lot of his practice time through some questionable business decisions.
But I suppose that's normal for our Bengals...