Little League World Series 2011: The Best and Worst Thing Ever on TV
August 24, 2011
I want to hate the Little League World Series. I really want to hate it. Still, every year I find myself right back in the same place, sitting on the couch during a beautiful late-August weekend, rooting for a scrappy bunch of kids from somewhere in North America to beat another team of kids from halfway across the world, equally as scrappy in their own way. The ping of the bat, the random cowbells careening down from the over-anxious parents in the stands…the Little League World Series is America.
There really is so much to love about the Little League World Series, yet every year I start to hate it more and more. Is it me? Am I just getting too old and too absorbed in my own family to care about a bunch of 11 to 12-year-olds lacquering on 15 pounds of eye black and lining up one by one trying to be a hero, three strikes at a time?
My eight-year-old nephew is glued to ESPN, hoping to be one of these kids in three or four years. So why do I hate it so much?
When I was growing up, the Little League World Series was a few games on national TV, with the rest of the tournament completely and utterly off the radar. As the ratings grew each year and savvy TV executives knew they could squeeze more human interest out of each additional game aired, they went from showing the championship game, runner-up game and semifinals, to today—when ESPN has not only scheduled all 32 games in Williamsport, but added more than a dozen Regional tournament finals to their coverage over the last three years.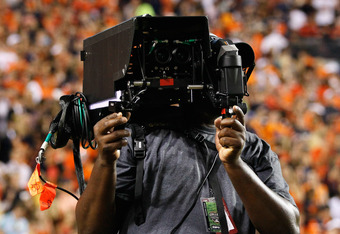 Seriously, Little League Regional games are on national TV...and nobody seems to have a problem with this.
Earlier this month, one of the games on ESPN2 bumped the start of a soccer match between the United States and Mexico to ESPNews and NOBODY SEEMED TO HAVE A PROBLEM WITH THIS. Well, to be fair, soccer fans—as well as some inside ESPN—were livid about the decision, but by-and-large, nobody seems to have a real issue with 11-year-old kids preempting world-class professionals on TV.
Frankly, the 11-year-old kids may pull down a better number. It's crazy to think like that, but Little League has meant big business for ESPN for years. I found an old press release from ESPN in 2009 that boasted more than a million viewers of their games on ESPN or ESPN2 and over 2.2 million, on average, who watched the games on ABC, with the championship game that year drawing more than 3.8 million viewers. And that was two years ago. Obviously the numbers have grown since then or ESPN wouldn't be dumping all this time and effort into showing so many games, almost 20 of which are telecast in 3D!
I am trying so hard to refrain from turning this into a "won't someone think of the children" kind of column, but I do find myself wondering if anyone actually is. Then I see how wide-eyed these kids are and I have to remind myself that it's nothing more than a few baseball games on national TV. It isn't like the parents are turning these kids into child actors or anything. You don't see old Little Leaguers lining up for rehab or hanging out on a Ferris wheel with Michael Jackson's monkey (note: not a euphemism). Maybe it's okay to exploit these kids…just a little…if it makes them kings of their town for a while.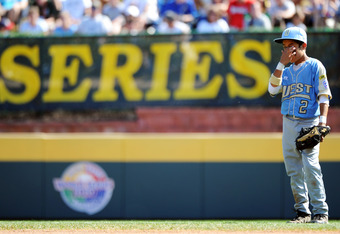 I lived in Toms River, N.J. for a few years, so I know very well what a Little League World Series can do to a town. The main highway that cuts through the town—part of a road that cuts through the entire state of New Jersey—was re-named Little League World Series Boulevard after the little scamps from Toms River East won the 1998 World Series title. The Toms River kids from 1995, when they got to Williamsport, and 1998, when they won it all, are bona fide heroes in that town.
The kids who got there last year probably haven't had to pay for a slice of pizza since before last spring. TV isn't exploiting these kids, it's turning them into stars in towns around the world. What's the fastest way to turn a 12-year-old boy from Smalltown, USA into a man? Have him pitch six scoreless innings against Chinese-Taipei then bring him home for a parade down Main Street.
Little League, as a concept, is a pipeline for perpetual existence. The more interest in the games, the more kids get into the system and the stronger the sport will be for the next generation.
Still, I can't shake this notion of exploitation. All summer, we've heard talk about how college athletes are being exploited by the NCAA and the institutions of higher education they sign up to play for. If people think college kids should be paid for selling out stadiums and getting millions of people to tune in on TV, shouldn't the Little League kids get paid for doing the same?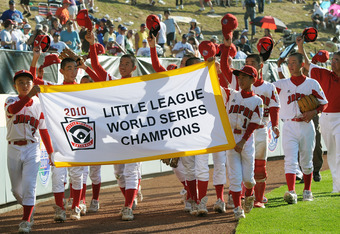 I'm getting off topic. Little kids shouldn't get paid to play sports. That's a ridiculous notion. But it's not as ridiculous a notion as adults actually being able to bet on the games! Yes, you can bet on Little League games. Darren Rovell from CNBC retweeted this on Monday:
RT @GiveMeAJobESPN A gambling site had Chinese Taipei -5250 & Canada +2500. Canada wins 5-3.
I called the site, 5Dimes.com, to verify if they actually do take action on Little League games.
"Hello."
"Hi. I'm just wondering if you take bets on Little League games."
"What games?"
"Little League World Series games. Do you take action on those?"
"Oh. Yes, of course."
Of course. Of. Course.
Of course, betting on 11- and 12-year-old kids is as bad as it gets for degenerate gamblers, but at least one online degenerate thinks it'd be hypocritical NOT to bet on the games. An individual named "Holmes" on the site TheRX.com puts it in perspective:
In my opinion, hanging lines on these types of events is an admirable expression of American-style capitalism and liberty. 5Dimes.com is seizing an opportunity and giving Americans the freedom to risk their money on the outcome of a game played by kids.

The goodie goodies of the world are no doubt outraged by the prospect of people betting on kids. Yet, they conveniently overlook the fact that ESPN and its sponsors will likely make a killing off the backs of the Little Leaguers.

To approve of big corporations risking their money on these kids, but oppose grown adults from wagering a few bucks on the little whipper snappers, would be hypocritical. Then again, hypocrisy is characteristic of most do-gooders.
Hey, the guy's got a point. Even the Little League World Series website has individual scouting reports on every kid in the tournament, produced by Baseball Factory, with Tom Emanski-style video clips and breakdowns of each kid at the plate, in the field and, if applicable, on the mound. With the amount of detail they give for each kid, they're basically daring us to not throw money on these games.
It's exploitative and supportive all at once. It's terrible and fantastic framed in a six-inning, month-long miniseries played out on national TV. Reading this back, I don't know if I've tried to convince you to hate it or myself to love it all over again.
Either way, we can all agree it'll never be as bad as this:
Toddlers & Tiaras was up 50% to a 0.6 adults 18-49 rating and 1.841 million viewers. (TVbytheNumbers.com)
Remember the US Soccer match that got kicked off ESPN2 because of a Little League game? Three quarters of a million more people watched Toddlers & Tiaras that night.
Suddenly laying a note on Chinese Taipei -5250 doesn't seem like such a terrible bet.