Boston Red Sox: How the Angels Added Insult to Injuries
August 23, 2011
The past couple of weeks have been hauntingly familiar to Red Sox fans.  After suffering through a 2010 that was brutally derailed by injuries, Boston has, for the most part, enjoyed a healthier season this year.  The early loss of Daisuke Matsuzaka was bearable given how poorly he had been performing, and the big names were managing to stay on the field.
But then Clay Buchholz went down with a stress fracture in his back, a problem that has kept him on the shelf for months.  Jon Lester missed nearly a month this summer with a lat strain.  And more recently, Kevin Youkilis, Macros Scutaro, David Ortiz and Jacoby Ellsbury each went down.
Ellsbury's injury was particularly frightening after watching the young star miss all but a handful of games last year.  But it appears that he'll be back in action this week, needing only a few games off to recover from being hit by a pitch in the back.
Ortiz is suffering from a heel issue that nearly landed him on the DL.  He was able to wear a walking boot and rest his foot for the last week or so, and should return before the weekend.
Scutaro was troubled by dizzy spells and a stiff back, missing time for the first several weeks of August.  The Sox are playing him sparingly, rotating him in and out of the lineup by using Jed Lowrie and Mike Aviles in various combinations.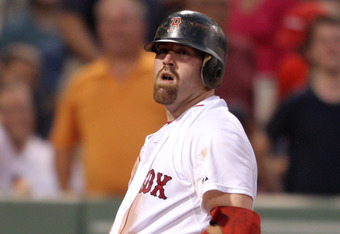 And finally there's Youk, whose back woes were bad enough to warrant a trip to the DL.  He has yet to resume baseball activities, and the Sox can only hope that he's able to return when eligible.
The result of all these health issues has been an August record of 11-10.  These swooning Sox are a far cry from the team that dominated May through July in the AL East.  Though the club still has a 7.5-game cushion on Tampa Bay, it needs to find some answers and get back on track in short order.
As all this has been going on, the Los Angeles Angels were apparently negotiating with their ace pitcher Jered Weaver.
What does that have to do with the Red Sox?  Just this.
Earlier this week, L.A. signed Weaver to a five-year extension worth $85 million.  If that price sounds familiar, it should.  The terms are identical to John Lackey's deal with the Red Sox.  
Boston paid $85 million for five years of Lackey, and thus far have gotten and ERA just a hair under 5.00 and a WHIP of 1.47 over 54 starts.  It was a bad signing when it happened for several reasons. 
First, Lackey was coming off of his poorest season in five years with an ERA of 3.83.  Second, Lackey's numbers had slipped significantly in both 2008 and 2009 following a fantastic 2007 campaign.  And third, his innings pitched were dropping as well; one of his greatest strengths was being known for going deep into games, and that was happening less frequently.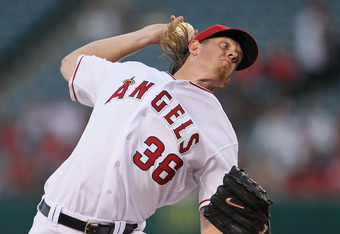 Those red flags didn't deter Boston from throwing a boatload of money his way, and while the results have been far worse than anticipated, no one can be all that surprised that Lackey has been a bust.
Now the team must look on as Weaver, one of the AL's best pitchers over the last two years, inks the same deal.
Lackey was 31 years old when he signed with Boston, coming off of a five-year stretch that saw him compile a 3.49 ERA and a 1.26 WHIP.  Good numbers, but hardly elite.  And probably not worth $17 million per year through age 35 even if he had been able to maintain them.
In contrast, Weaver is 28 years old and still in his prime.  His career numbers include a 3.30 ERA and 1.17 WHIP; significantly better than Lackey's.  And over the past two seasons, Weaver has elevated himself from being a good pitcher to being an elite pitcher, with ERAs of 3.01 and 2011's ridiculous 2.10.
It has to sting Theo Epstein and company something fierce to see this ace locked up for the same amount that Boston was willing to pay Lackey.