Illinois Basketball 2011-12: Addition by Subtraction or More Underachieving?
August 23, 2011
Last season, Illinois came into the year looking to meet high expectations set by preseason rankings and a experienced roster led by four senior starters and a collection of highly ranked younger recruits.  To say that the 2010-2011 season was a disappointment to Illini fans would be an understatement. 
The season started out well enough, with the Illini running out to a 10-1 record and the only blemish occurring to the 22nd ranked Texas team in a thrilling overtime contest. Things then started to fall apart; during back-to-back losses to Horizon League cellar dweller University of Illinois-Chicago and Missouri.  From there, the wheels fell off a promising season and Illinois struggled to a 9-9 Big Ten record and they were never able to gain enough, if any, momentum.  Although they squeaked into the NCAA tournament, evening picking up a win over former Illini coach Lon Kruger's UNLV Runnin' Rebels, it's safe to say that most fans were severely disappointed with a season that had so much promise.
The season was marred by inconsistent play, questionable effort, and fighting amongst teammates.  In total, the team was a dysfunctional mess.  The aforementioned seniors, Demetri McCamey, Mike Davis, Mike Tisdale, and Bill Cole graduated.  Talented Freshman Jereme Richmond made an ill-advised jump to the NBA (but ended up going undrafted).  One would think that graduating four of the five starters, including the departure of their most highly touted recruit in years, would lower expectations for the next year—and it probably will.  However, there are reasons for optimism in Champaign.
The Seniors that left were some of Bruce Weber's early recruiting classes, and committed before Jerrance Howard became Webber's ace recruiter.  Demetri McCamey (#63) and Bill Cole (#90) were both ranked on ESPN's top 100 prospect lists.  Both Mike Davis and Mike Tisdale were unranked by the major recruiting authorities.  Since the, the aforementioned Jerrance Howard has made the Illini a go-to destination for top recruits, including Jereme Richmond.
The increased recruiting acumen led to many of the players who will fill prominent roles on Illinois 2011-12 roster.  D.J. Richardson (2009, #46), Tyler Griffey (2009, #87), and Tyler Griffey (2009, #91) will make up the veteran core along with Bradley transfer Sam Maniscalco.  But the remainder of the roster is full of other highly touted recruits.  Meyers Leonard (2010, #47), Crandall Head (2010, #79), Nnanna Egwu (2011, #69), Tracey Abrams (2011, #84), Mike Shaw (2011, #88), and Mycheal Henry (2011, #94) fill out the remainder of the roster with the kind of young, yet talented, depth that has a much higher upside than many of the departed Senior class.
Those young, talented Illini just returned from a trip to Italy, where they went 4-1 in exhibition games against foreign professional teams and the University of West Virginia.  Although they may not have superstars with national name recognition, the Illini look like a team that will rely on their quality depth to outwork opponents, something seldom seen in Champaign in several years.  After dispatching West Virginia in Italy, one West Virginia assistant coach remarked: "That's the hardest I've seen the Illini play (in the past three years)."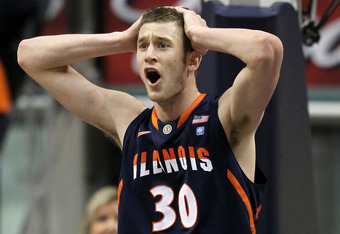 Another positive is the new Illini's willingness to mix it up down low.  "These guys, they don't back down,"Coach Weber said. "They've got some toughness."  And with the deep talent on this team, they shouldn't suffer from the kinds of lapses that former Illini teams fell into when Demetri McCamey left the floor or struggled.  "I think the biggest thing is that every day it was almost a different guy that played well," said Weber.
This should make for a exciting team that works hard and pushes each other for playing time.  There is no clear-cut dominant starting five, some may see Weber mix and match more based on matchups and going with the hot hand.
Even though they may not win the Big Ten with their young roster, it should be exciting to watch this team compete.  With the kind of highly-regarded athletes filling the roster, they should be able to play Weber's trademark man-to-man defense with vigor, out-working their opponents and tiring them with their depth. 
I'd be surprised if this unheralded group doesn't exceed the achievements of last years team, and does in an exciting, fast-paced way.  Look for Illinois to finish in the top half of the Big Ten and make the NCAA tournament.