Chicago Cubs Should Fire Mike Quade: An Open Letter to Tom Ricketts and the Cubs
August 23, 2011
Mr. Ricketts,
I don't like Mike Quade. I don't know what it is with him, but I simply can't find a way to like him. When he took over for the Cubs after Lou Piniella's departure, he seemed tough and gritty. That turned out to be false. 
I think it seemed that way because Pinella just became so lazy toward the end of his tenure. When the Cubs signed Quade, I thought it was the right move. I thought it was smart of the Ricketts to not just go with Sandberg, but what seemed to be the best move for the club.  Well, I think my logic was wrong.
The issue with Mike Quade is that he just is not vocal.  He actually reminds me of Lovie Smith of the Chicago Bears. Not only is he not vocal, but he just doesn't seem to make the right decisions.  The best example of this would be with starting pitcher Rodrigo Lopez.
Lopez was pitching phenomenal when he came into the starting rotation, allowing only four runs in three starts against the Chicago White Sox, Pittsburgh Pirates, and Philadelphia Phillies in the month of July. Even after posting these great numbers against these solid teams, Quade demoted Lopez to the bullpen and brought Randy Wells back from the DL with a very, very short minor league stint.  A smart manager wouldn't make a decision like this.
Ryne Sandberg was the logical choice. I understand that Quade had worked many years before in the minor leagues, and that experience was the major selling point. Sandberg though wasn't too shabby of a manager himself. He was the 2010 Pacific League Manager of the Year and had much success climbing up the ranks of the Cubs' minor league system.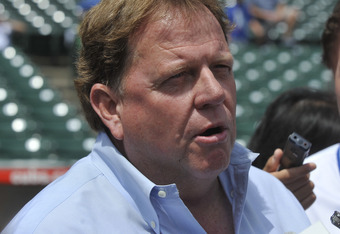 The other important thing to note is that if the Cubs are going to go into the direction of using their farm system (Starlin Castro, Darwin Barney,and Andrew Cashner), then why not sign Sandberg? He had all that success essentially raising these players. If Sandberg would have taken over the Cubs, he would have most likely already have an established comfort level with players coming up from the minors.
The Ricketts went with the right move initially. Mike Quade showed much promise with the success he displayed toward the end of the 2010 season, but from what it seems, it was a fluke. Maybe I am just another angry Cubs fan after yet another disappointing season. With the removal of Jim Hendry and likely Carlos Zambrano, I believe no other time poses a better opportunity to bring back Ryno to take over the helm.
That is, unless it is too late to ask.