Montreal Canadiens: Habs Impending Free Agents Have a Lot to Prove
August 23, 2011
I'm not going to go out on a limb and say that the Montreal Canadiens are going to be Stanley Cup contenders this season.
Sure, I'm known to always carry a hopeful optimism with me, but I'm too much of a realist to think that the Habs have a legitimate shot at their 25th Cup, at least not before I've seen them play a single game. I like to call them a playoff team and move on from there. We all know that the playoff hockey is a different animal altogether...
And so, before the season has even yet begun, my primary concern has been the money that P.K. Subban and Carey Price will command in their contract years once the season is completed.
Call me a worry wart, but I just want to keep the two faces of the franchise, both restricted free agents, happy, but I worry about retaining other players at the same time.
Along with Subban, Lars Eller will be rounding out his entry-level deal. The big Dane will be given the task of centring the third line, but depending on his both performance and—ahem—that of a certain other centreman, he could see more responsibility. Surely, if Eller excels, he will be a top-two centre for the Habs in the future.
He'll want to give the team and its fans a preview.
Ryan White is an RFA as well: He'll try to prove his value as an energy player this season.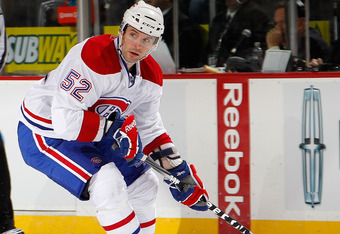 There are players on the team, though, that aren't guaranteed to return after the 2011-2012 season.
Most notably, Josh Gorges will be unrestricted at season's end, and, at the moment, there is a huge question mark looming over his locker in the Habs' dressing room (figurative, of course—he's not The Riddler).
Gorges will try to regain the for he exhibited before he was unable to continue to play with a torn ACL. Hopefully he and management could work something out before it's too late.
After the disastrous controversial statements published on the Belarusian website Goal.by, it's not even a certainty that he will complete the season with the Canadiens.
Barring a miraculous Roman Hamrlik-type season, Jaroslav Spacek won't be offered a contract by the Habs. Spacek will be 38 years old and is certainly not in the Habs long-term plans.
If he plays his cards right, Mathieu Darche could earn himself another one-year deal. Darche is an inexpensive role-player who welcomed every job that he was assigned.
Travis Moen will have the most to prove, in my opinion.
No longer shall the 29-year-old have the daunting task of playing on a top line (hopefully). If he can chip in the odd goal from a bottom-six position, all power to him.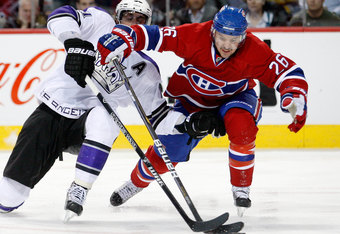 In a perfect world, Moen will be playing around 10 minutes per game (compared to the 13:11 that he averaged last season) and be a penalty-killing specialist.
He should embrace his role as a grinder and grind down the opposition with hits and the occasional morale-boosting scrap.
No one is expecting Moen to be a hero. To add to that, no one is expecting Moen to make anything close to the $1.5 million yearly that he is currently pulling in—not on the Habs, not on the open market.
He can establish himself as a player which the Canadiens direly need and would gladly keep around.
Whether Moen will accept his role and a very steep pay cut is another story, but I like to believe that if the team is successful and he feels like he contributed, he may consider it.
Then again, maybe he thinks he's a top-six forward.
Who knows?
Jason is on Twitter: @jhytel