P.K. Subban and Carey Price Expected to Lead Montreal Canadiens into the Future
August 22, 2011
The future of the Montreal Canadiens lies in the progress of both P.K. Subban and Carey Price.  For the first time in years, the Canadiens have two talented young stars who could be the team's foundation for years to come. 
Subban has become one of the most talked about players in the NHL. His potential and personality naturally causes attention to gravitate towards him. As one of the NHL's top rookie defenders, P.K. elevated his game throughout last season to become a go-to player in any situation.
Expectations for Subban to continue to improve at his current pace are high. A strong return from Andrei Markov will ease the pressure on Subban to produce offensively. Coincidentally, a drop in points should not be blamed on Subban, as Markov will assume more responsibilities.
Markov has been injury-prone in recent years, so expectations for Subban to fill the void are high. Without Markov in the lineup, there is not much firepower on the blue line—aside from P.K. He will be expected to put up numbers and quarterback and power play.
Carey Price has been developing on pace, posting better numbers each year than the last—with the exception of his sophomore slump in 2008-2009. Expect him to play most nights this season, after showing he can survive 72 games without issue.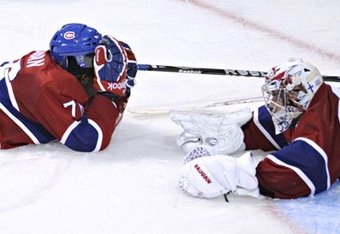 Unfortunately for Price, the faithful followers of Les Canadiens expect their goaltenders to have divine characteristics. A history of legendary goalies and an unrivaled media passion turn goalies into celebrities. 
The success of the Canadiens in 2011-2012 will depend largely on the development of Price and Subban. While the forwards will be expected to produce, the scoring responsibilities fall on a group of veterans. Aside from Max Pacioretty, these players will not be around in five years.
Subban will likely share power play duties with Andrei Markov and should put up a fair share of points. The return of Andrei Markov and Josh Gorges means that he should again be paired with Hal Gill, who so far has proved to be an excellent mentor to the young star.
Price should also benefit from a healthy D-corps. After having his best season playing behind 13 different defensemen, some stability on the blueline will benefit him greatly. Look for his numbers to improve as he solidifies himself as an elite goalie.
Of course, poor performances from Subban and Price could disrupt faith in Jacques Martin and his system. He needs his defensive style to thrive and that means that strong defensive play and low goals against will remain his top priorities. 
After a season decimated by back-end injuries, both Price and Subban went home unscathed, with their heads up high. Look for both players to have a strong season, solidifying their respective places in the NHL. 
They will benefit from each other's strong play and should continue to lead this team up the rankings in the Eastern Conference.