Buffalo Bills: C.J. Spiller, Aaron Williams and the Biggest Position Battles
August 22, 2011
With the NFL Preseason underway, Chan Gailey and the rest of the Buffalo Bills coaching staff are still trying to determine who will rise to the top of the depth chart as starters for opening day.With rosters currently at 90 players, there will be some major decisions as to who will make the final 53-man team.
There are a multitude of positions that are up grabs, mainly wide receiver and running back.
Running Back
C.J. Spiller Vs. Fred Jackson
While Fred Jackson may be the best running back in the AFC East division, he is still battling to keep his starting role over last year's No. 9 overall draft pick, C.J. Spiller.
Jackson is more of a between the tackles runner, while Spiller is a speed back with breakaway ability. However, Spiller couldn't adjust to the speed of play in the National Football League last year, and carried the ball just 74 times for a mere 283 yards, while failing to score a rushing touchdown.
He added 24 receptions for 157 yards out of the backfield, and was decent on special teams, but the Bills really need him to grow as a player worthy of a Top-10 selection.
Jackson, who worked his way up from a Division II school to playing in the NFL's European League, to finally getting a chance on the Bills rushed for a respectable 4.2 yards per carry, gaining 927 rushing yards, scoring five times. The previous year, he became the only player to have 1,000 return yards and 1,000 rushing yards.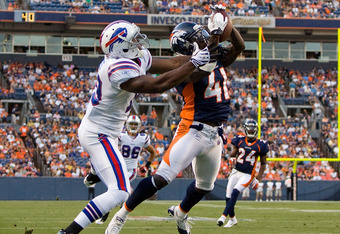 Spiller is definitely going to see more touches as head coach, Chan Gailey, needs to "force" him into the offense to justify his draft status as the "scat-back" he said he wanted prior to selecting the Clemson standout.
No. 2 Wide Receiver
Roscoe Parrish Vs. Donald Jones
With Lee Evans out of the picture, wide receiver Steve Johnson has been upgraded to the No. 1 wideout on the Bills' roster. Last season, Roscoe Parrish was the starting No. 2 receiver opposite Evans, before being benched for Johnson, who had a stellar year recording 82 receptions, 1,073 yards and 10 touchdowns.
In my opinion, David Nelson should be a serious candidate for the No. 2 role, as he had a solid rookie outing, but the Bills' coaching staff like him inside as a slot receiver. This leaves Donald Jones and Parrish battling for the No. 2 spot.
Jones started the first two preseason games at wideout due to Parrish nursing an injury, but his 2010 statistics of 18 catches for 213 yards and a touchdown don't exactly strike as much confidence in him as they do for Sports Illustrated's Peter King.
Roscoe Parrish was having one of the most successful seasons of his career, hauling in 33 catches for 400 yards and two scores, before being sidelined for the remainder of the year due to a hand injury suffered against the Chicago Bears.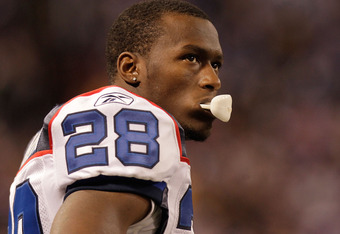 No. 2 Cornerback
Drayton Florence Vs. Leodis McKelvin Vs. Aaron Williams

Terrence McGee is definitely the starting No. 1 cornerback and has the veteran experience to deserve that role. Drayton Florence was retained by the Bills after becoming a free agent, and is another veteran with solid play. Leodis McKelvin, a former high first round draft pick, has yet to reach his potential and is way too inconsistent with his play.
Aaron Williams was selected out of Texas in the second round of the 2011 NFL Draft, and has the versatility to play cornerback and safety. He has reportedly shined in training camp, and made a spectacular interception against the Bears in his first preseason game as a member of the National Football League.
While it is a positive to have four solid corners in a division featuring Santonio Holmes, Chad Ochocinco, Wes Welker, and Brandon Marshall, the Bills really need one of these guys to step up and take over a full-time starting role.