PGA FedEx Cup Playoffs: Welcome to Golf's Faux September Madness
August 22, 2011
If we can't have Tiger Woods, at least we can have William McGirt.
Anybody think that's what was going through PGA Tour commissioner Tim Finchem's mind Sunday night as he poured himself an ice cold Fresca and prepared for the 2011 PGA FedEx Cup playoffs?
Well, everyone can exhale now because, in a race to the playoffs that rivaled Yankees-Red Sox in '78, Cowboys over Redskins on the final day of the '79 NFL season or the Giants Win The Pennant in '51, rising golf star McGirt charged into the PGA's post season with a scintillating T-52 finish at this weekend's Wyndham Championship in Greensboro.
There really is very little in sports more exciting than a win and you're in showdown for a final playoff spot.
Except in the PGA, where you can be McGirt and it's T-52 and you're in. Or Padraig Harrington, T-47 and you're in. Or how about the Big Easy, Ernie Els, with the T-30 and you're in. A sports nation was glued to its collective television set as the excitement unfolded in Greensboro.
Hey, kudos to Finchem for repackaging the last several tournaments before the TOUR Championship, calling them "playoffs", and selling the concept to a major sponsor for big bucks.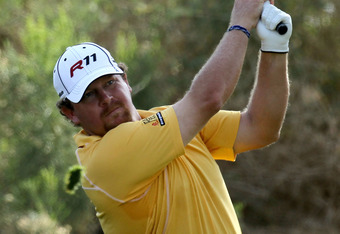 For sure, the players have to be overjoyed to be playing for millions in a down economy. 
But playoffs? We're talking about playoffs?
With real playoffs, after you play your last game of the regular season, you know whether you are in or not. With the FedEx Cup, not so much.
"I thought I had to make that putt on the last to get in so... you don't know in these playoffs. It's all screwed up," said Els, according to Farrell Evans of espn.com. 
Try to picture, say, Nate Kaeding of the Chargers kicking a game winning field goal at the gun to win the last regular season game of the season for San Diego followed by Norv Turner, Philip Rivers and the boys retiring to a misted scoring tent to have an Evian and await word of their post season fate.
Doesn't really give off the same spark.
Look, this is great for the players involved. McGirt, who surely has worked hard to get into this position, gets a day or two to be in the spotlight. And Harrington and Els are names and are nice additions to the playoffs.
But edge of your seat exciting it is not.
Even once the playoffs themselves get rolling, they don't draw any excitement. The PGA's regular season just ended and the golf world is mainly talking not about the upcoming playoffs, but whether or not senior golfer Fred Couples will let FedEx Cup non-qualifier Tiger Woods play in the non-FedEx Cup Presidents Cup.
Simply put, the playoff system that currently exists, which allows 125 participants into the playoffs, with only 25 players eliminated after the first tournament, and 30 more eliminated after the second tournament is not exactly an elite competition worthy of the tag "playoffs".
If you want to call the Fed Ex Cup playoffs, make them actual playoffs, true elimination events. Let's have a series of match play events that whittles the top 125 (make it a top 128) down over a series of weekends until you get golf's version of a Final Four to finish the season.
In a match play situation, you are certainly leaving yourself open to upsets and a possible William McGirt vs Steven Bowditch final. But the hardcore golf fan is going to watch regardless of who is playing, much like they will watch the Barclays this weekend meaninglessly cut the Fed Ex Cup field down from 125 to 100.
People love head to head match ups and what would it do for golf to end up with, for example, something like a Rory McIlroy, Tiger Woods, Phil Mickelson, Jason Day final four matching up over a weekend for some version of a season ending championship?
It can't be a less exciting "playoff" system than what we have now.