Two Decades Later, I Still See Len Bias
November 13, 2008
Yeah, I still think about him.
Sometimes I see red.
That's the color of Maryland's uniform when Lenny Bias won me over for good, the February day he tossed the Terrapins on his back and toppled the No. 1-ranked Tar Heels by himself. Given that my team (the Celtics) was holding a potential top-five pick in the '86 draft that summer, I almost broke an ankle hurling myself onto the Bias Bandwagon.
There was one play when Bias drained a 15-footer, then came flying back in to steal the inbounds pass and dunk the ball behind his head, fluidly, all in one motion. I can't even really describe it.
When somebody makes The Leap right before your eyes in sports...well, you remember. You always remember.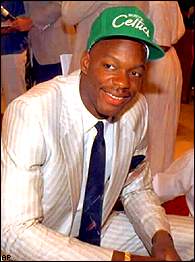 Has anyone ever looked happier than Len Bias on Draft Day 1986?
Sometimes I see brown.
That's the color of a Spalding basketball as it falls into the hands of Larry Bird.
The Man is still in his prime—goofy mullet, wispy mustache, almost bored by it all, searching for little challenges during games to maintain his interest—and he's jogging upcourt and bouncing that brown ball.
Suddenly he spots Bias one stride ahead of the pack. Their eyes lock. What the hell?
The Man lofts a lazy halfcourt pass in the air...the ball looks like it might sail over the backboard and into the stands...
but then there's Bias gaining steam, soaring through the air, rising higher and higher...and Good God, he might actually get to that thing...and the brown ball hangs up there, forever...
Sometimes I see green.
That's Draft Day 1986. A green Celtics hat crammed on Bias' head, millions and millions of green dollars ahead of him, green with experience, holding up the green and white uniform...nothing but green.
That smile on Draft Day, will the image ever completely fade away? Did anyone seem happier, ever? He looked like a little boy, didn't he? Can you still see him?
I can. I see that smile and I see miles of green.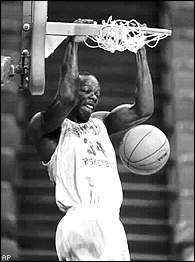 Bias' high-flying game would have been the perfect addition to the Celtics' "Big Three."
Sometimes I see white.
That's a pile of cocaine on a coffee table.
Maybe it happened this way, maybe it didn't, but I always imagine Lenny Bias turning that Celtics hat around so the bill of his cap wouldn't dip into the pile...
then I imagine him sticking his face into it like Tony Montana.
He's happy, he's celebrating, he's kicking butt and taking names, he's feeling like he could bench-press Luther Vandross, he's the life of the party, he's suddenly a millionaire, he's the next James Worthy, he's the heir apparent to Bird in Boston, his prime awaits, and he's utterly and completely invincible.
And he crams his face into that white pile. And he takes the Celtic Dynasty with him.
Sometimes I see gray.
That's the color of the concrete on Wyndover Lane in Stamford, Conn.—the street where I lived as a kid—which is relevant since I wandered up and down that street for an entire afternoon on the heels of Bias' death.
It took me six hours to digest everything that had happened, my first real experience with sudden loss.
Once ESPN started flashing those "Len Bias is dead" graphics that morning—the "Where were you when Kennedy was shot?" moment for all Boston/Maryland fans—
I spent the first few hours in utter denial.
Did it really happen?
Is it true?
Is it possible they screwed up?
Are we absolutely, positively—positive—that he's dead?
Can they give him CPR one last time?
Is this a joke?
Is this even possible?
I finally ended up storming outside during the middle of the afternoon—June 19, 1986—and paced up and down Wyndover Lane for three inexplicable hours.
I'm not kidding. Three hours. I walked up. I walked down. I walked up. I walked down. Rinse, lather, repeat.
Just a 16-year-old kid looking for an answer. All I found was gray. You can drive yourself crazy thinking about it. And you know what? I almost did.
Yeah, I still think about him.
By Bill Simmons
*I posted this because I feel the same, Len Bias could've been great. Second only to MJ, this kid was so good. We'll never know what stars Bias would've reached and passed as he spiraled upwards in basketball bliss.
RIP, Lenny Bias, rest in peace.