CHICAGO, IL - AUGUST 13: Brian Urlacher #54 of the Chicago Bears watches as his teammates take on the Buffalo Bills during a preseason game at Soldier Field on August 13, 2011 in Chicago, Illinois. The Bears defeated the Bills 10-3. (Photo by Jonathan Daniel/Getty Images)
August 22, 2011
One of the strongest positions on the field for the Bears in recent years has been linebacker. With two possible future Hall of Famers in Brian Urlacher and Lance Briggs, expect them to remain strong.
Urlacher is entering his 12th season and does not seem to have lost a step. After being injured in the first game of the '09 season opener, Urlacher bounced back to have another solid season, amassing over 120 tackles, four sacks, an interception and two forced fumbles. 
One of the biggest reasons why Urlacher is able to produce so consistently is because this defense plays to his strengths, as the middle linebacker in the Cover 2 is asked to drop back in coverage to help protect the middle of the field.
Although Urlacher, a former safety in college and one of the fastest linebackers in the game, does not put up the large number of tackles as he did in the past, he still is undoubtedly the leader of the defense; and without him the defense would struggle.
In the past few seasons, Lance Briggs has started to rise above Urlacher as the team's best linebacker. Briggs will be entering his ninth season and has seemingly become better and better with each season. Briggs is a tackling machine, and couple his speed with Urlacher's, and they form arguably the quickest linebacking duo in the game. 
Briggs is known for his ability to be a great run-stopper, and at weak side, it allows him more flexibility and opportunity to swarm the football. Briggs might not be the best cover linebacker (in comparison to his run-stopping abilities), but he is above average when needed.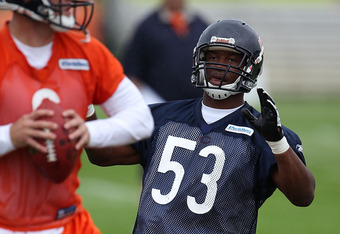 BOURBONNAIS, IL - JULY 30: Nick Roach #53 of the Chicago Bears rushes against Jay Cutler #6 during a summer training camp practice at Olivet Nazarene University on July 30, 2010 in Bourbonnais, Illinois. (Photo by Jonathan Daniel/Getty Images)
In the past few seasons the Bears have been trying to find the perfect complement to Urlacher and Briggs at the strong side with Hunter Hillenmeyer, Pisa Tinoisamoa, Jamar Williams and Nick Roach.
So far, Roach is the front-runner but is known to be nothing more then just an average strong-side 'backer. He's never had the large numbers of tackles or sacks, but he is consistent when given playing time. Barring any sort of signing in camp, Roach is expected to be the Week 1 starter against the Falcons.
To fill in as backups, the Bears rely on guys who can contribute on special teams. Brian Iwuh is a carryover from last year, and has been able to stick around the NFL given his special team contributions. He again will be one of the guys that Dave Toub relies on for special teams duties and could fill in any of the linebacker positions.
Sixth-round pick J.T. Thomas will have to prove himself on special teams to solidify a spot on the 53-man roster; though reports out of training camp say the Bears are very high on his progression so far. Due to a minor injury, Thomas was unable to play in the first preseason game against the Buffalo Bills, but look for Thomas to push Nick Roach and could be used as a stop-gap at weak side.
Of the other players filling out the training camp roster at the linebacker position, most do not have a chance to stick around on the 53-man roster. Look for guys like Dom DiCicco and Patrick Trahan to possibly stick with the team's practice squad.
If the Bears do not feel comfortable with what Roach, Thomas and Iwuh offer, do not be surprised if they pursue outside options. Two weeks ago, reports were stating that the Bears were believed to be interested in former Pro Bowl linebacker Lofa Tatupu.
Although he has had injury concerns, Tatupu could be a good deal who could slip into the weak-side role and become the eventual successor to Urlacher in the middle. However, since Tatupu still remains unsigned, it could be a good indicator many believe he is not the player he once was.
Like the new article format? Send us feedback!