Wrestling: 52 of the Most Ripped Superstars in Wrestling History
Wrestlers used to be these big, bully guys who got into the ring and beat each other up with brute strength and power. They trained and workout or kept themselves in shape through various training sessions.
And as the late 1970s and 1980s came around, the look of the wrestler changed.
They became more ripped, more defined more modelesque, shredding the form of the Tojo Yamamoto's and the Jimmy Valiant's of the world.
Wrestlers like Sting, Lex Luger, Kerry Von Erich and Rick Rude shaped the 1980s wrestler who was tone, tanned and well defined which led to more interest by women and casual fans.
The likes of Jesse "The Body" Ventura, "Superstar" Billy Graham and even Hulk Hogan set the tone for what we see in the ring today.
Begin Slideshow

»
He was the true Narcissist.
Orndorf was a great heel and his feud with Hulk Hogan as the height of Wrestlemania kicked into high gear was genius.
Ripped and solid as a rock, he could have and should have been WWF World Champion.
Even before the rumors of steroids and roid rage ran through the NWA and WCW, Scott Steiner had one of the best bodies in all of wrestling.
A great college wrestler at Michigan, Steiner has been successful in the WCW, the orient and in TNA.
His great physique and his strength is unmatched by many and when he hits you, it is like a tree knocking you over.
The "Steiner Recliner" is a variation of the Camel Clutch perfected by the Iron Sheik.
When he cam to the WWE, he was a beast. Ripped muscles. Muscles on muscles and of course, a bad ass attitude to match.
What Lesnar did in the ring and who he ran through was a testament to years of training and hard work and making a transition from traditional wrestling to the WWE that was not easy.
Lesnar made it look as easy as turning a page. And the body of a lord did not hurt.
Just looking at this 300-pounder intimidates me.
Batista is a true brute in this business and has used his strength and power to get to the top of the WWE.
His power has aided him in feuds with Triple H, Randy Orton and The Undertaker.
If he comes back to the WWE, which is rumored, will his power remain his best asset?
Not someone you would really think of since he was a middleweight and never really made it big time in the sport.
the son of Bob Armstrong cut his teeth in Florida and Georgia. He was a regional title holder and was a great tag partner of Tim Horner.
Armstrong had power and well defined legs and abs that would make any woman blush. Plus, his standing drop kick may be the best ever scene.
Best known as Billy Gunn as the tag team partner of The Road Dogg in DX. Gunn had the best in-ring talent at the time next to Shawn Michaels.
Gunn has many other personas, like Mr. Ass and Cute Kipp in TNA.
His body was chiseled. His wrestling was great. His personas needed work.
Was a tag team champion with The Z Man and Steve Austin (yes, that Steve Austin in WCW).
Pillman may have bad bad hair, but he had a killer look and ripped muscles and great shoulders.
He was great as a middleweight and in battles with larger, slower wrestlers.
The meanest, baddest man on the planet.
Goldberg had the best delts in the business and the power to lift men twice his size.
His chiseled body was that of a gladiator and one who came to the ring to do one thing- fight, and make quick work of his opponents.
The man with the 22-inch pythons.
Graham was a great heel who fought with Bruno Sammartino, Pedro Morales and Bob Backlund.
The look was phenomenal. But as he got on in life, steroids ravaged him and caused him major problems when he retired from the ring.
"Superman" and the father of "The Rock". Johnson was a chiseled god and well-spoken African American wrestler who held many regional titles before his time in the WWF.
He and Tony Atlas won the WWF World Tag Team Titles before the height of Hulkamania.
Atlas was just that. He was strong, big and ripped and could move bigger, tougher opponents with ease.
Big body and big wrestler.
A product of the WWF circus and Vince McMahon's cast of characters.
he came to the ring with a large chain around his neck and used his brute power to beat his opponents down.
The Polish Power of Putski could be felt all through the WWF.
A short, squatty man who packed a mean punch and was a crowd favorite.
Never contended for the world title but was a great singles and tag team competitor.
He looking like he could push cars out of the way with his hands.
Whatcha gonna do when the 24-inch pythons get a hold of you?
Hogan was and is the best entertainer ever. Period.
Steroids played a big role in Hulkamania gaining the success it did in the 1980s and his feud with Billy Graham and Jess Ventura over who was the true Hulk was great for the business.
The six-pack is sick!
Slim, lanky and a high-flier, Morrison may be the best athlete in the business today.
He is stuck in a feud with R-Truth currently and it may be a while before he can rise to top-card status.
But with that look and those abs, he can certain show he belongs in the show.
Former Olympian. His arms and chest were huge.
Patera was a great competitor in the AWA before he moved over to the WWF and was an awesome heel.
Patera's brute strength was the Batista of his time with the ability to wrestle on the mat with the best of them.
He was the last champion before ushering in Hulkamania.
The Sheik was a strong a man to come into the WWF and make things happen. He was solid, built and barrel chested.
What He used to do to prepare for a match with the cement blocks on a dowell was incredible.
He trained with Ric Flair in Verne Gagne's stable.
You knew he would be on this list.
Mr. Olympian is in better shape and chiseled more than most wrestlers today, even at 43 years old.
Angle can still wrestle and is agile as he used to be.
And training for the Olympics just one of the proves he is one of the best EVER.
Kerry Von Erich wasn't the only Von Erich brother to have a decent body.
The barefoot boy from Denton, Texas had a great look to him as well and used his muscular legs to good use.
Kevin's upper body was not as defined as Kerry's, but nonetheless, he still has a great physique.
Take away the flamboyant look, the bright colors and the great gift for gab and you have a man who was pretty well put together.
Savage was great on the mat or flying through the air with his elbow drop from the top rope.
But what is impressive and something I honestly never really looked at, was his definition and his leg strength.
Savage was a great regional competitor in the Mid-South area with Jerry Lawler for years before he came to the WWE.
And when he got to the center stage, he embraced it like it had been his forever.
Showed great promise in WCW and then WWE before injuries took their toll on him.
He had a great look and looked like the future of WCW before it was sold to Vince McMahon.
Had a great power game and could just knock you over and take the wind out of your sails.
Yes, women count on this list.
Lita had one of the best stomachs in the business and her toned, fit body was amazing.
The power in her legs allowed her to fly off the top rope like her partners, The Hardy Boys.
The mythical, magical persona was brought to life so dramatically during the 1980s.
He had a great rivalry with Hulk Hogan and an even better feud with Randy Savage.
No one could make the ring ripes shake like this superstar.
Whether he is was in WCW as Johnny B. Badd or in the WWE as Marc Mero, Mero was as fit and ripped as anyone.
Strong stomach muscles and a great upper body helped him take on all opponents and challenge for a spot in the upper tier of the company.
He owns a fitness and body sculpting business in Orlando.
Like him or not, you cannot deny how ripped this guy is.
Yes, he makes me sick.
A body like that (Marky Mark) means he takes pride in his look and spends countless hours in the gym and on the weights.
She had an amazing center and her stomach was as flat as they come.
She also was quick with her legs and could take on bigger opponents and outsmart them.
Her persona was odd, but her look was amazing.
What can be said about him that hasn't already been said.
Ric Flair Kerry Von Erich had the best body in the business until he came along.
The look and the power was there. He put it all together to claim the WCW world title.
Was in the WWE and able to show his raw strength by body slamming Yokozuna.
He is young, but he makes this list.
Crimson is a former Marine and a powerful face in TNA.
His size and ripped look is ideal in the promotion as there is no one like his character. He forms a powerful tag team with the injured Matt Morgan.
His size and power has helped him lead the Bound for Glory Series in route to the world title.
Are you gonna mess with her.
Short. compact and powerful. Asya was in WCW for a short spell, but her look is very well remembered.
Looked like she could take someone's head off, male or female.
She was allied with Ric Flair while the company was deciding what to do with his character.
First off, he should still be in WWE.
Benjamin is the competitor that got away, much like Steve Austin got away from WCW.
Big, strong, powerful and great as a singles or tag team wrestler.
He has a great look and his upper body definition rivals many before him.
Down right freaky scary.
She is better built than most men.
She had stints in WWF and ECW.
She is powerful, ripped and still wrestles on the independent circuit.
Maybe not as built as wrestlers in today's business but in his day, Rogers was as ripped as they come.
Rogers was the first "Nature Boy" and took great pride in his appearance and his conditioning.
He too had a great look.
Lean and chiseled for his time. And he could mat wrestle better than anyone.
Thesz was ahead of his time.
One of the great bodies of all time.
Chyna proved that women could look sculpted and sexy.
She had amazing abdominals and a great power base.
He had a tremendous physique.
His strain of Asian heritage was a godsend for him.
It was said in the 70s he trained on 70 carbs a day.
"The Natural" cut his teeth in the NWA.
Strong, powerful and built like a brickhouse. He was successful in Florida, Georgia and in the UWF.
Went to the WWF and had a solid second part of his career.
Successful in Texas and the Midwest.
A great look with speed and power and a solid mid section.
He never could draw outside of mid-card status in other promotions.
One of the best female bodies in the business.
She was strong and was known for having one of the best stomachs in the WWF.
How about her having one of the best bodies, period?
You cannot leave "The Body" out.
He was a real character in wrestling, but his body was what really made him a star with his ability to speak.
He and Hulk Hogan feuded in the AWA and later in the WWF.
Body builder, trainer, workout warrior. Oh, and she could wrestle too.
Trish Stratus has an amazing body, no matter what she is doing.
And she is now passing her talents and experience to those competing in Tough Enough.
Lucky them.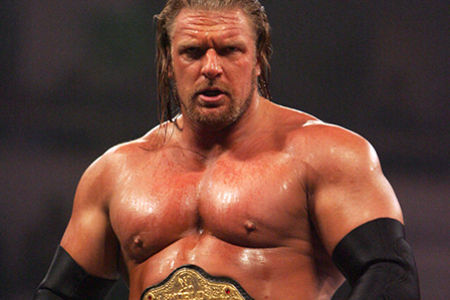 Former power lifter who just looks as intimidating as he is.
You see the great definition of his upper body, but his lower core is just as strong.
A complete package.
The former AWA champion has an amazing look.
Good looking, strong powerful and low center of gravity.
He was one of the all-time greatest and one of the most underrated of all time.
He is so big and strong in person.
The former WCW world title holder, Simmons is one of the toughest to ever come out of WCW and the WWE.
His upper body was as powerful as anyone to ever wrestle and with Bradshaw, the APA formed an amazing duo.
This is why I love America!
Torrie Wilson is one of the best workout bodies of all time and the most toned and chiseled of all women.
She was never a great wrestler, but she looked good in and out of the ring.
He and his brother Scott were trained by the Von Erichs and worked in Texas with them. The Aussie was quick and agile and had a great chiseled look, much like Kevin Von Erich.
Never was successful outside the WCCW promotion.
For a very big and tall guy, he is chiseled.
A great power wrestler.
His body could be more defined, but he has string upper body and uses his thick arms and shoulders to do most of his damage.
R-Truth is as defined as them come.
A great in-ring performer. He works hard at keeping himself in shape.
His continued dedication to the gym has helped him move up the ladder. A heel change has also done wonders.
Well defined champion and one of the best all time.
He teamed with Ultimate Warrior in the UWF as the Blade Runners.
Big, strong and muscular. A true favorite of the ladies.
And his press slam (usually with Ric Flair), made men cringe when they hit the mat.
No tag team was as dominant in wrestling and no tag team was as ripped as the Road Warriors.
Whether it was feuding with the Russians or the Midnight Express or beating too chumps in the ring, Hawk and Animal used their size and power to run through people.
They were true workout warriors.
The Rock says, he is one ripped dude.
The apple did not fall far from his father Rocky Johnson.
Dwayne Johnson took his physique from playing at the University of Miami and transformed it into one of the best bodies ever in wrestling.
The Rock's strength is felt from head to toe and in battles with the likes of Triple H, Stone Cold Steve Austin and the Undertaker, Rock needed to be in the best shape he could be.
He looks robotic in the ring, but his body has gotten better with time.
Orton looks like he has become leaner and more toned and that has brough on a more chiseled look.
Orton's all-around game is better, including his mic skills.
He is one who uses all his assets to his advantage, especially with the likes of Mark Henry, Kane and Sheamus breathing down his neck for the World Title.
He looked like he was carved from stone.
The most arrogant wrestler with the body to prove it. He was a Greek god from Minnesota and left the wrestling world long before his time.
No one may ever be as cut as this guy was.
He was so ripped, they would show workout videos on World Class Championship Wrestling.
Actually, that was sick.
Von Erich had one of the best bodies ever to get in a ring.
His addiction to pain killers led to his suicide. He was one of the strongest and most talented ever to lace them up.