McCarthy Insists Wolves Will Not Be Fooled by Premier League Success
August 21, 2011
For a very brief period after their 2-0 win over Fulham, before Manchester City put three past Bolton, Wolves were leading the pack. But even those brief moments of glory were enough to get the Molineux faithful chanting: "We are top of the league."
Wolves boss Mick McCarthy was having none of it.
"I just know how quick this league can come back and bite you on the backside and suddenly you're looking very, very silly if you get carried away crowing about it, so I won't," he said in the post match press conference.
McCarthy is a pragmatist, and will be happy for Wolves to survive—even happier if they can do so before the last game of the season and so avoid a repeat of the Blackburn nail-biter in May.
Any talk about European qualification gets short shrift.
McCarthy feels that Fulham's tired second-half performance was due to their Europa League fixture three days earlier.
"Fulham had a definite disadvantage playing on Thursday night," said McCarthy.
"It will be a long time before I would want to get into the Europa Cup. I can tell you because if we look like getting in the Fair Play league, I'm going to tackle somebody down the tunnel."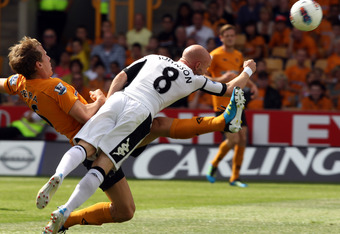 The journalists laughed, but McCarthy has a point.
He has made two excellent additions to his squad – Jamie O'Hara from Spurs  and Roger Johnson from near neighbours Birmingham City.
But that's about as far as the Wolves budget will go. McCarthy may have done enough in the transfer market to secure an earlier route to survival this time round. But there's no way that his squad is big enough to be stretched in all directions in other competitions.
Just ask Roger Johnson.
Last season, Johnson won a Carling Cup medal with Birmingham City. But the exertions in that competition cost Blues in fitness and injuries, and down they went.
Or ask Fulham.
The game against Wolves was their ninth competitive fixture so far this season. They have played seven Europa games. And in the second half at Molineux, it showed. They looked tired.  
Key Fulham players such as Danny Murphy, Aaron Hughes, Damien Duff, John Arne Riise and Brede Hangeland are now all in their thirties, an age where injuries will come more readily if they overplay.
Mick McCarthy is right. Unless you're a big club, don't get carried away.
And avoid the Europa League, and all talk of it.