WWE Flashbacks, Volume 6: Randy Orton and Legacy Wipe out the McMahon Family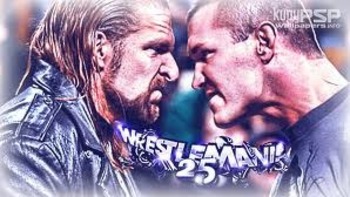 The Cerebral Assassin versus The Viper
Randy Orton was in a foul mood one night, so he took his complaints to none other than Stephanie McMahon, the daughter of Vince and wife of former world champion, Triple H.
Randy claimed that if Stephanie's last name was anything but McMahon, she would be a nobody. Her reaction began an unimaginable uproar through both Randy's new faction (The Legacy) and the entire McMahon family.
This was the perfect storm, and set up a WrestleMania match we believed was going to cap off possibly one of the greatest feuds ever, but it instead went out with a small whimper.
Regardless, Randy Orton's last WrestleMania feud as a full-fledged bad guy was the kind of thing every young heel should study.
The Tale of Two Slaps
Recap:
Randy Orton had finally formed his dream stable in The Legacy. Both Cody Rhodes and Ted DiBiase had storied wrestling families, as did Orton himself.
However, two men who also had storied family histories (Manu and Sim Snuka) did not make it into the group, so Orton feared that they would attempt to get him fired.
Rather than sitting back and watching it happen, Orton took matters in his own hands—he went straight to Stephanie McMahon.
The conversation quickly became heated, and before you knew it, Randy had his boss on the ground where he punted him in the skull.
Why It Worked:
You could consider this a backwards employer versus employee storyline, as the roles were reversed.
Nonetheless, Randy feared for his job, and he had the guts to do something about it.
Although he was a heel, many could sympathize for Randy as he was just angry at his boss.
The Royal Rumble
Recap:
Four Superstars remained in the Royal Rumble: Randy Orton, Cody Rhodes, Ted DiBiase and Triple H.
Trips threw DiBiase and Rhodes over the top rope. Then Orton took advantage of the distraction and lifted Triple H over as well, making him the winner.
Why It Worked:
It was just a very logical step for the WWE to take, and it really added some steam to this feud early on, which I am sure was part of the intent.
Orton: "I Am Not Responsible for My Actions"
Recap:
The night after the Royal Rumble, Randy Orton came out with his Legacy cronies and a team of lawyers.
He claimed to have intermittent explosive disorder that was responsible for him punting Mr. McMahon the week prior.
He continued, and threatened to sue Stephanie, the WWE and cancel WrestleMania as the result of breach of contract (as he would not compete in the main event that the Royal Rumble win entitled him to).
Why It Worked:
This worked because it was a heel using an excuse, while hiding behind lawyers and his buddies.
As was proven long before this feud (and has been proven again since), this strategy works 99 percent of the time.
No Way Out: Randy Orton Faces Shane McMahon
To see the video package for this match, click here.
Recap:
Orton's plan worked to perfection, because Stephanie McMahon did not fire him on Raw that night.
Instead, Orton was booked to face Shane McMahon in a No Hold Barred match at the upcoming No Way Out pay-per-view.
The event came and went, and Orton won a hard-fought match.
Why It Worked:
This really sold the bad blood between the two parties well while holding off Orton's inevitable clash with Triple H in the process.
Unlike many feuds, Trips and Randy only met once, which really built up the anticipation.
More Destruction of the McMahon Family
Recap:
Shane went looking for revenge on Raw, but was triple teamed by Orton, Rhodes and DiBiase, eventually leading to a punt to the skull as his father Vince had gotten the month beforehand.
Then, with Stephanie vulnerable, Randy hit the RKO on her, before scattering at the sight of Triple H running to the ring to check on his precious wife.
Why It Worked:
This was a systematic way of eliminating Shane for a bit, while really turning the focus to Randy Orton and Triple H.
This got Trips really involved in the feud for the first time since the Royal Rumble, which was needed if they wanted to keep this going through WrestleMania.
The Final Weeks Leading Up to WrestleMania
Recap:
Randy Orton had said he wasn't going to choose to fight Triple H at WrestleMania, until Trips reminded him of how he was responsible for kicking him out of Evolution, and making him lose his first World Heavyweight Championship.
Because of this, Orton changed his mind and declared that at WrestleMania 25 he would take on Triple H for the WWE Championship.
In the weeks that followed, we witnessed Triple H break into Randy's house, beat him down and throw him through a window.
Hunter also took a sledge hammer to both Cody Rhodes and Ted DiBiase inside a steel cage, as Orton walked up the ramp with his tail firmly between his legs.
Orton, however, sought revenge and got it once Legacy handcuffed Triple H to the ropes and brought Stephanie out.
She pleaded that Randy not hurt her husband, but he just kicked her in the gut, hit his elevated DDT and sealed it with a kiss.
Triple H was steaming at the sequence of events that had just happened before his very eyes, but he could do nothing about it.
Why It Worked:
All these things were necessary to make this storyline great and they were explained very well.
Randy didn't want to face Triple H because he was scared of him. But once Triple H reminded him of their history, Orton's disorder didn't allow him to pass on the opportunity.
Triple H then gained the upper hand with sacrifices The Viper was "willing to make" so that he could take advantage of H's guard being down (and he did so when he DDT'ed and kissed Stephanie, all while Triple H was watching).
The Disappointment of WrestleMania 25
This match was indeed a letdown, in part because it was asked to follow Shawn Michaels and The Undertaker, which had to be next to impossible.
Triple H won by hitting Orton with his patented sledgehammer after a referee bump.
Honestly, the finish just shows they over-thought this when they could have gone the route of say, a John Cena against CM Punk feud.
I mean, not that either can wrestle like CM Punk can, but both have competed in great matches, so I have no doubt that this could have lived up to its lofty expectations.
The Backlash
To view highlights of the six-man tag match at Backlash, click here.
Recap:
After threatening Linda McMahon, Randy Orton received his rematch for the WWE Championship in a six-man tag match.
It was a returning Batista (who had been punted by Orton previously, and replaced Vince McMahon in the match), Triple H and Shane McMahon against the three members of The Legacy.
If Trips, Batista and Shane won, Triple H would retain his championship. If Legacy won, Orton would reclaim what he believed to be rightfully his.
Legacy won the match, giving Randy Orton his WWE Championship back, and took Triple H out of action.
Why It Worked:
This was a nice way to slowly transition Batista back into a feud with Orton, while keeping the McMahon's involved.
It also was the last time we saw Triple H compete full time as this would take him out, up until a feud with Sheamus that ended exactly a year later.
Bye Bye Shane!
Recap:
Despite Triple H being written off, Shane faced Randy for one last time before the match ended in disqualification.
The General Manager at the time, Vickie Guerrero, gave Randy and Shane's teammates (Rhodes and DiBiase for Orton, Batista and MVP for Shane) a chance to qualify for a match later on in the night.
Both DiBiase and Rhodes qualified, but Batista and MVP did not, setting up a three-on-one handicap match.
In this match, Legacy broke Shane McMahon's ankle, and ended this storyline in the process.
Why It Worked:
Shane had to be written off television, and this storyline had to end. So, what better way to do it, especially considering he had already been punted.
Read Past Flashbacks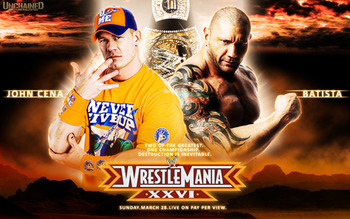 Keep Reading