The Curious Case of the Brett Favre Imposter
August 21, 2011
Greetings from the Frozen Tundra, friends!
'Tis yet another glorious week, filled with preseason football. The stars aligned this week in my little universe, as the Green Bay Packers were victorious at Lambeau Field against the Arizona Cardinals.
It looked kind of shaky there for a few minutes, though, didn't it? I probably wasn't alone in biting my nails down to bloody stumps, but never fear! The green and gold prevailed! 
Who's ready for the regular season?  Beer on tap?  Check. Tailgating goodies purchased?  Check. Triple prescription of Xanax obtained?  Triple check. Thanks, doctor. 
Who's ready for some football?  I know I certainly am, as during the Lockout, I suffered from "football withdrawals," if I may be so bold to make a diagnosis. I spent a great deal of time on social networking sites, tormenting and humoring my friends and family on a daily basis.  While trolling through status updates this morning (for example, who got drunk last night and the repercussions of said evening's high jinks), I looked over at my "People You May Know" area.  And, looking me back straight in the face was, you guessed it, Jackie Moen-Kadlec.
What in the hell?!
Yes, friends, it seems that there is an imposter on my social networking site. Someone, it seems, who believes that they, too, are a nearly six feet tall, furry and Norwegian girl. My question is, why? Why would you want to be me?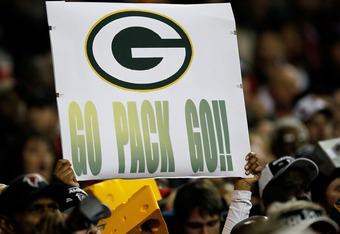 Do you have a Manpig in your life that you must torment? Do you have insane animals that cause you stress?  Are your grandparents elderly and slightly deranged, thus causing you to laugh uncontrollably whenever you are graced by their presence? Do you love football, which leads to nearly seven months out of your life blanked out by football related amnesia? 
For example "What do you mean I missed your birthday party?  Oh, it was on Sunday...Yeah, you know that the Packers were playing, right?  Sorry about that.  Maybe next year.  You know, if you hadn't been born during football season, this would make your birthday party a lot easier to attend.  I know you didn't have a choice in the matter.  Go talk to your Mom, okay?"
Yeah, this conversation may have occurred once or twice.  I digress, however. 
If you answered yes to all of the above questions, you could potentially be Jackie Moen-Kadlec. Although you should probably focus on just being you, and I'll focus on just being me, okay?  Or, if you still insist on pretending to be me, I will gladly drop Manpig off at your house for a day so you can see what living with the real Jackie Moen-Kadlec can do to a person.
You have been duly warned. 
This brings me to my main point.  While reading the Green Bay Press-Gazette yesterday morning, I stumbled across an article titled, "Man Posing as Former Packers Quarterback Brett Favre Making the Rounds in Green Bay."  "Curious," said I, as I clicked on the link.  It seems that a man, who slightly resembles a older version of Brett Favre, has been sighted in sports bars, signing autographs and posing for pictures with fans, in addition to attending the Packer's Thursday practice.  The imposter, it seems, also is wearing ol' Number Four's jersey, just to make sure that people know who he is trying to impersonate, as he is impersonating him.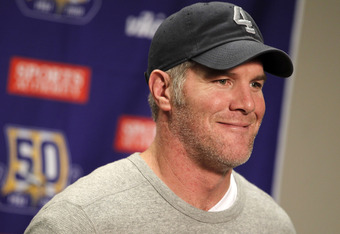 Seriously, buddy, you are wearing Brett Favre's jersey while you are trying to impersonate Brett Favre? Isn't that kind of like wearing the band's t-shirt while you are at the same band's concert?
An additional comparison was made to Elvis sightings, as Brett Favre has been sighted in several Wisconsin locations over the past few years.
Yup, Elvis and Brett Favre may have decided to join forces, and tour the country together, looking for people to take pictures of them and remember them.  However, if I may politely suggest to the Brett Favre impersonator, that real Brett Favre sightings are comparable to seeing a Sasquatch:  be elusive, my friend, and pump up the market value of the pictures.
The keyword is ELUSIVE, buddy. Going to the local tavern and the Green Bay Packer's practice on Thursday are not descriptions of the word ELUSIVE. 
Yes, friends, this suspicious Wisconsinite believes that the Favre imposter may have been sent by a division rival to shake the confidence of our quarterback, Mr. Aaron Rodgers.  Imagine you are Aaron Rodgers. You are a Super Bowl winning MVP, ready to rock in the new season.  And behold, out of the mists surrounding Lambeau, a figure appears...BRETT FAVRE!  Or, is it?  A decision must be made: allow Brett Favre/Brett Favre imposter into the frozen tundra, even if it is for a visit, or make him beat a hasty retreat? Rodgers drops back, and fires.  A perfect missile spiral and a direct hit to the Favre imposter!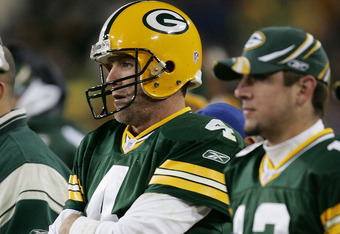 And Lambeau is safe yet again from evil-doers, thanks to the quick thinking of Aaron Rodgers.
Ahh, I kid, I kid. 
The moral of today's story, kids? You just have to be you, regardless of who you are. Be proud of who you are, and don't try to be anyone else. To quote Kermit the Frog in It's Not Easy Being Green, "When green is all there is to be, It could make you wonder why, but why wonder why, Wonder, I am green and it'll do fine, it's beautiful, And I think it's what I want to be..."
It seems that one certain Brett Favre imposter has taken that song to heart.
Anyway, have a good week, all!