Chicago Bears Positional Breakdown: Cornerbacks Edition
August 21, 2011
In the Bears secondary, there is only one constant, and that is Charles Tillman.  Tillman who is now entering his ninth season in the league, all with the Bears, stands to remain as the Bears' No. 1 cornerback. 
Tillman has thrived in head coach Lovie Smith's defense, and is the epitome of what Smith wants his players to do, and that is strip the football.  In his eight previous seasons, Tillman has caused 25 forced fumbles and has intercepted 27 passes. 
Tillman often gets overlooked as one of the top of the line cornerbacks in the league.  Tillman is a hard-hitting, takeaway machine, that more often then not gets matched up against the opposing team's best receiver.  Don't look for Tillman to give up his role as the No. 1 cornerback any time soon.
After Tillman, there are many other players vying for the role of the No. 2 cornerback.  Last season saw Zachary Bowman break camp as the No. 2 cornerback, only to eventually give up that role to Tim Jennings. 
Bowman seemed to struggle in pass coverage, and once demoted, saw Jennings take the majority of the reps as the No. 2.  Both players play a bit of a contrasting style, as Jennings stands just 5'8", he has to be a more physical corner, while Bowman's 6'1" frame allows him to use his size and height as an advantage against receivers. 
I think the No. 2 cornerback will come from one of these two guys, and despite his injury in the first preseason game, look for Bowman to start the season as the No. 2.
In the Bears Cover 2 defense, and primarily in third-down passing situations, the nickelback has become a primary defender.  Last season saw D.J. Moore emerge as very reliable nickelback, and he was able to pick off four passes in the process. 
Moore is able to use his speed and quickness to defend the slot receivers he is often matched up against.  Barring any setbacks in camp, Moore should remain as the Bears primary nickelback.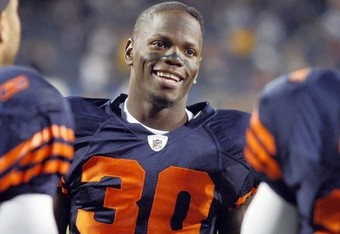 To round out the final cornerback positions, fifth year player Corey Graham, second year player Joshua Moore and undrafted rookie Mike Holmes will be battling for position.  Graham is a virtual lock to make this team, but that is more because of his contributions to special teams, where last year he had excelled, and the Bears made re-signing him a top priority. 
Both Moore and Holmes have seen much of their time playing with the second and third string, but in just his first preseason game, Mike Holmes opened some eyes by making a good read and picking off a pass from Bills quarterback Levi Brown.  Holmes is a small, quick corner, much in the mold of D.J. Moore, do not be surprised if he makes a push to be on the 53-man roster, and he also provides experience as a kick returner. 
As for Moore, who was picked in the fifth round of the 2010 NFL Draft, he has a lot to prove in this camp if he wants to make this team.  The reports out of training camp have been that he has played strong, particularly in zone coverage.  In the next few preseason games it will be interesting to see how it plays out between both Moore and Holmes.
For the first time in Lovie Smith's tenure as Bears head coach, he went a whole season with the same starting duo at safety.  This offseason saw one of those players leave via free agency,  Danieal Manning, and another return to his natural position of strong safety, Chris Harris. 
Harris was a major part of the Bears' Super Bowl run back in 2006, but was traded away the next offseason, only to be brought back last year.  Harris played a bit outside of his comfort zone as a free safety last year, that forced him to play more in coverage, but he finished the season tied for the team lead in interceptions with five. 
With Harris moving to the strong safety position, it allows him to play up in the box, meaning giving him the ability to be almost a fourth linebacker, and help stop the run.  Harris is still pretty good in coverage, but moving him back to the strong side should allow the Bears to utilize his best assets.
With Harris penciled in as the strong safety, Major Wright appears to be the teams best option at free safety.  Wright who appeared in only 11 games last season, but played well when he was on the field, offers the Bears a legitimate playmaker in the secondary.  Wright has a good combination of speed and quickness, is a big hitter and has very good hands. 
As long as Wright can stay healthy, which was the big reason he did not see much playing time last year, look for him to solidify the secondary along with Harris.
The Bears only have six safeties currently in camp with them, and unless something unbelievable happens, or an injury, the two other safeties appear to be fourth year player Craig Steltz or rookie Chris Conte.
When Steltz was drafted in 2008, Lovie Smith claimed he could be their starter that year, but Steltz has been nothing more then a solid special teams players.  Steltz plays much in the mold of Chris Harris, a strong safety that can play in the box and stop the run, but what hinders Steltz is his lack of speed and poor coverage skills. 
Steltz is a good special teams player, but if called upon to replace Harris because of an injury, look for the level of pass coverage to decline. 
The other option that Bears will keep on their roster is third-round pick Chris Conte.  Many were shocked that Conte was selected as high as he was, seeing as though he only played safety at California for one season.  Conte is a fast player, but tends to look slow because he often times appears to be thinking instead of reacting. 
Conte has plenty of upside, and that is likely the reason that the Bears drafted him so high.  If given the right coaching, he could possibly push Wright next season at the free safety position and it could result in Wright switching to strong safety in the future.