WWE: Will John Cena's Career Go the Same Way as Hulk Hogan's?
July 5, 2016
Imagine, if you will, WrestleMania IX. For those not familiar with it, the main event for the WWE Heavyweight title pitted Bret Hart against the late great Yokozuna. It was the Roman-themed pay-per-view with all the expected gaudiness of Caesar's Palace, Las Vegas.
In the main event, however, who left with the title? The answer was Hulk Hogan.
Yes, Hulk Hogan. For those watching, it was somewhat of a weak finish. Mr. Fuji cheated Bret Hart, the fan favorites, out of the title by throwing salt into his eyes. Yokozuna was able to capitalize and he won his first WWE title. Nothing too wrong here.
Enter Hogan.
It was probably quite cool for Hulkamaniacs at the time, but Hogan's arrival had all the hallmarks of a cheap and quick title handover. Long before Kevin Nash was finger-poked into hell, Hogan received the belt from the WWE in a similar disregard of the company's most prestigious title.
Under the guise of coming to help Bret Hart, Hogan was subsequently challenged to a title match by Mr. Fuji and the result, as you might expect, occurred. Hogan won his fifth crown in just 21 seconds.
Flash forward now, 18 years.
The WWE does not have many worthy champions. Many have called it a transitional period but irrespective, there are few that would warrant a title run. Some have been tried like Jack Swagger, but with little success. Others underwent runs with no longevity like Christian. Others underwent runs with no longevity like Christian, while some were restricted.
And so the belt continually comes back to two men, Randy Orton and John Cena.
Just as with Hogan two decades before, a Cena or Orton title win provides little of the magic that it once had. Cena winning at WrestleMania to become the champion has been done so many times, it has lost its ability to surprise, shock or entertain.
When a new champion is crowned, it is meant to be an immense occasion like those of Eddie Guerrero or Rey Mysterio. It ought to signal a new generation or period in wrestling history. And yet with continually using Cena and Orton, the belt has lost all its lustre.
There are market forces at play here that mean that Cena, Orton, Hogan, Rock and Austin have to be champions, but the nature of their reigns have been such that it has no sense of achievement about it. Just as with Nash in WCW, it's as if their opponent has dropped to the mat and accepted defeat.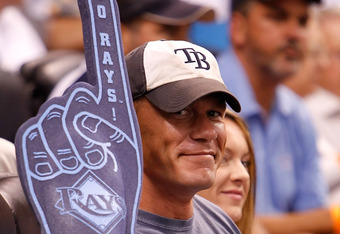 If he maintains his good health and is lucky with injuries, John Cena has at least a decade left at the top. With excellent fitness it could exceed that. However, how do you write a story, angle or character for someone who has already exhausted his title reigns?
Cena will become the top champion in the future, surpassing Hogan at some point, but how does he manage it?
Cena's much talked about heel turn, the ability to lose, a character change, a stable, a period of absence; all our methods of change. But unless the WWE do something about it now, then it's 1994 all over again and the good-guy image becomes obsolete in favour of the bad boys of wrestling.
Hogan was reborn with the nWo. Cena, by comparison, is still wearing the red and yellow tights, he needs something in which to make himself relevant again. His winning the belt now is akin to that victory 18 years ago where Hogan was handed the belt. It's not new. It's not clever. It's not a surprise.
The WWE needs a long-term plan with Cena. They never had that problem with Hogan because he was reinvented in WCW. The WWE all too often over-rely on a concept that doesn't invite change. Cena will be the good guy until the markets force otherwise.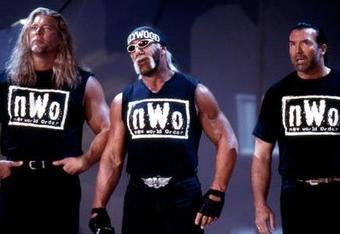 The rise of CM Punk has been the greatest challenge to the status quo, and yet even here, Cena remains the red and yellow crusader coming to challenge the heels of the wrestling world.
The WWE needs to be ahead of the pitch with Cena in order to stay relevant. In 1996, with Hogan and the nWo, the WCW revolutionised wrestling and Hogan's career, by offering something entirely different than what was expected.
With one leg drop, the money-making machine that was Hulk Hogan was obliterated in favour of "Hollywood" Hulk Hogan, which made even more.
As we perhaps stand at the wrestling crossroads, those in power need to have long-term plans for their top stars. With the likes of the Undertaker, it's easier because there are fewer matches involved, but for someone like John Cena and Randy Orton, where there are years, there needs to be forward thinking.
Flash forward another 10 years, what scenario do you envisage for Cena and Orton that you would be happy with? Cena with 20 world titles? Orton as the most coveted superstar in history?
What is the future for John Cena and wrestling? Will the WWE simply rehash the glory days seeking to make one last dollar from a tired concept? Hogan in red and yellow reminds of the past but it does little to excite us that change will happen in the future.
Ultimately, does wrestling have a future if they are always looking to the past?