Miami Hurricanes Football, Terrelle Pryor Prove NCAA Violations Are Commonplace
August 20, 2011
In the wake of the recent events surrounding the University of Miami Hurricanes football scandal and the never-ending Terrelle Pryor story, it's important to note that these kinds of reports shouldn't be surprising to anyone.
Collegiate athletes receiving thousands of dollars in spending cash, free loaner vehicles, prostitutes, tattoos for jewelry, extravagant yacht parties…the list goes on.
College life sure has changed since I was an undergraduate student.
With the Miami Hurricanes football scandal breaking on the heels of the latest chapter in the ongoing Terrelle Pryor saga, the NCAA Committee On Infractions (COI) has been working on overload lately.
And to think that none of the alleged violations are even that shocking. Yeah, I said it.
Why do we as avid sports fans continue to be surprised by these types of NCAA infractions at high-profile football programs? Violations of the NCAA's amateurism policy occur on a daily basis throughout the D-I football universe.
Only lately, big schools have been getting caught. (Read: Southern California, North Carolina, Alabama, West Virginia, Ohio State and Miami.)
Granted, not every program has a booster that offers players strippers and stacks of cash, but the point remains. Any fan of college football understands that there have been (and probably always will be) certain benefits afforded to the best players on the best teams.
And those benefits aren't always legal, according to the NCAA.
The fact is, the latest alleged infractions by players at the University of Miami and by Terrelle Pryor while at Ohio State were ultimately rewarded. Basically, there is no incentive for star football players to abide by the NCAA's rules when it comes to improper benefits.
Bear with me, this will all make sense.
The now-infamous University of Miami booster Nevin Shapiro has detailed hundreds of incidents in which he provided star football players with cash, jewelry, dinners, prostitutes, visits to nightclubs, as well as the use of his mansion and his yacht.
The consequences for the players involved? In the cases of Vince Wilfork, Jon Beason, Andre Johnson, Devin Hester, Kellen Winslow Jr., and Antrel Rolle (among others)—getting drafted by NFL teams and making millions of dollars for their talents on the field.
Oh, and the fact that they were living like rock stars while in college.
These players not only broke NCAA regulations and got away with it, but they were rewarded after their time in college had ended. With the example set by players from years past, why would the current members of the Miami football team alleged to be involved with Shapiro turn down any benefits given to them?
The answer: There's no reason for current Miami players to behave any differently when it comes to receiving improper benefits. Especially if it's considered part of the culture of "The U."
As for Terrelle Pryor, his situation is similar. His story began with allegations that he traded championship memorabilia in exchange for tattoos provided by a Columbus-area tattoo parlor.
Major infraction.
In addition to the tattoo scandal (in which several other Ohio State football players were alleged to be involved), Pryor also received the use of several high-end loaner vehicles from area car dealerships for his personal use during his time as the Buckeyes' quarterback.
Another major infraction.
While some would say that Pryor was, in fact, punished for these NCAA infractions, I would argue that things have worked out pretty well for the kid.
After all, he was allowed to play in the Sugar Bowl (after the allegations had been filed), his "promise" to return to school and serve a five-game suspension never came to fruition, and he's working out for NFL teams as I sit here writing this sentence.
Tough life, but someone has to live it.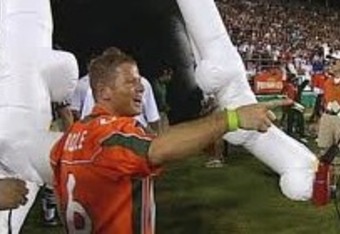 To take the argument even further, while the NCAA COI worked to determine Pryor's eligibility for the NFL's supplemental draft, the NFL actually postponed the draft entirely, in order to allow Pryor the chance to participate should he become eligible.
The NFL even went so far as to issue a statement, citing Pryor's attempts to "undermine the integrity of the supplemental draft" by hiding evidence of further NCAA violations during his time at Ohio State. But still, they made concessions to allow Pryor to work out for prospective NFL teams and join the supplemental draft class.
So, "undermining the integrity" of the draft earns you the right to a more conveniently-scheduled draft day? Did I miss something?
Yes, Pryor may be facing a five-game suspension when he signs with an NFL team (which he will appeal), but even for all the NCAA infractions he committed, he's still going to be a paid professional football player when it's all said and done.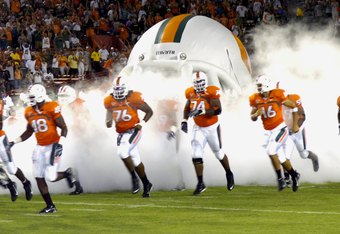 However, this is not an attack on Terrelle Pryor or on the University of Miami football players. I am not condemning their actions at all.
As I said earlier, they acted as they did because there were no negative repercussions for their decisions. It stands to reason that if they weren't going to be punished, there was nothing to prevent players like Wilfork, Beason, Johnson, and Pryor from accepting improper benefits.
The end result was that the players thoroughly enjoyed their time in college were rewarded with NFL money.
It would seem that the NCAA is more at fault than the players are. By not policing the schools' football programs more closely, it allowed scenarios like the ones at Miami and Ohio State to occur.
It's true that most major NCAA violations will result in vacated wins or vacated personal accolades (e.g. USC's national title win in 2005 and Reggie Bush's Heisman trophy). And it's true that the infractions at Miami and Ohio State may result in the same. However, the players there will most likely be gone by the time the penalties are handed down, so what does it matter to them if the school suffers after they've left?
Besides, having wins vacated doesn't erase the games from the minds of those who watched or played in them. And as far as Vegas is concerned, vacated wins still count as completed games. In short, no refunds.
And when the University of Miami and Ohio State University are finally sanctioned for their violations, Vegas will still view them as football programs that won games.
Even if the NCAA tells us those wins "never happened."