Liverpool vs. Arsenal: Super Subs Suarez and Meireles Sink Gunners
August 21, 2011
Both teams look entirely different than their match at the Emirates last season.  Arsenal suffered a number of injuries and suspensions that forced Wenger to select from young and inexperienced players.  Liverpool signed a number of players this summer, and Dalglish is trying to get them to settle in and gel as quickly as possible.
Dalglish made two changes to his starting line up from last week: Martin Kelly on for Jon Flanagan and Dirk Kuyt on for Luis Suarez.  Wenger was forced to start with Emmanuel Frimpong and Carl Jenkinson, but he did have Samir Nasri at his disposal.
The first half lacked much action other than Arsenal's Laurent Kolscielny leaving early due to back spasms and Andy Carroll's header that was well-saved by Arsenal's Wojciech Szczesny.
The second half got off to a slow start as well, with both sides lacking any real attacking threat.  Everything changed after Arsenal's Frimpong got a second yellow card and was sent off.  Immediately after he was sent off, Dalglish sent on Luis Suarez and Raul Meireles for Andy Carroll and Dirk Kuyt.  Although Kuyt and Carroll played well, it was clear that bringing on Suarez and Meireles was the right decision.
Liverpool came to life after the substitutions, and the two were integral in creating the two goals.  The first goal came after a good bit of passing between Suarez and Meireles that led to chaos at the back for Arsenal.  Replay showed that Suarez was marginally offside, and Arsenal was unlucky that it was not called.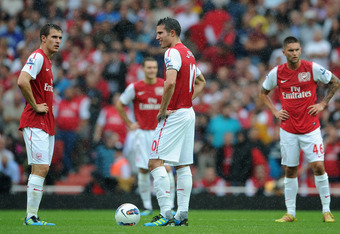 The Gunners' bad luck continued when substitute Miquel's clearance bounced off of Arsenal's Ramsey and into the goal.  Liverpool continued to pressure through Suarez and Meireles, and just before time, they linked up again and Suarez had an easy finish to make it 2-0.
What matters about this match is not just the three points, but where this leaves these two sides going forward.  It is so early in the season that competition for a place in the Champions League will not be decided now.  However, the transfer window is nearing the end, and players will be eager to join clubs on the rise and avoid ones that are in decline.
Arsenal certainly had a weaker squad than normal, but this is the clearest indication yet that Wenger needs to bring in some experience and depth to help guide the younger and inexperienced players during games like these.
Liverpool did not look very special until Suarez and Meireles came on.  However, the back four did look solid.  Suarez is already looking like he will be one of the key figures in the Premier League this season, but Liverpool still need to continue to strengthen the squad in order to have depth to compete all season.
Honestly, if Arsenal lose to Udinese in the Champions League qualifier on Tuesday, I think it will be difficult for them this season.  It will be difficult for such an amazing club to attract big names because of all of the doubts surrounding their future.  Wenger has certainly done his best to bring in talented players who will perform well for years to come, but he still needs to sign a quality center back to partner Vermaelen at the back.
Liverpool look like a side that is ready to compete for the long haul.  However, once you remove Downing, Suarez or Agger, things look pretty different.  Liverpool does not have much width (although much more than last season), and Arsenal Dalglish needs to sign a center back to add quality and depth.
There is a reason why Manchester United, Manchester City and Chelsea are the most feared sides this season, and that is because of quality and depth.  These three sides have a larger problem figuring out who to make their players happy rather than worrying about weak areas in the team.
Arsenal and Liverpool will be fighting for fourth place this season, so Liverpool winning at the Emirates was a massive victory for the Reds.  Arsenal still need to make a few signings to finish in the top four, while Liverpool could add another player or two to solidify a place in the top four.