Chelsea FC: Player Grades vs. West Brom
August 20, 2011
Chelsea boss Andre Villa-Boas can breath a sigh of relief as he records his first victory in the Premier League with a 2-1 contest over West Brom.
Goals from Nicolas Anelka and Florent Malouda were enough to take the lead after a blunder in the back from Alex, gifted West Brom's Shane Long with a goal inside the opening minutes.
Things got off to an awful start when Alex and Bosingwa were not able to connect on the back line. Long poached the pass, shrugged off Alex's challenge, and slid the ball past Hilario.
Minutes later West Brom had a chance to make it two, but Long put the ball a little too far in front of striking partner Somen Tchoyi.
The blues dominated possesion in the first half, but would exit the the field to boos from the fans. Their play was stagnant and rarely threatened the West Brom net.
The second looked more of the same. In the 53rd minute a bit of luck happened as Anelka's shot deflected off the leg of his defender and rolled into the net. The breakthrough is all they needed to get started.
They began to look to have finally come into form and were comfortably possessing the ball deep in the West Brom end.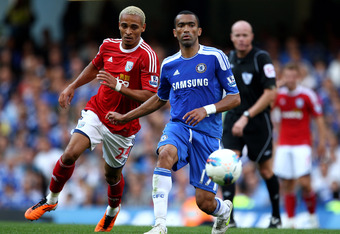 With time winding down, Bosingwa would catch the defense sleeping. He pushed the ball down the right flank and crossed it across the face of net. Malouda would run onto it for an easy tap in on the far post.
Chelsea got the full three points as expected, but it was a hard fought win. In truth, the home side could have found themselves down 2-0 very early. Anelka caught a break on his goal and Malouda's benefited from some sloppy defending.
The team still lacked creativity and could not move the ball up top. There is a lack of chemistry throughout the field that needs to be addressed.
It is obvious that this team is still far from the point where they need to be if they wish to challenge for the title.
Player Grades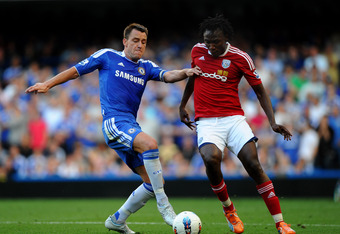 Hilario: B
It is never easy to fill in for Cech, but Hilario did a great job. He was confident grabbing balls out of the air and had a great save from a shot in the box. The team is lucky to have such a dependable back up.
Bosingwa: B-
His poor pass to Alex led to the early goal for West Brom. He still seemed to struggle getting forward and gave the ball away too many times on poor passes. His assist on the second goal was one of the best moves of the game and saved him from being a goat.
Alex: D
Alex struggled from the moment he gave up that early goal. Minutes later he held Long on side, which should have been West Brom's second. It was very uncharacteristic of his play, but he clearly was not on the top of his game.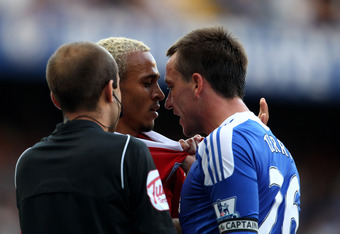 Terry: C+
Was oddly absent in this game. Did not have much influence anywhere on the field and perhaps could have been at fault for the near second goal. Didn't really do anything wrong, but as a captain you have to show more on the field.
Cole: B-
Played much better in this game than last week, but was still not at his best. Had the first decent chance on goal with a long-shot, but still struggled to get forward effectively.  
Mikel: C
Did not have a great influence in the action, but also did not have any major blunders. With the situation at home involving his father, it is safe to say his mind may have been elsewhere.
Ramires: B+
Again his industry was the most exciting thing in blue today. He was all over the field making tackles and winning 50/50 balls. his tackle in the midfield led to Anelka's goal. He is quickly establishing himself as the most reliable and consistent player on the team.
Lampard: B
Started slow, but eventually became a threat in the offense. He helped create Anelka's goal and when Drogba was introduced he looked much more comfortable. Hopefully he has finally found his legs in the Villa-Boas system. 
Anelka: A
Surprisingly got the start on the wing and played like he deserved it. Even though he was out wide, he consistently cut inside and created opportunities. For a while he was the only player making any threat offensively. His goal may have been a bit lucky, but as a forward it is better to be lucky than good at times.
Kalou: F
He looked completely lost on the field. Made non-consequential runs, turned over the ball, and was arguing with teammates. Villa-Boas took him out in the 35th minute. The move was harsh, but necessary as nothing was happening with him on the field.
Torres: C-
looked strong on the ball again, but still nothing to show for it. He was always out of sync with his teammates and contradicted the flow of play. Villa-Boas is getting nothing out of him and will have to begin to seriously asses what role Torres will play in the future.
Subs
Malouda (35th min. for Kalou): B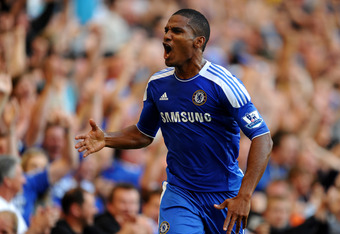 Did not do much, but was more influential than Kalou. His goal was an easy tap in, but his run to the far post is exactly what Villa-Boas wants out of his wingers. Should be starting from now own.
Drogba (60th min. for Torres): B-
His touch was oddly off today and failed to control the ball a few times. His grade is mostly due to the fact that his introduction seemed to improve the play of everyone around him. At some point he will be starting or he should look for another team. 
Ivanovic (66th min. for Alex): B
Another player who in hindsight should have started. It is impossible to say if he would have played a clean 90 minutes, but the 25 he did were excellent. He made made some good tackles and cleared the ball from danger as West Brom pushed forward. Villa-Boas must find a way to work him into the starting line up for the future.