NFL Season Preview: Dallas Cowboys Projected Team Roster for 2011, Version 1
August 20, 2011
The preseason may not be important when you base it on score or outcome, but a lot of lesser known players are fighting for their jobs. The bottom of the roster, while never settled, can change week to week based on standout performances by backups or third-team players.
This is an attempt to predict the final Dallas Cowboys roster on a week to week basis, until the final cuts are held after the fourth week of the preseason.
After the first preseason game, the Cowboys team should look like this:
QB: Romo, Kitna, McGee
Romo and Kitna are locks for the roster, and McGee seems to be developing nicely.
RB: F. Jones, Choice, Murray
Murray hasn't played yet and there are rumors of letting Choice go, but Miller had a bad game rushing against the Broncos.
FB: None
The Way Rucker played against Denver was much more impressive than what the fullbacks were able to do. If I had to take a fullback I would go with Gronkowski over Chapas.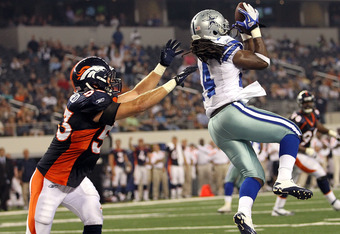 TE: Witten, Bennett, Phillips, Rucker
Before Phillips was injured last year, he played H-Back for the Cowboys.
WR: Austin, D. Bryant, Ogletree, Harris, Radway
Harris had a very impressive game against the Broncos, with two touchdowns and over 100 yards. Radway is a good looking prospect who also caught a touchdown against Denver.
OL: Free, Koiser, Gurode, Arkin, Smith, Costa, Nagy, Holland, Parnell, Young
This offensive line has a good mixture of young players and experienced veterans.
DL: Hatcher, Spears, Ratliff, Coleman, Lissemore, Brent, Olshansky
Spears and Hatcher played very well and are obviously locks for the roster. Lissermore and Olshansky could battle it out for a final roster spot, however.
LB: Ware, Brooking, Lee, James, Carter, Spencer, Butler
Butler looked phenomenal against Tim Tebow and the Denver offense, and could start stealing playing time away from Spencer.
CB: Newman, Jenkins, Scandrick, McCann, Ball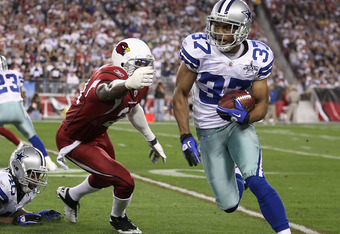 McCann has shown flashes of being a quality corner, and will need to show his talents to make the team.
S: Elam, Sensabaugh, Owusu-Ansah, McCray, Church, Sendejo
While carrying six safeties is considered a lot, Elam and Sensabaugh are both playing on one-year contracts, while Owusu-Ansah, McCray and Church continue to develop. Sendejo really stood out in the first preseason game, which helps his cause tremendously.
K: Bailey
With kickoffs being moved up five yards, Buehler's big advantage has been removed. Now the Cowboys can let the two kickers battle it out through accurate kicking and making field goals.
P: McBriar
One of the best punters in the league.
LS: Ladouceur
After one preseason game, this is the roster that I feel will give the Dallas Cowboys the best chance to return to the playoffs and be competitive in the future. This could change after Sunday when the Cowboys play the San Diego Chargers, so be on the lookout for updates.
If you feel that some players are more deserving of others, let me know in the comments section