Miami Hurricanes Football Scandal: Broncos Players Have Some Explaining to Do
August 19, 2011
Former Miami Hurricanes and current Denver Broncos' players Willis McGahee, D.J. Williams and Orlando Franklin have been indicted in a report by Yahoo! Sports' Charles Robinson who investigated the former Canes booster, Nevin Shapiro, who has allegedly provided thousands of impermissible benefits to 72 fellow former Canes players.
Shapiro was incarcerated for his role in a $930 million Ponzi scheme and has worked with Yahoo! Sports during an 11-month investigation regarding a sustained, prolonged run of rampant NCAA rule-breaking.
Shapiro alleges that millions of dollars worth of illegal benefits were provided to recruits, ranging from cash handouts, prostitutes, entertainment in Shapiro's mansions and yachts, paid trips to fancy restaurants and nightclubs, jewelry, travel, bounties for on-field play (including a bounty to injure the Denver Broncos quarterback Tim Tebow) and an abortion.
Robinson's investigation has been corroborated by 20,000 pages of financial/business records, 5,000 pages of cell phone records, multiple interview summaries tied to his federal Ponzi case and more than 1,000 photos with former and current standouts from the University of Miami.
Nine former Canes players or recruits and one former coach, confirmed multiple accounts of the report.
The report specifically names the Broncos' newly acquired Willis McGahee as Shapiro's first living scholar athlete. The living scholar program joins a current player on the team with the booster who is paying for his academic scholarship to play a sport. In this case, it was football.
Shapiro has alleged that McGahee had an "unremarkable relationship." He claims that the extent of his contact with McGahee was a home-cooked meal and a few conversations at team outings.
Shapiro bought plane tickets for two of McGahee's female "acquaintances" to attend the 2002 Heisman ceremony.
He also flew D.J. Williams' mother out from California to Miami to spend time with her son and to meet Shapiro's partner at Axcess Sports, a sports representation agency, Michael Huyghue, who is now the commissioner of the UFL.
As part of Robinson's report, Shapiro provided a photo with Williams a few other players on Shapiro's $1.6 million yacht.
When asked about the report McGahee responded, "I ain't talking about Miami. I'm out of Miami."
When questioned about gifts or money received from Shapiro at Miami, D.J. Williams and Orlando Franklin were mum. They didn't respond, declining comment.
I understand that. These guys are caught in a bad situation, and some of their past actions may come to light.
Even though the players who were accused in the report will not speak about the situation, Tim Tebow, one of the players who had a bounty on his head by Shapiro, spoke to the temptations in college that young players face.
"You got to already plan in your mind beforehand how you are going to handle those situations."
The mindset Tebow had in those situations was, "No matter what temptation comes in front of me, I am going to say 'No' it because it's not worth it at the end of it. Not [saying] what is it, how nice is it, how nice is the perk…then the temptation can overcome you and you give in to it and regret it later on down the road."
It looks like the regret of their actions is soon to arrive as pressure to either accept or deny their roles in this scandal seems imminent in the coming days.
It might be humiliating to reveal their past transgressions and their lack of judgment in the situation to accept improper benefits when they were young men, maybe 19, 20 or 21 years old.
But these players need to take responsibility for their actions. They need to be held accountable.
I believe it is the right of the fans for the players at Miami who received impermissible benefits from Shapiro should come forward now. They should stand up and explain their relationship with Shapiro and what benefits they received from him. The players need to come clean.
If the players come clean about their role in this scandal, it will give the NCAA the information they need to crack down league-wide on the seedy underbelly of NCAA football.
They can positively impact the league for future generations, paving by their mistakes a new future to help players succeed and not be caught in the same trap they got stuck in.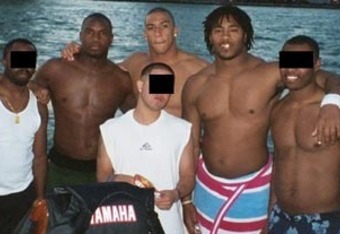 The problem isn't localized to "The U" only, rather, it is widespread throughout the NCAA, and without former and current players taking responsibility for their misdeeds, it is going to continue and may even flourish.
The same Paul Dee, the chairman of the NCAA's committee on infractions, who disciplined USC for its improper benefits given to Reggie Bush and O.J. Mayo in 2010, was the Hurricanes former athletic director, who once honored Shapiro during a game.
His admonition to USC was, "High-profile players demand high-profile compliance." He now appears to be one of the chief hypocrites in this revealing investigation.
This problem is a universal one at many schools across the country. Many of which, like Miami, refuse to investigate the goings-on around them, to be ignorant of what their players receive in benefits and to pretend like everything is perfect around them.
Shapiro claims that Miami ignored the obvious offenses that he committed because, "It was desperate to retain a booster who had donated hundreds of thousands of dollars to the program."
The report also claims that Shapiro had pledged $250,000, and Miami was on the verge of naming an athlete lounge on the Miami campus in his honor.
If the Broncos and other current NFL players do not speak up about these findings, the truth will ultimately come out.
Fans are much more forgiving when the accused is honest and reveals what went on asking forgiveness, instead of denying all accusations and later finding out that their favorite stars lied to their face.