College Basketball: Picking a Starting 5 from the Preseason Top 25 Teams
Chris Trotman/Getty Images
If we were to pick a starting five of the top 25 preseason teams would any of the picks be disputed?
Would any one team dominate this starting five?
These were questions going through my head earlier so I put this list together.
Rivals.com's preseason top 25 list was used for this slide.
No player was intentionally added to this list based on their potential however some freshmen were mentioned due to the hype surrounding them.
Wisconsin Badgers: Jordan Taylor at Point Guard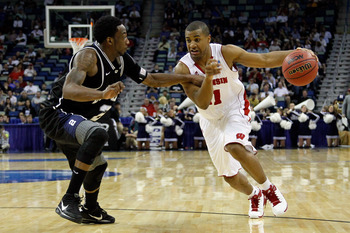 Kevin C. Cox/Getty Images
Kendall Marshall was a late addition to North Carolina's starting five. The Tar Heels then went on a great winning streak with the 6'3" left-hander as the floor leader.
Marshall has done enough to have him being considered one of the top point guards in next year's draft. Especially since the NBA now covets elite point guards.
From Chris Paul to Derrick Rose this is the most competitive position in the NBA.
That's probably why Kyrie Irving was taken first in the last draft, among other reasons.
Marshall made 42 percent of his shots, 38 percent on three-pointers. He finished the season with averages of 6.2 points, 6.2 assists and two rebounds a game. All that was done in 24 minutes.
If we were to adjust his stats from when he replaced Larry Drew as a starter his averages are 7.7 points, 7.4 assists, 2.3 rebounds and 1.25 steals. All this was done in approximately 30 minutes as a starter.*
Marshall dishes out the ball at a high rate but does not look to score much. He made 52 percent of his shots in about 24 starts, 32 percent on threes.
That's why the top point guard in college basketball will be Wisconsin's Jordan Taylor.
In 36 minutes he averaged 18.1 points, 4.7 assists and 4.1 rebounds. The 6'1" guard also made 42 percent of his three-point attempts.
Numbers don't lie. Marshall may have a higher ceiling to grow but Taylor is the best point guard right now.
Runner-up here is Tu Holloway of Xavier. Aron Craft of Ohio State and Shabaz Napier of UConn.
Maquis Teague of Kentucky will probably be one of the top freshmen in the United States. He will get some stiff competition from Arizona's Josiah Turner.
* Stats were taken from Rivals.com.
Vanderbilt Commodores: John Jenkins at Shooting Guard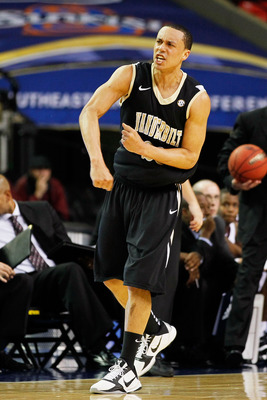 Kevin C. Cox/Getty Images
John Jenkins is considered one of the best shooters in college basketball. He made 40 percent of his three-point attempts last season, scoring 19.5 points a game.
The only competition for Jenkins, on this list, is probably Ohio State's William Buford and UConn's Jeremy Lamb.
Two players that will have their potential properly tested next season without some marquee players around.
Kemba Walker for UConn. Jon Diebler and David Lighty for Ohio State.
All these guys will see some hefty competition from two freshmen, Duke's Austin Rivers and Florida Gator's Bradley Beal (if he can get some pt in Florida's loaded back court).
North Carolina does have a guard that can make some noise here as well but PJ Hairston might struggle for big minutes even with Leslie McDonald being out due to injury.
North Carolina Tar Heels: Harrison Barnes at Small Forward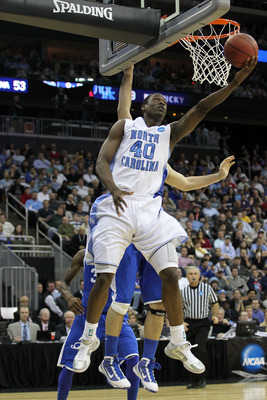 Nick Laham/Getty Images
Harrison Barnes didn't have a great start to his college basketball career so I wiped off his the first few months and recalculated his stats and this is the result.
If we look at Barnes from the time Marshall entered the starting lineup, his averages per game would be 17.6 points, 5.9 rebounds and 1.25 assists.
These aren't fancy stats like plus minus or RSCI ranking etc but they are actual stats from actual games.
Barnes' adjusted stats are not far off his true stats of 15.7 point and 5.8 rebounds.
Anyone can easily interpret this to mean that the true catalyst of that North Carolina run, at the back end of the season, can be directly attributed to Kendall Marshall. But if you saw those games it would be a different story.
Barnes is still the best small forward going into the next season by far, unless you account for freshmen like Michael Kidd-Gilchrist, Kentucky or Wayne Blackshear, Louisville Cardinals or Branden Dawson, Michigan State.
Other college runner-ups are Texas A&M's Kris Middleton and Syracuse's Kris Joseph.
Also Draymond Green of Michigan State is a stat stuffer.
North Carolina Tar Heels: John Henson at Power Forward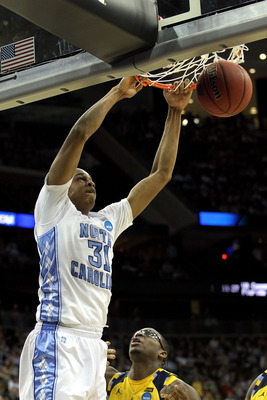 Nick Laham/Getty Images
The obvious choice here is Jared Sullinger. If you only require scoring and rebounding. If you add in a shot-blocker then the pick is John Henson of North Carolina.
Both these players averaged a double-double.
Sullinger averaged 17.2 points, 1.2 assists, 0.5 blocks and 10.2 rebounds.
Compare that to Henson's 11.7 points, 10.1 rebounds and a whopping 3.2 blocks.
Physically Sullinger, 6'9" 280 pounds, could trim down some while Henson, 6'10" 210 pounds should benefit from bulking up a little.
Based on the offensive prowess of the other three players on this list, Henson gets the nod. He will add some scoring and brings a lot more to the table on defense.
Sullinger's summer plan is to lose some weight so that he could be more mobile, if so he will be a different player next season.
Runners up are Thomas Robinson from Kansas. Perry Jones from Baylor.
Freshman Anthony Davis of Kentucky will does deserve a mention but the man ultimately squeezed out of this two-horse race is Terrence Jones. Is he a power forward or small forward?
He rebounds at a high rate, defends bigger players but offensively he plays like a wing.
North Carolina Tar Heels: Tyler Zeller at Center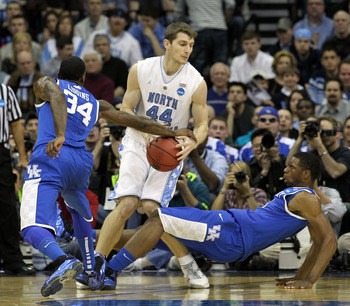 Nick Laham/Getty Images
Tyler Zeller was the joint leading scorer on North Carolina last season, averaging 15.7 points, 7.2 rebounds and 1.2 blocks. Very respectable numbers in about 30 minutes every game.
Two players that can give Zeller competition are Kenny Frease from Xavier and Alex Oriakhi from UConn.
One freshman to pay attention to is Khem Birch from Pittsburgh. Not much of a scorer but he should be an upgrade on departed senior, Gary McGhee.
Syracuse has Fab Mello, maybe he can rebound from a terrible freshman season.
Keep Reading

UNC Basketball: Like this team?