NASCAR: Predicting the Next 5 First-Time Sprint Cup Winners
David Purdy/Getty Images
After no new winners during the 2010 Sprint Cup season, there have been five new winners so far in 2011.
The victories of veterans David Ragan, Paul Menard and Marcos Ambrose come as little surprise, while the triumphs of Trevor Bayne in the Daytona 500 and Regan Smith at Darlington were nothing short of shocking.
Who will be the next to join Bayne, Smith, Ragan, Menard and Ambrose as winners in NASCAR's top series?
Read on to find out.
1. A.J. Allmendinger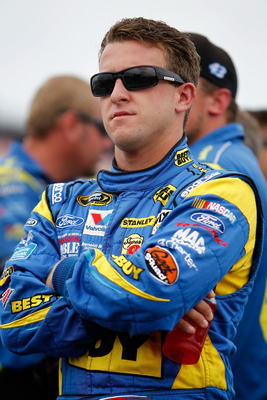 Jeff Zelevansky/Getty Images
A.J. Allmendinger is the obvious choice for being the next driver to get his first Sprint Cup win.
Teammate Marcos Ambrose recently won at Watkins Glen to pick up his own first Cup win, and A.J. Allmendinger is the last legitimate candidate to become the sixth first-time winner of 2011.
Allmendinger has led over 200 laps in his Cup career and has four Top Fives, 21 Top 10s and a pole to his credit.
If Jimmie Johnson hadn't been so dominant at Dover over the last few seasons, it's possible Allmendinger would have already picked up a win there.
Look for his first win to come soon at a track such as Dover or Charlotte—both of which remain on the Cup schedule in 2011—or one of the road courses, where Allmendinger has finished 13th or better in the past seven races, including three Top Eight finishes.
2. Ricky Stenhouse, Jr.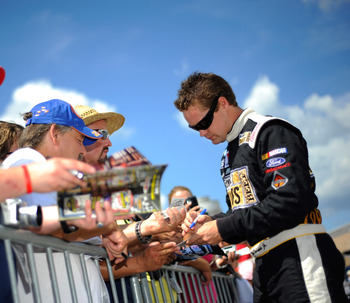 Jason Smith/Getty Images
If David Ragan is done in the No. 6 Ford at the end of this season, I'm betting that Jack Roush will replace him with Ricky Stenhouse, Jr.
Stenhouse has led the Nationwide points for much of this season and has also picked up his first two series wins, capturing both races at Iowa Speedway.
In his first Sprint Cup start at Charlotte earlier this year, Stenhouse qualified ninth and finished an impressive 11th.
Stenhouse probably could use a third year of Nationwide action to help him mature as a driver, but if the Cat in the Hat elects to bring him up to Cup in 2012, I wouldn't be surprised to see Stenhouse carry over his success from the Nationwide Series without too steep a learning curve.
3. Aric Almirola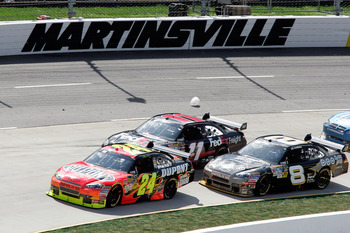 Jerry Markland/Getty Images
Aric Almirola is currently driving the No. 88 car for JR Motorsports in the Nationwide Series.
Almirola is fourth in the points but hasn't seriously challenged for a win, with a best finish of fourth and just 22 laps led.
Still, he has six Top Fives and 14 Top 10s—not too shabby at all.
His previous Sprint Cup ride (No. 8 pictured above) didn't work out too well as the DEI debacle went down.
However, Almirola will likely find himself in a better situation the next time he signs on to a Cup ride.
Almirola won twice in the truck series in 2010, and I believe he has what it takes to succeed at NASCAR's top level, given the right equipment.
4. Austin Dillon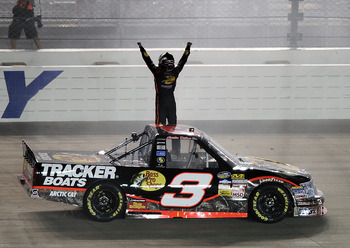 Jared C. Tilton/Getty Images
Austin Dillon is one of the most exciting young drivers in NASCAR today.
The grandson of Richard Childress (for whom he drives), Dillon is smart, talented and set up to have the opportunity to quickly move up the NASCAR totem pole.
Driving the iconic black No. 3 reminiscent of the late Dale Earnhardt's famous ride, the 21-year-old Dillon has visited victory lane three times in the last two years.
He finished fifth in the truck series standings in 2010 and is currently fourth in 2011.
It should only be a matter of time before Childress moves him on to Nationwide.
After that happens, the Cup Series might not have long to wait for the return of the black No. 3.
5. Danica Patrick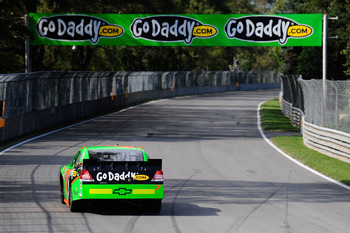 Jason Smith/Getty Images
Danica Patrick plans to compete in eight or ten Sprint Cup races in 2012, possibly beginning with the Daytona 500.
While she has a long way to go in mastering stock cars, Patrick nearly won the Nationwide race at Daytona in July.
Despite some bumps in the road, Patrick has progressed steadily since the beginning of her stock car racing career in 2010.
Patrick will have a major advantage over other drivers aspiring to notch their first career Sprint Cup victory—the guarantee of top-notch equipment.
Don't be shocked to see her become the first-ever woman to win not just a Nationwide race, but eventually a Cup race as well.
Honorable Mentions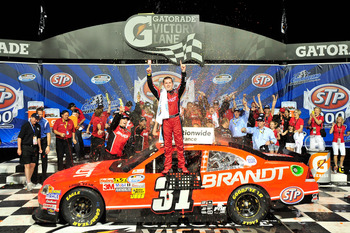 Jason Smith/Getty Images
The five drivers previously mentioned are far from the only drivers from lower-tier NASCAR series to have shown the potential to excel in the highest levels of NASCAR.
Here's a shout-out to several others who I believe could have Sprint Cup wins in their racing future.
Justin Allgaier was the only Nationwide regular to win a race in 2010, and he added a second career NW victory to his resume this season at Chicago. At 25, Allgaier is itching to finally get a shot at Cup.
Brian Scott has shown great promise as an up-and-coming driver in the Gibbs stable. If Joey Logano struggles for another season or two, don't be surprised if Coach Gibbs tabs Scott to take over the No. 20 ride.
Cole Whitt is a young Red Bull driver in the truck series. That team's future is very much in doubt, but the talented Whitt will undoubtedly receive a top-flight ride next year in some capacity. I expect him to move up the NASCAR ranks steadily over the next few seasons.
Finally, Ryan Truex, younger brother of Sprint Cup driver Martin Truex, Jr., has shown flashes of potential in the Nationwide Series after dominating the K&N Pro East competition for the last couple of years. Both talent and name recognition will assist Truex in his journey to the Sprint Cup level.
Keep Reading