Fear and Arsenal, a Fan's Perspective
August 19, 2011
Fear is a very strong emotion. It can empower people, and render others weak. In the case of Arsenal Football Club, fear has enabled a small, but vocal contingent of supporters who are quick to blame Arsene Wenger or anyone who dons the red and white at the club. Recently, this small group has begun to label those who still support the manager, and even the club, as naive, ignorant, foolish, and downright stupid.
It's time to put an end to all this fear mongering. I am not writing this because of a "blind faith" I have for Arsene Wenger or Arsenal. Rather, I am writing this because I am a supporter, and I believe that the silent majority of Arsenal fans deserve a voice in this matter too.
We, as supporters of the club or supporters of the beautiful game in general need to come to a couple of realizations.
The first, and possibly most important, is that Arsenal Football Club is not oil rich, Russian rich, etc. It was recently bought out by wealthy American Stan Kroenke, and we will see what happens in the future regarding that, but throughout the Peter Hill-Wood era, the club has not been able to compete financially with the likes of Manchester United or Chelsea, and now Manchester City.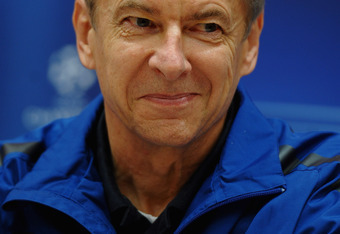 Critics enjoy pointing out that Arsenal doesn't buy big name players every summer like Manchester United, but those same critics do not point out that Arsenal is one of the most financially sound teams in the world, whereas United and Chelsea and many other clubs are riddled with debt beyond belief. When the Emirates was built, it became understood again that the club would have to be shrewd in the transfer market as it looked to, and eventually would,  pay back what they owed on the stadium.  This has created a policy, ever since Wenger became the manager, that players would be picked young, when they had the most chance to develop into a well-rounded player and the least chance of commanding a huge transfer fee.
 Losing Cesc and possibly Samir is a huge blow, undoubtedly. No one would say that they are easily replaced or easily sold, but we need to come to the realization that no player is larger than the team.
When Liam Brady left for Juventus, fans were incredulous and the critics came out from their holes saying that Arsenal would surely drop in the standings if not go down to the second division. If you think that the Brady situation is much different than the Cesc situation, you're right. Cesc is a great player on a team with a lot of other great players. Brady was the shining light in a team that better resembled Bolton than any Arsenal team in the past 15 years. In fact, losing Brady was a bigger blow. Few changes were made that summer, and responsibility was now distributed more evenly among more players. The following season, Arsenal improved in the league.
Thierry Henry leaving us for Barcelona presented a similar opportunity for critics to slander the team's ability and Arsene's ability as well. Some new faces were brought in, and the following season we nearly won the league had it not been for the Birmingham incident (that is my subjective opinion at the very least).
Ultimately, no player is bigger than the team. Players, and quality and experienced players at that, should be brought in. I agree with that and every fan does. There are different ways that Arsene could have handled the transfer market this summer, and I would say that mostly everyone, myself included, agrees with that as well. Cesc and Samir, if he leaves, should have left earlier in the summer in order for the club to be able to buy players accordingly before the season, but here we see the club and the manager stuck between a rock and a hard place. Wenger had every reason to try and convince both Samir and Cesc to stay. We saw it with Vieira and Henry, and ultimately, it is a dangerous game to play with players, but one that must be done.
With the current transfers this summer, as a supporter we are allowed to be encouraged by a signing like Alex-Oxlade Chamberlain even if it isn't the defender we wanted. 
Buying quality, experienced players is not easy. I have been told that Cahill has a release clause for 17 million and Juan Manuel Mata had a release clause for 20 before it expired. If this is the case, certainly we may have missed an opportunity to sign some quality.
But, outside of this, buying players, especially in an inflated transfer market, is not the same as you buying players in Football Manager 2011. I'm sometimes confused at people who say buy A for 10 million pounds, B for 8 million pounds, and C for 13.789 million pounds and there you go. Ultimately, it does not work that way. Transfers are subject to the whims of the clubs and the players, and prices go up at an astronomically easy rate, and for simple reasons.
By the same token, pricing differs on a club to club basis. I dare say that Arsenal would be more willing to sell a player for 10 million pounds to Lyon, for example, than the same player for 13 million pounds to, let's say, Tottenham. The same goes for every other club as well. The signings might come late, but I will say here that I believe that Arsene Wenger will buy another defender, and with Cesc gone and Nasri nearing a possible departure, then another midfielder.
I'll gladly eat the humble pie if I turn out to be wrong.
Now, let's have one thing clear. I don't believe that everything Arsene Wenger touches turns to gold, nor do I think that the man is infallible. Amaury Bischoff has helped teach us that. I am, however, a supporter of the club and the manager.
People tend to forget, when criticizing Wenger, that this man revolutionized the club in almost every way. There's a reason why Tony Adams and the likes were able to play well into their 30's when most people thought they were finished. There is also a reason why Kolo Toure was bought for near nothing and turned into a great defender, or why Henry became a world class striker, or why Cesc matured into a world class midfielder. The man is going through a rough patch, absolutely. The club has seen better days, definitely. Arsene Wenger, however, has not gone crazy, or lost the plot, or any of that. He is under pressure, and rightly so, and he does not have a free pass for life to manage Arsenal Football Club regardless of results. However, when people are calling for the man to be fired, I have a problem with that.
I also have a problem with a growing number of supporters and critics who slander anyone who supports Arsene Wenger. Everyone has a right to their opinion, and certainly the critics of Arsene have very vocal opinions, but Arsenal supporters who support Wenger should not be dismissed like children in an adult conversation.
In 1996, when David Dein convinced the board that Arsene Wenger was the man for the job at Arsenal, newspapers and even Arsenal players were bemused. "Arsene Who" was the famous headline of the time. The man has had to work with smaller resources than the clubs he is supposed to compete with, and year in and year out, he produces a team that is competitive. People lamented that after Gael Clichy left, the last member of the Invincible's squad from 03-04 had gone. They were mistaken. One man still remains from that team, and that man is Arsene Wenger. The day he leaves Arsenal, whether by his own accord or not, will finally see the last of the Invincibles leave. I, for one, hope it doesn't happen very soon.
Cheers
I'd love to hear from all sides, and feel free to follow me on twitter at @pcammarata