NFL Predictions: Why the Lions Finally Break Through in 2011
August 19, 2011
It seems like every year someone is predicting the Lions to finally break their string of losing seasons and make a run at returning to the playoffs for the first time since 1999. Yet I've always been hesitant of making such a bold claim. Until this year, that is.
When the team finally parted ways with idiot GM Matt Millen in 2008, things absolutely had no way to go but up. During his seven season tenure, the Lions posted a record of just 31-81 and made some of the most questionable draft picks in recent memory. Picks like Joey Harrington, Charles Rogers and Mike Williams, whilst passing on the likes of Andre Johnson and DeMarcus Ware, is enough to drive any fanbase into frustration and eventually anger. This led many of the Detroit faithful to start what would become known as the "Fire Millen" movement in 2005. It grew larger and more defiant with fan rallies, billboards, crowd chants and even the home crows wearing the visiting team colors in protest to his contract extension.
It took a few more years, but the fans finally triumphed when team owner William Clay Ford relieved Millen of his duties in 2008 after the Lions' 0-3 start. This was the only bright spot for a franchise that would eventually finish 0-16 by year's end.
With that dark period finally laid to rest for long suffering Lions fans, a new era began with the promotion of Martin Mayhew to general manager, and Jim Schwartz was brought in from Tennessee to be head coach.
The rebuild of the mess that Matt Millen left behind wouldn't be a quick fix, for sure. But the first thing you need to do in a rebuild is secure a franchise quarterback. Luckily for the Lions, there was one available at the top of the 2009 draft in Matthew Stafford from the University of Georgia.
Then, they used the second pick in the 2010 draft to bring in Nebraska's Ndamukong Suh as their defensive anchor. With those two corner pieces combined with wide receiver Calvin Johnson, one of Millen's only good draft picks, the Lions had quickly assembled a nice nucleus to build off of.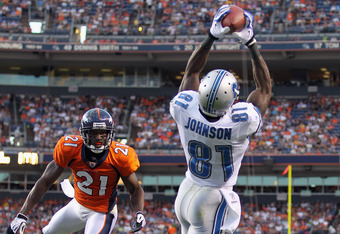 There was no Cinderella turnaround or anything even close to that fancy, but the team has improved vastly in just two seasons. Two wins in 2009 and six last year hardly seems to be much to get excited about, but it is steady improvement for a franchise that was in complete and utter desolation just two seasons back. Especially when you consider that the team was ravaged with injuries in 2010; the biggest being the loss of Stafford for 13 games to a serious shoulder injury that required season ending surgery.
The success of the 2011 season, of course, lies on the health of Matthew Stafford. In two seasons, he has missed 19 games from injury and has earned the "injury prone" tag that fans love to hear. So from now on, everything that is written about the young man is always going to have the words "if healthy" in there somewhere.
It reminds me of another quarterback in this league who showed you can eventually shed that tag: Matt Schaub of the Texans. Matt missed 10 games in his first two seasons as the starter in Houston, which earned him the same tag, even though his injuries were what many would describe as "fluke." But after two seasons of playing in all 16 contests, he has finally shed that label and is pretty high on most fantasy owners lists every year now.
There is no reason that I think Stafford can't do the same this year. If he stays upright this season, and I believe he finally will, Stafford is going to have a monster season in Detroit. He has shown enough flashes during his small sample of play that he has all the tools to make it big in this league, and I firmly believe he gains comeback player of the year honors at season end.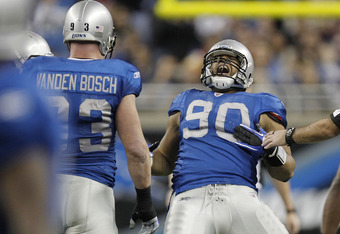 I didn't even start on Calvin Johnson yet, but add him to the list of reasons Matthew Stafford is going to look just flat out dominant in 2011. Short of Larry Fitzgerald and Andre Johnson, I can't think of another receiver in the same league with Calvin. He is one of those guys that is so talented that he even made Dan Orlovsky look like a serviceable quarterback. Then, last season, he accumulated 1,120 yard and 12 touchdowns with Shaun Hill throwing to him for most of the season. The Stafford-Johnson combo is going to make the Lions offense, which was already 12th in the league last season, even better. 
But let's shift to the defense, shall we? The addition of Auburn's Nick Fairley is only going to make Ndamukong Suh an even badder man than he already is. I've been known to be completely wrong about top draft selections in the past (Reggie Bush, anyone?), but as much as I like Sam Bradford, I couldn't believe St. Louis passed up on Suh. Bradford has a stellar rookie season and he has an incredibly bright future in the NFL.
But Suh is that kind of player that I see wearing that yellow jacket at the end of his career. He is such a dominant player that every time he touches an opposing quarterback, he is slapped with some absurd fine. It isn't his fault that he is better than every other player on the field; leave the man and his paycheck alone. With Suh, Fairley and Corey Williams collapsing the pocket, I look for Kyle Vanden Bosch and Cliff Avril to have huge seasons.
The Lions still look pretty weak in the secondary, as they made it clear they weren't ready to get into a bidding war for Nnamdi Asomugha, and then they missed out on Johnathan Joseph.  Chris Houston is a good corner, but far from a No. 1 cover guy. This could be the only thing holding back a nice looking defense in 2011.
The final reason that I think the Lions are going to make a Wild Card push this season is their schedule. It's about as manageable on paper as the team could have asked for by drawing the AFC West. Sure, they have to play the defending champs twice and the NFC South, but I'm still liking what I see by running through it a couple of times. If the team beats the teams they're supposed to and surprise someone here or there, I see 10 wins on there, which, in my estimation, is likely to get them in the playoffs in 2011.
But, as with all teams, it all rests on the shoulder of their young quarterback's health.