EPL: Are Everton FC a Club in Crisis?
August 19, 2011
It has been a tumultuous 24 hours for fans of Everton Football Club.
For those that are not aware, supporters coalition The Blue Union held a meeting with Everton Chairman Bill Kenwright last week and published a transcript of their meeting yesterday.
Kenwright and Everton Football Club have since said that the publishing of said transcript was a breach of confidence and that the Blue Union representatives illegally recorded the meeting with Kenwright.  Legal advice is being sought.
Everton fans who have since read this transcript all seem to be saying the same thing: what is happening to our football club?
Nearly all of this controversy and drama could have been spared if Everton communicated with their fanbase.
Manager David Moyes has not been seen in public since the last game of the season and Kenwright is notoriously absent from the media circuit.
With some well-timed, rumour quelling press releases or interviews, Everton could have staved off fan unrest for a much longer.
On the dawn of a new season, this is the last thing Everton fans and, more importantly, players should have to worry about.
In the infamous transcript, Kenwright delivers a message that many fans already knew but no-one at the club had officially acknowledged: Everton is flat broke.
Kenwright, who has since issued two statements on the clubs official website, speaks of Everton's worrying debt problem; 
"We have come to a stage with our bank, with our finance where we just cannot borrow any more." 
The club do not generate enough money to cover their overheads.  Now they are slowly sinking into the mire of debt and there appears to be no-one there to pull them out.
Everton have sought new ownership for nearly three years as Kenwright has repeatedly stated, he cannot take Everton to the places they deserve to be.
Stories of impersonator potential owners has only fueled the fire that Kenwright is slowly swimming out of depth and a change is needed fast.  Kenwright himself seems to admit this.
Yet the fact remains that Everton is not an attractive investment prospect.
Growing debt, an antique stadium, a team that needs investment whilst sharing a city is not a dream deal for any potential owner.  So it looks like the turmoil at Everton will continue for some time.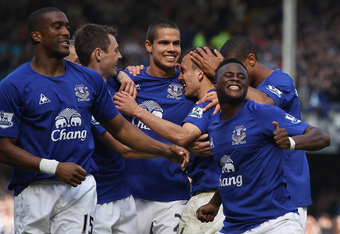 As the fan representatives have said, this is not a 'Kenwright Out' campaign, the Chairman comes off as sincere with his love of the club and always has.  It is more of a campaign for answers.
The answers so far received have been a startling wake-up call to fans of many other teams in similar situations as Everton.
Teams that are not owned by billionaires will soon have to deal with the same situations Everton find themselves in – a sell-to-buy philosophy were every season becomes a battle for survival from bank vultures.
As Kenwright admits that he has to fight on a weekly basis with the banks owed money just to keep Everton alive, a defeat to newly promoted and newly bought QPR could see a a bad week turn into a crisis.
Fans searching for a silver lining seem to be coming up empty-handed.
Kenwright states that Leighton Baines, Tim Howard, Phil Jagielka and Marouane Fellaini are untouchables in terms of transfer policy.  But how long will that last?
Lest we forget Everton's tremendous league record for the past five seasons as a ray of hope is that, for now, backroom strife has not made its way onto the pitch.
If early season results go against the Toffee's, if the loses being to mount up, if players are sold and none bought, Mr Kenwright will have to answer many more questions from his Everton faithful.
At points in the transcript it is hard not to feel for Kenwright, he obviously loves this club and is at a loss when it comes to the future of his beloved Everton.
But being a fan only garners so much good faith and unless Kenwright can find a buyer soon, Everton Football Club faces some of the toughest times in its 130 year history.