San Jose Sharks
San Jose Sharks: Which California Team Has the Best Shot This Season
August 19, 2011
With so much competition in the West, rivalries are beginning to intensify. A perfect example of this would be what is currently occurring in the Golden State. With three possible cup contenders, the division rivalry between teams in California is heating up.
Let's take a look at what each Californian team has to offer.
ANAHEIM DUCKS
The Anaheim Ducks, despite the slump in their final standings over the last few years, are still one of the better looking teams on paper. On top of that, they are built for playoff hockey, and have experienced a great amount of playoff success over the past decade.
The Ducks have been known for their toughness for over a few years now, and have probably the most physical, and arguably overall best number one line in the league right now in Ryan Getzlaf, Corey Perry, and Bobby Ryan.
They also have had a number of skilled veterans, and if Teemu Selanne returns, then they will continue to receive exceptional veteran talent this upcoming season. 
They have two of the leagues highest plus rating defensemen in Lubomir Visnovsky and Toni Lydman, They solidified their defense even more through the acquisition of Kurtis Foster, and Francois Beachemin looks a lot more comfortable back with the Ducks than he ever did with Toronto. Not to mention, Cam Fowler will only get better and could very possibly turn out to be their franchise defender in the years to come.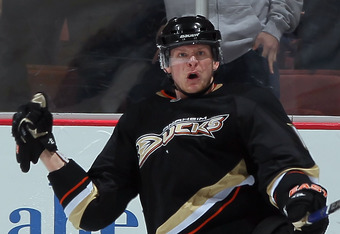 ANAHEIM, CA - APRIL 06: Corey Perry#10 of the Anaheim Ducks celebrates his second goal of the game in the second period against the San Jose Sharks at Honda Center on April 6, 2011 in Anaheim, California. (Photo by Jeff Gross/Getty Images)
Goaltending is an uncertain situation right now, as Jonas Hiller's health is in question. However, if he does perform like he has been capable of in the last couple seasons, the Ducks will have a reliable playoff goalie.
All in all, Anaheim is one of those rare complete teams who are also receiving young talent through their prospects and high picks acquired in trades and offer sheets. With their combination of physicality, toughness, experience, grit and pure talent expect this team to be a contender for years to come.
No matter where they finish at the end of the regular season, if they earn a playoff seed, you had better believe that they have a shot to compete.
LOS ANGELES KINGS
The Los Angeles Kings, although their rebuilding process has been not as progressive as they would have liked, are looking like they are slowly becoming that defined and mature team that they have been building towards.
They accelerated the process even more this offseason by acquiring two superstars who have both experienced a great amount of playoff success, in Mike Richards and Simon Gagne.
Gagne is a proven sniper and helps to solve their issue with offense that they had last season, while Mike Richards is the ideal playoff player who has the rare combination of grit, defense and offensive talent.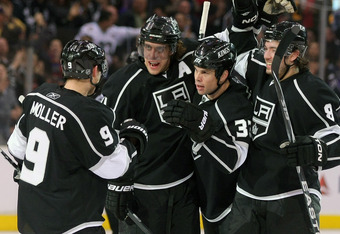 LOS ANGELES, CA - MARCH 24: Willie Mitchell #33 of the Los Angeles Kings celebrates his goal with teammates Oscar Moller #9, Anze Kopitar #11 and Drew Doughty #8 in the second period during the NHL game against the San Jose Sharks at Staples Center on March 24, 2011 in Los Angeles, California. (Photo by Victor Decolongon/Getty Images)
The Kings have been in talks of being the best team in the division for over a year now, and they are continuing to improve in every department.They have figured out how to play defense effectively, and they also have two solid goalies who are getting better by season. If LA's offense clicks this year, especially with their significant additions, they could be among the deadliest teams in the West.
SAN JOSE SHARKS
The Sharks are a different story. They have been expected cup contenders for about a decade now, purely on the fact that they have been finishing in the top half of playoff seeds since the early 2000's.
The truth is, they have been one of the favorites to win the cup several times, but have never come close to it.
The Sharks are known for their spectacular regular season finishes, followed by first or second round playoff exits.
They are the NHL version of the San Diego Chargers, who also tend to experience tremendous campaigns that lead people to believe that they are championship contenders, only to disappoint when it really matters.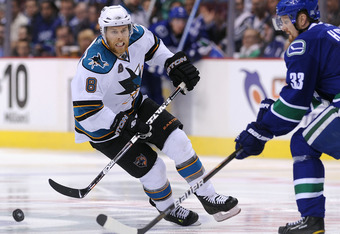 VANCOUVER, CANADA - MAY 24: Joe Pavelski #8 of the San Jose Sharks pursues the puck as Henrik Sedin #33 of the Vancouver Canucks tries to defend the play in the third period in Game Five of the Western Conference Finals during the 2011 Stanley Cup Playoffs at Rogers Arena on May 24, 2011 in Vancouver, British Columbia, Canada. The play resulted in a goal by Devin Setoguchi #16 of the San Jose Sharks. The Canucks defeated the Sharks 3-2 in the second overtime to win the Western Conference Finals series 4-1. (Photo by Harry How/Getty Images)
In the last two seasons, the Sharks have showed progress in being able to adapt to the intensified playoff style hockey, as they have found themselves in the conference finals in back to back seasons. However, it seems like they still need to take it one notch higher in order to be taken seriously as a cup contender.  
But really, there is really nothing that would suggest that San Jose finishes any lower than the top four in the West this upcoming season. The Sharks still have their main core of elite players, and while losing Dany Heatley and Devin Setoguchi, still appeared to have improved in the off season through their acquisitions of Martin Havlat and Michal Handzus.
Some may argue that the shake up was necessary for the Sharks to renew their offensive chemistry and make a better push in the playoffs, but only time will tell.
One thing for sure is that, the Sharks have a goaltender that knows what it takes to win a championship, and a plethora of young talent who are incorporating grit and physicality into their game, something they never had until very recently.
VERDICT?
I am a betting man, and the Pacific division is the last place I would look in to choose a futures division winner.
All I can say is that this growing rivalry is great for the sport, as it looks to captivate the attention of many Californians and draws them into the cold rinks.   

Like the new article format? Send us feedback!