San Diego Padres: 6 Moves the Padres Must Make to Improve in 2012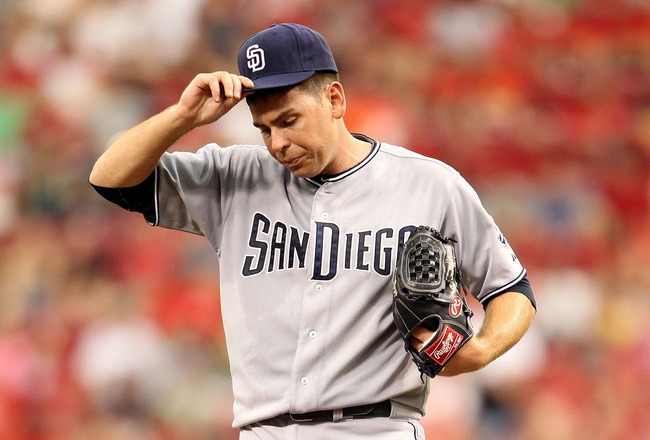 Andy Lyons/Getty Images
The 2011 season has been disappointing to say the least.
Despite playing .500 baseball since the All-Star break, the San Diego Padres are nowhere close to contending in the division. Injuries to the pitching staff, an underachieving offense and uncharacteristic defensive lapses have led to a severe drop off from the "oh-so close" season of 2010.
With the regular season coming to a close in six weeks and the remaining games becoming an audition for some of the Padres more advanced prospects, the focus starts to turn to the offseason and the moves that the Padres must make to fix the holes and upgrade the roster.
So how do the Padres get back on track and contend in 2012? Here are six moves the Padres need to make to get back to their 2010 form:
Sign or Re-Sign a Veteran Starting Pitcher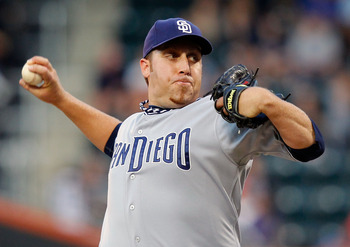 Paul Bereswill/Getty Images
Despite the Padres having a bevy of young starting pitchers in their system and the emergence this year of Cory Luebke and Anthony Bass, in order for the team to maintain their pitching prowess, they need to have a veteran stalwart (or, depending on injuries, two) that can provide some consistency and eat up innings.
The easiest way to address this issue would be to re-sign one or both of the veteran free agents they signed last offseason, Aaron Harang and Dustin Moseley. Both seemed to fit well in the clubhouse and their styles worked well in the spacious confines of Petco Park.
Harang has a $5 million mutual option for next year (with a $500,000 buyout), something that should be well within the Padres budget that will "start with a five." However, if Harang looks for a pay raise outside of the Padres' budget and Moseley decides to move on or is not ready for the season, you have to like the Padres' recent success with reclamation projects...
Sort out the Seventh and Eighth Inning Setup Roles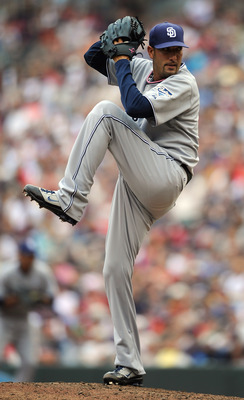 Hannah Foslien/Getty Images
While the trade of Mike Adams led to the acquisition of two good, young pitching prospects, there's no question that the hole left in the eighth inning from losing him has hurt the Padres bullpen.
While Luke Gregerson seems to have slid into Adams' former slot, his promotion leaves a hole in the seventh inning; Chad Qualls has had his moments this season, but has lacked consistency the past few years.
Whether the Padres look from within, give Qualls another opportunity for next year or scour through available free agents, they need someone who can hand the baton to the closer without too many drops, whomever that closer may be...
Re-Sign Heath Bell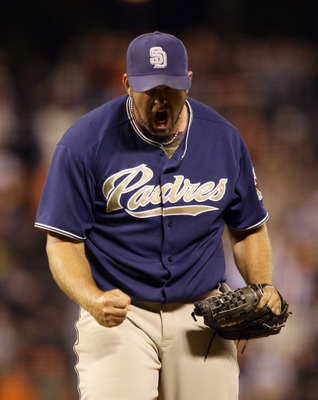 Ezra Shaw/Getty Images
Which brings us to the next move... keeping their closer.
Heath Bell has made his intentions known that he wants to return to San Diego next season and the Padres would be making a big mistake to let their closer walk away.
Whether Bell gets the multi-year contract he's been lobbying for or accepts arbitration, the Padres need to make sure he's closing out games in San Diego in 2012 in order to stay competitive.
While he's in line to get a hefty paycheck after three trips to the All-Star Game the last three years, it seems as though he won't price himself out of town.
The question remains whether the Padres will step up to the plate.
Make a Decision About First Base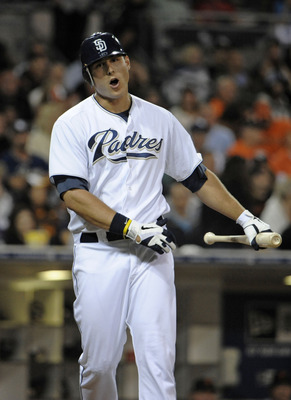 Denis Poroy/Getty Images
When Anthony Rizzo made his major league debut in June, all eyes were on what seemed to be the second coming of Adrian Gonzalez. A month and a half and a .143 batting average later, there seemed to be some doubts as to whether Rizzo was all that he was made out to be.
Since returning to Triple-A, Rizzo's back to his old ways of tearing up Triple-A pitching, something that seems to indicate his confidence wasn't shattered by his time in the majors.
Rizzo is only 22 and has time and tremendous ability on his side, but with the emergence of Jesus Guzman since his demotion, the Padres have what seems to be a viable option at the moment.
Based on what they have invested in him from a PR standpoint, it seems like Rizzo will be in San Diego for awhile. But if the Padres do decide to put Rizzo back in at first, where does that put Guzman?
Break Up the Logjam at Third Base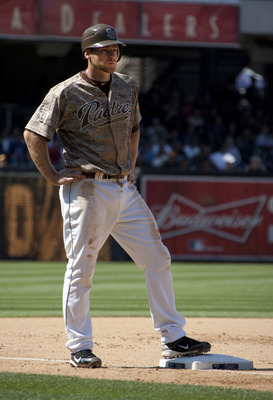 Kent Horner/Getty Images
Add Guzman's name to the list of players currently sitting behind Chase Headley on the depth chart.
Before injuring his finger, Headley was having what has to be considered his best overall year, although the power you might hope for in a third baseman wasn't there (no thanks to Petco).
With Chase more than likely finished for the year, Logan Forsythe and James Darnell have been given extended looks at the hot corner to see if either one can make a name for himself.
Both have shown the ability to get the job done in the minors, but neither has shown the consistency or the power of Guzman at the major-league level this season.
If the decision is made to give Rizzo his job back at first base, the Padres need to make a decision about where the future of third base lies.
With four players and only one spot (two if you keep one as a utility player), someone will end up as trade bait to bring in depth at other positions.
Sign a Veteran Bench Player
Christian Petersen/Getty Images
With all due respect to Alberto Gonzalez, Rob Johnson and Chris Denorfia, they are not the combination of Jerry Hairston Jr., Yorvit Torrealba, Matt Stairs and crew from 2010.
While few fans are clamoring for the return of Matt Stairs (especially since he retired), there seems to be a big difference in the ability of the players off the bench to get a key hit or plug a hole in the starting lineup for an extended period of time.
And as Padres fans are very much aware, there's nothing like witnessing a missed opportunity in the seventh or eighth inning several nights in a row.
If a few of the bases-loaded strikeouts in a 1-0 game had gone differently, we may not be talking about fighting the Dodgers for fourth place in the division.
There's Only One Way to Go from Here: Up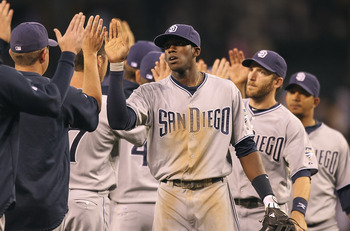 Otto Greule Jr/Getty Images
Despite what has been a painful season to date, the outlook for the Padres seems to be getting better.
Beginning with the trade of the team's best and most popular player during the offseason and continuing with sub-par performance on the field, 2011 has been a year to forget.
However, with the minor league system getting deeper, improved play over the past month-and-a-half and a commitment for a higher payroll for next year, 2012 should be a more positive experience for fans and the post-game high-fives among the players should be more frequent.
Keep Reading

San Diego Padres: Like this team?