2011 Colorado Rockies: Why Ty Wigginton Is the Human Bad Luck Charm
August 19, 2011
Meet Ty Wigginton, the Human Bad Luck Charm.
Bouncing around baseballreference.com while watching The American President, I happened upon the 2011 Colorado Rockies team page.
The Rockies are a befuddling team in 2011; just a few years removed from the World Series and just one year removed from looking awfully scary down the stretch last season, the Rockies have been surprisingly disappointing this year.
Studying their team page, I happened upon Wigginton's name, and was hit with that classic "Oh right, he's with Rockies now" feeling that some journeymen players give you (Reggie Sanders comes to mind).
Wigginton, who was once a promising prospect in the New York Mets system before being traded to the Pirates and beginning his amazing odyssey around Major League Baseball, has a habit of showing up when you least expect him to, for two reasons.
First, Wigginton is not the girl you pine after.
Ty Wigginton is like the girl who always seems to show up right after you've had one beer too many and you're ready to leave with anyone so the night won't be a waste. You're not looking for Wigginton, and you'll only find him by happenstance.
And second, Wigginton does not play for good teams. Each off-season, when Wigginton is looking for a new place to play, it is not the Phillies or Red Sox or Yankees or Dodgers looking to snatch him up. Wigginton appeals most to cheap, bad teams for whom he will be just one of 100 things the team needs to go right in the coming year.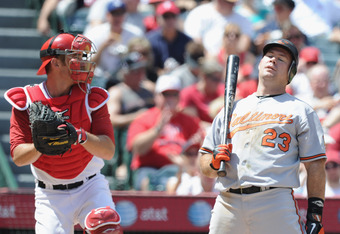 At the same time, though, we have to wonder whether there is a chicken-or-the-egg thing happening here.
Consider, for example:
Two years before Wigginton came into the league with the Mets, they were in the World Series, and the year before he joined the club they finished two games above .500. Then, from 2002 to 2004, Wigginton's three years with the Mets, they won 75, 66 and 71 games.
And then, after trading Wigginton, they began their steady march back to the postseason, winning 83 games in 2005 and 97 games in 2006.
From New York, Wigginton went to Pittsburgh. Granted, Pittsburgh has not been very good for a couple of decades now. Nevertheless, the year before Wigginton joined the Pirates, they were 75-87. In Wigginton's two years with the club, they won 72, then 67 games.
Wigginton's next stop was Tampa Bay, where he spent the 2006 and 2007 seasons. Wigginton was traded to the Houston Astros at the deadline in 2007, and in 2008 the Rays went to the World Series.
The one time Wigginton benefited a team was in 2008, when the Astros won 86 games, though finishing only third in the division in Wigginton's only full year in Houston.
Wigginton spent 2009 and 2010 in Baltimore where, believe it or not, Wigginton was part of the worst back-to-back seasons (64 wins followed by 66 wins) since, get this, the first two years the Orioles were in Baltimore, in 1954 and 1955.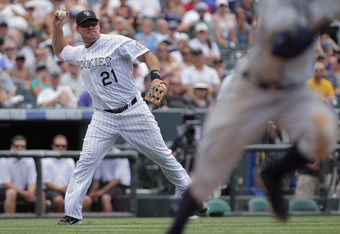 And now, Wigginton finds himself in Colorado, and Colorado finds itself on the outside looking in during a season in which the Rockies fully expected to be over .500 and in playoff contention.
At this point, one is left to wonder what is going on here. Actually, the answer is pretty simple:
Ty Wigginton has become a cheap, low-expectations guy, a guy who will impress a team with 20 home runs or 70 RBI. But at the end of the day, Wigginton's downside is not worth his comparatively meager upside.
For example, Wigginton is a horrendous defensive player.
Whether playing in the infield or the outfield, Wigginton has horrendous range and costs his teams runs on defense year after year.
Additionally, even when he is hitting home runs, Wigginton provides very little productive value. In 2010, when he hit 22 home runs and had 29 doubles in 154 games, he still managed only a .248 average, a .312 on-base percentage and a 98 OPS+.
Worse yet, for those who believe in such things, Wigginton endured a 0.4 WAR in 2010. How bad is that number?
Of all batters who hit 20 or more home runs, Wigginton ranked 71st out of 77 players in WAR (in last place was Carlos Lee, who endured a -1.9 WAR despite hitting 24 home runs, which was historic).
And those are the good years.
In a bad year, like 2011, it has been a disaster. Wigginton has a negative WAR (not a good thing) and does not get on base.
And, his meager numbers are actually inflated by playing in Coors Field.
At the end of the day, it is entirely possible that Ty Wigginton only plays for bad teams because only bad teams sign him.
But it is also possible that Wigginton only plays for bad teams because Wigginton has a hand in making bad teams bad.
And that should be a lesson to whichever team thinks about signing Wigginton next season when he inevitably gets his release from the Colorado Rockies.