Liverpool FC: Can Carroll and Suarez Become the New Keegan and Toshack?
August 17, 2011
Michael Regan/Getty Images
Liverpool signed a strike force worth over €50 million last January when Luis Suarez and Andy Carroll where brought in in place of Fernando Torres. The styles of the Englishman and the Uruguayan can definitely work hand in hand, the target man knocking balls down for the speedster has always been a recipe for success and entertainment for the Anfield faithful.
The expectation is understandably high. So high in fact, that the two strikers have been compared to past Liverpool legends, John Toshack and Kevin Keegan. The comparison may be a brave one, but it's a comparison that makes sense.
John Toshack and Kevin Keegan were brought in in the early seventies. At the time of John Toshack's signing, many a question was put to the Liverpool management over his hefty price tag. £110,000 from Cardiff City was seen as a huge risk, but after scoring his first goal against Everton—a header, unsurprisingly—for Liverpool, all doubts were forgotten.
Around 12 months later, Kevin Keegan was brought in for a fee of £35,000. Keegan found it difficult to believe in his phenomenal footballing ability at the start of his career, but Bill Shankly, manager at the time, picked him and turned him into one of Liverpool's greats.
Keegan and Toshack were soon playing side-by-side, and the results were astounding. Time and time again Toshack would knock the ball down, and time and time again Keegan would pick the ball up and dribble into space. The pair racked up 196 goals between them, before Keegan moved to Hamburg.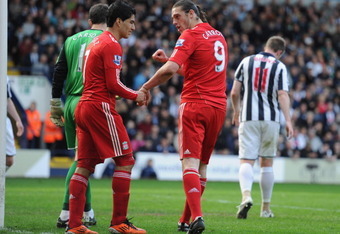 Michael Regan/Getty Images
The partnership was so brilliant, it was often compared to superheroes Batman and Robin.  
So, quite a feat then. The question is, can Luis Suarez and Andy Carroll replicate such a fine striking duo?
First, Andy Carroll. Like Toshack, he is brilliant in the air, providing knockdowns and scoring goals. His mere presence is enough to put players off. His left foot is capable of thunderbolts. His finishing, too, is assured.
One need only look back to the Manchester City game at Anfield to be convinced of his ability, power and technique. So, Andy can become the new Toshack, I'm sure of it.
Luis Suarez is next. A world beater, a fantastic dribbler and a personality that leads by example. If Liverpool are winning 5-0 with three minutes to go, Suarez wants more. It's this trait that makes him one of the best.
Like Keegan, Suarez possesses extremely quick feet and an uncanny ability to anticipate knockdowns.
I've mentioned his dribbling is as good as, if not better than, Kevin Keegan's. His link-up play is also commendable. He is always ready to play the one-two, or play someone in behind the back-four.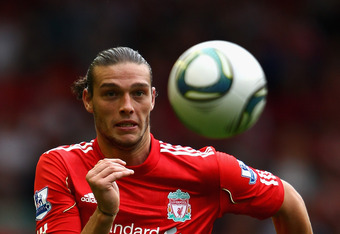 Clive Brunskill/Getty Images
The traits of the current Liverpool strike force is remarkably similar to the strike force of the seventies. However, as I mentioned earlier, Toshack and Keegan seemed to know where their partner was 100 percent of the time. This was what made them so lethal.
Recently, Andy Carroll and Luis Suarez haven't linked up as much as they could have, and therefore haven't reached the level of Keegan and Toshack. This is understandable, as they haven't started many games together, due to injuries. A partnership takes time, and Andy Carroll and Luis Suarez have quite a bit of that, and definitley have the potential to emulate the former greats. Kenny Dalgish knows this, and you can rest assured that he will be working his socks off to get the partnership really going; and when the partnership is perfected, you'd better be ready to be entertained.
When Carroll and Suarez link-up, nine times out of ten I expect something to happen. I expect a goal attempt, or a half-chance at the very least. This is why Liverpool fans are willing a great partnership to be forged.
So, an answer. Can Luis Suarez and Andy Carroll become the new Keegan and Toshack? Yes, yes they can.