Detroit Tigers: Should Justin Verlander Be in the MVP Race?
August 17, 2011
Gregory Shamus/Getty Images
Justin Verlander is putting together an incredible year and should be in the MVP race. Of course, to put him into the MVP discussion, one has to assume it is a foregone conclusion he will win the AL Cy Young award.
Really, his only competitor for the American League Cy Young is Jered Weaver from the Angels. Weaver has put together a very good year, but as seen below, only leads Verlander in one category. On top of that, in a head-to-head battle last month, not only did Verlander out pitch Weaver as the Tigers won, but Weaver also lost his head and was ejected from the game. 
In a battle that big with your main rival for the award, a player just cannot lose it like he did.
In that game, Verlander only allowed one hit over eight innings and zero earned runs, while Weaver allowed three runs before getting bounced in the sixth inning.
Let's compare their stat lines.
| | | | | | | |
| --- | --- | --- | --- | --- | --- | --- |
|   | Record | ERA | Strikeouts | Innings | Whip | Opponent BA |
| Verlander | 18-5 (1) | 2.31 (2) | 204 (1) | 202.2 (1) | 0.88 (1) | .187 (1) |
| Weaver | 14-6 (5) | 2.13 (1) | 153 (11) | 181.1 (5) | 0.97 (3) | .207 (3) |
*The number in ( ) is where each pitcher ranks in MLB.
Generally, pitchers are not considered candidates for MVP. Since the Cy Young Award was established in 1956, pitchers have rarely won the MVP. Between the two leagues there have been 108 MVP awards over that time period; only nine have been pitchers. Of those nine, four were relief pitchers and only one pitcher has won since 1987.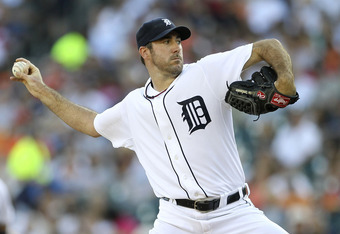 Leon Halip/Getty Images
The argument against a pitcher winning the MVP is pretty solid and in most seasons I would agree. A starting pitcher does not play every day; 35 games is their usual maximum. 
How can a player who is on the field for such a small percentage of a team's overall games be considered the MVP?
Relief pitchers do have it a little easier, as some will pitch in close to half of a team's games. That is why three out of the past four pitchers who have managed to win the MVP have been relief pitchers (Rollie Fingers; '81, Willie Hernandez, '84; and Dennis Eckersley '92).
When a pitcher is putting together such a dominating season as Verlander has been, it is rather easy to not only include him in the MVP race, but also to put him among the front-runners.
He has taken three no-hitters into the eighth inning this year, completing one of them. He is routinely able to throw 100-plus mph pitches into the late innings, raising the bar so high that when he does give up a hit, people are stunned.
People have different views as to what the requirements for MVP should be. Considering the usual standards that people have, Verlander fits them very well.
Let's take a look at some of those views.
Jamie Squire/Getty Images
Must Be on a Playoff Team
The Tigers currently lead the AL Central. While a lot can happen over the final weeks, it appears that the Tigers will at least be in the running for the rest of the season.
While all players feel the pressure of a playoff chase, nobody feels it more than the pitcher. If Verlander can continue his dominance the Tigers will win their division and it should solidify Verlander's claim to the MVP award.
Must Be the Best Player In the League
Not only can the argument be made that he is the best player right now, but according to research done by Chad Evely via hardballtimes.com, Verlander is on pace to have the most dominant season by a pitcher ever. 
His current stats put him fifth all-time on Evely's statistical rankings. That should be impressive enough and earn him MVP talk, but to be on pace to claim the top spot all-time makes it a no-brainer.
Most Valuable to His Team
Verlander pitches for a team where he is a one-man show. Even with his great ERA, the team ranks 11th in the AL in team ERA. They would be last if not for him.
19 times this season he has started a game after the team has lost; he has only lost three of those games. This means that the team can rely on him to stop a skid before it gets out of hand. He is over two runs per game better than the next best starter on the team.
It is obvious that without him the Tigers would be out of first place. If he were replaced on the team, and let's say that the pitcher in his place was still the 10th-best in wins, not only would that be six games worse than Verlander, but it would also knock them out of first place and all the way down to third.
Yes, aiming for a top 10 pitcher is very high, but that just goes to show how dominant he has been and how invaluable he is to the Tigers. If going with the average number for pitching wins, the Tigers would drop to fourth and would only be slightly ahead of the fifth-place team.
Without a doubt, he is more valuable to his team than any other player is to theirs.
Part of judging Verlander MVP candidacy is comparing him to the other contenders. So, let's take a look.
| | | | | | | | | |
| --- | --- | --- | --- | --- | --- | --- | --- | --- |
|   | BA | HR | RBI | R | Steals | OBP | SLG | OPS |
| Adrian Gonzalez | .352 (1) | 18 (23) | 92(2) | 81 (5) | ** | .412 (3) | .552 (6) | .979(3) |
| Jacoby Ellsbury | .314 (6) | 20 (16) | 74 (14) | 85(2) | 31 (4) | .369 (15) | .508 (11) | .878 (10) |
| Curtis Granderson | .273(38) | 33 (2) | 94 (1) | 107 (1) | 22 (10) | .366 (18) | .580(2) | .946 (5) |
| Jose Bautista | .311 (9) | 34 (1) | 77 (9) | 85(2) | ** | .447 (1) | .632 (1) | 1.079 (1) |
| Michael Young | .336 (2) | ** | 82 (5) | 60 (25) | ** | .374 (12) | .496 (17) | .870 (12) |
| Dustin Pedroia | .310 (10) | 16 (26) | 62 (29) | 78 (7) | 23 (8) | .400 (4) | .481 (23) | .881 (8) |
 Number in ( ) is where they rank in the AL.
** Outside Top 40
While these players are all having very good seasons, none take as many top spots as Verlander does. Also, these ranking are based on the AL alone, whereas Verlander's rankings show where he is at across both leagues.
Gonzalez, Ellsbury and Pedroia are all having great seasons, but they play for Boston. The argument could be made about each of them being the most important player for their teams. If they are not the clear-cut MVP for their team, they simply cannot be in the MVP discussion. 
Young is a very solid player, but survives on his batting average alone. The only other category where he is in the Top 10 is in RBI. 
Granderson could be a major threat. He leads the league in RBI and has an impressive 26-run lead in the runs-scored category. There are three areas that drag his chances down though. 
Robinson Cano is also having a great year for the Yankees and can put a claim in as an MVP dark horse. If he pushes Granderson for team MVP, how can Curtis be the league MVP? Also, if HR power is what is getting him on the list, he really should hold his own team's lead by more than one home run.
The next two areas are of bigger concern. Granderson's batting average of .273 is far too low for an MPV. If he were hitting 50-plus home runs, it might be acceptable.
The other staggering number is his alarming strikeout rate. His 128 strikeouts place him third in the league. Just for perspective as to how bad that is, of the other candidates on the list, the closest to him in strikeouts is Adrian Gonzales. Gonzales has 47 fewer strikeouts despite having 40 more at bats than Granderson.
Jose Bautista is the main MVP threat. He ranks in the Top 10 in each of the major offensive categories and is a very worthy choice. The only knock against him is that he plays for a .500 team that is far away from the pressures of a pennant race. One has to wonder if he could produce near these same levels if the pressure was on.
None of these contenders is dominating the league as much as Verlander has so far this season. Verlander leads all of baseball in five of the six main pitching categories. The one that he doesn't lead he is second in. 
Bautista is the closest to that kind of stat in that he leads three of the six main hitting categories, but only for the American League. In the three that he is not leading, though, he has one second- and two ninth-place efforts. Impressive, but still nowhere near the stranglehold Verlander has. That being said, without Bautista the Blue Jays would still be a team that is nowhere near making the playoffs.
While there still is a lot of baseball left to be played, Verlander's name needs to be at the top of the MVP watch list.