Is the Los Angeles Dodgers' Improved Play for Real?
August 16, 2011
Stephen Dunn/Getty Images
For the boys in blue, the end of the season really just cannot come soon enough. The Dodgers have had quite an exhausting and tumultuous season and they still have over 40 games left to play. Whether it be the safety at the stadium, the McCourt divorce, the McCourt-MLB suit, the lack of fan attendance or just the flat out bad play of the Dodgers.
The team sits 12.5 games back of division leader Arizona, holding a record of 55-65. Now, the Dodgers are 5-5 in their last ten and they just lost to the Milwaukee Brewers where James Loney hit into a double play and the Brewers' sixth ever triple play.
Aside from Matt Kemp having an MVP-like season, the Dodgers do not have much to talk about. The Dodgers rank 28th in runs scored in the majors, but rank seventh in pitching, team ERA. 
The Dodgers have been unimpressive and their is a reason fans are not showing up to the ballpark. With that said, aside from the bad game against the Brew Crew, the Dodgers have actually been playing better baseball. 
They took two of three games from two division rivals to start the month in San Diego and Arizona. They then proceeded to drop three straight to the Phillies, where they did not play bad, and then were able to sweep the Houston Astros.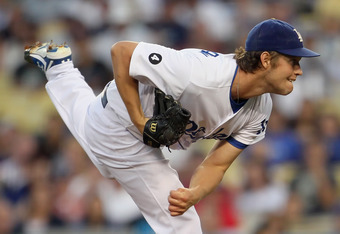 Jeff Gross/Getty Images
Bottom line, the Dodgers are beginning to be the team the fans were hoping for at the start of the season: beat the bad teams and compete with the better teams. Now do not get me wrong, I am not saying that their play is anything worth going to the ballpark for, but they are starting to play to form. 
Clayton Kershaw is 8-2 in his last 10 starts and Hiroki Kuroda has not given up more than three runs in his last six starts. Now these are not playoff-caliber stats with the Dodgers in the cellar like they are, but it's a beacon of hope for a possible end of the season run. 
The Dodgers are improving, but at a rate of two steps forward, one step back. Little by little the Dodgers are getting better and their recent improved play is real and has been there all season, but they have been unable to keep the consistency that only Matt Kemp has been able to show.
Keep your heads up Dodgers fans, at least you are not behind the Padres.