WWE SummerSlam 2011: All the Moments of the Biggest Party of the Summer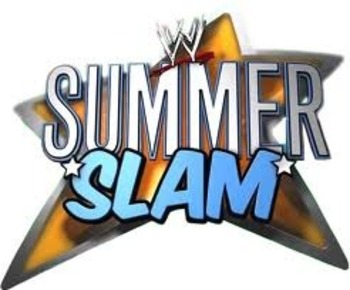 Hey readers, It's me. It's me. It's...David Fisher (still no gimmick).
No doubt you're all sick of reading articles about the PPV event, but I promise you this will be something different.
I'm going to go through the main moments of SummerSlam held last night (Aug. 14), and very briefly address the following:
What I liked;
What I didn't like;
What I hope this means; and

What I hope this doesn't mean.
Then I'll quickly outline my thoughts of the event overall, and my thoughts of WWE at the end.
So I'll quit stalling and let's get started!
The National Anthem Performance
Recognise this guy?
What I liked:
Adam Jones, the lead guitarist of a band named Tool, actually did a really good version of "The Star-Spangled Banner." I'm not an American, but it appeared the audience appreciated it. The version reminded me a little bit of Hendrix—a little bit.
What I didn't like:
After the performance, the three stooges (Cole, Lawler and Booker) had to make a wise crack about Michael Cole liking a band named Tool. Made me wish the band was called Dick.
What I hope this means:
WWE will look at alternative genres and musical artists to perform the national anthem at big events like SummerSlam and WrestleMania because the soul singing does get annoying.
What I hope this doesn't mean:
Please, no Kid Rock!
The Miz, R-Truth, Alberto Del Rio vs Kofi Kingston, John Morrison, Rey Mysterio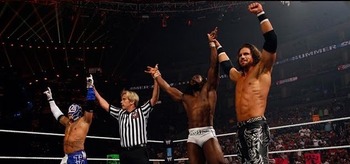 What I liked:
It was a hot opener to the PPV with lots of fast action. The two parts I particularly liked were Miz and Truth's promos at the beginning, and at the finish where we saw Morrison dive on Del Rio, Kingston get some huge air on The Miz and finally Mysterio picked up the pin on Truth, which was good for Mysterio to build his momentum for his WWE championship match.
What I didn't like:
As I stated in a previous article, I think seeing a Morrison vs. Truth match was something worthy of a PPV, but instead they showed it for free on Raw. We saw Morrison beat Truth a few times in the match, but not enough to exact revenge for his character. Also, you can't tell me that Kingston and Del Rio weren't just add-ons in that match. From what I understand, it was supposed to be Mysterio vs. Miz in a singles bout. However, due to concerns over Rey's knee it was turned into a six-man tag.
What I hope this means:
Hopefully this means these six performers are booked for something more meaningful in the next PPV because let's be honest, this match served no purpose other than to make Mysterio look good.
What I hope this doesn't mean:
I hope we don't see an end to the Morrison-Truth feud, and I hope we're not starting to see R-Truth being made to go back down the card because during the past few months he's been really entertaining.

Mark Henry vs. Sheamus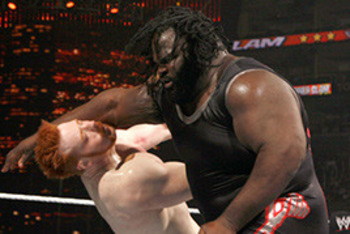 What I liked:
I liked that the count-out victory means that it's not over between Mark Henry and Sheamus.Yet there was something else. What was it? It's hard to think it was so long...oh, wait...I remember; that spot with Henry sending Sheamus through the barricade was sick! I liked that it was a creative way of giving Henry a count-out victory without making Sheamus look weak because he was slammed through a freaking barricade!
What I didn't like:
The spot at the end was really the only exciting thing about the match. Obviously, a match with Mark Henry isn't going to be high paced or technical. It was basically Henry getting his offense going, then Sheamus getting his moves in and then the big spot—end of match.
What I hope this means:
Sheamus comes out on the next SmackDown and attacks Mark Henry to let him know he still wants to fight him, and the feud continues.
What I hope this doesn't mean:
We see another indecisive finish at the end of their next match, like a DQ or another count-out. During the next match someone has to win, and who it will be will depend on what man has the greater potential and future. I don't like Henry's chances.
Cee-Lo Green Performance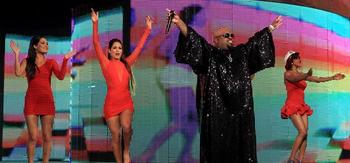 What I liked:
Cee-Lo's performance was good. I think the theme song is decent, and of course we had the clean version of his big hit "Forget You." Also, I don't know if I was the only one who noticed, but did you see him after the performance when he turned to the camera, held two fingers to his mouth and licked them? (It's kind of hard to explain without just saying it, but I think you'd know what I mean if I basically say Cee-Lo Green was motioning for cunninglingus.) Anyway, as soon as he did, the camera immediately cut away because, of course, WWE is PG and kids know what that means. Seriously though, it was funny.
What I didn't like:
The crowd looked dead throughout the performance as is often the case, I don't think I've ever seen a musical performance where the whole WWE crowd is into it (apart from maybe Fozzy). Maybe it was just the TV and the live crowd was loving it. It didn't translate well on TV if that was the case. Also, I recognised Alicia Fox as one of the WWE Diva dancers, and I'm guessing the Bella Twins were there, too. If this is the case, then why would the heel divas want to dance for the crowd? Mind you, we've seen Eve dance.
What I hope this means:
More live musical performances, because good or bad at least they are legitimately entertaining for a cynical douche like me.
What I hope this doesn't mean:
WWE will get anyone to sing. Please don't let Ke$ha anywhere near a WWE event. (I know I could've said Bieber or Black, but that's too obvious.)
Kelly Kelly vs. Beth Phoenix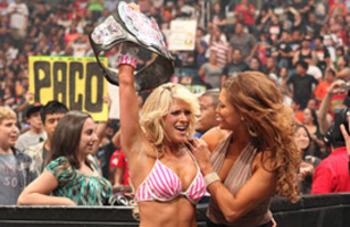 What I liked:
This was a PPV divas match featuring Kelly Kelly that I actually sat down and watched all the way through without feeling the need to take a bathroom break, make a drink or anything else. That's a testament to how well Beth Phoenix carried Kelly Kelly through this match, and it was longer than 5 minutes. Kelly also beat Phoenix in the only feasible way I saw. I like that the crowd seemed to be into the match, which shows that the WWE can use the Divas Division right if they use the right divas.
What I didn't like:
Apart from the obvious, which is that Beth Phoenix lost, Kelly Kelly's offense just looked weak compared to her opponent. And when she did her signature scream as she slammed Phoenix's head into the mat, my urge to keep watching did waver. Natalya and Eve came out to cheer their partners on and that was it. Oh, I could've sworn they would get involved somehow.
What I hope this means:
Triple Threat. Night of Champions. Kelly Kelly vs. Beth Phoenix vs. Natalya—done!
What I hope this doesn't mean:
A new challenger will be named.
Wade Barret vs. Daniel Bryan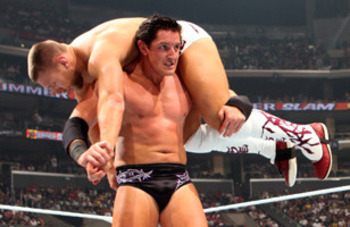 What I liked:
Daniel Bryan and Wade Barrett have great chemistry, and it showed in this match. They had a hard hitting match with plenty of kicks, elbow strikes and stiff shots from both parties. Both men showed why they should be involved in the main event matches. However, the problem is while I believe Daniel Bryan can work with anybody, I don't believe that when it comes to Wade Barrett. Also, I like that Barrett won because he desperately needed to look like a strong competitor.
What I didn't like:
Every Daniel Bryan match has to have the obligatory Michael Cole nonsense. Other than that, I'd have liked to see them go a bit longer.
What I hope this means:
A feud between Daniel Bryan and Wade Barrett will be interesting to watch especially if the Money in the Bank briefcase is on the line, which makes me hope my prediction from a previous article about Bryan losing his briefcase won't come true.
What I hope this doesn't mean:
Daniel Bryan starts going on a losing streak and is made to look weak, because if he's going to cash in his briefcase and be a main-eventer he needs to be built like one.
Edge Returns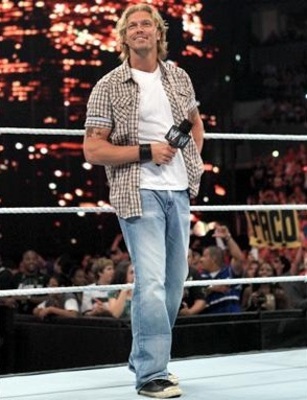 What I liked:
Edge's return probably received one of the biggest pops of the night; he definitely looked to be enjoying his entrance, and was soaking up the crowd's reaction. Edge's promo afterwards was good, and it made sense that he would be disappointed with Christian's actions by calling him a "whiny little bitch." No matter to the PG rating; he's not part of the company.
What I didn't like:
Edge's return didn't make sense. Christian teased whomever he had was "the best thing going today," which pointed to some kind of faction being formed. Now I don't know how bad Edge's neck is, but I haven't seen him do a spear of anything since he was forced to retire. So what was Christians plan? To get his best friend—who's been forced to never wrestle again—to step back in the ring and help him against a man like Randy Orton who's been built up as a dangerous psycho? What a good friend!
What I hope this means:
We see more of Edge now and again as his crowd reactions speak for themselves.
What I hope this doesn't mean:
Edge is never brought back for saying "bitch" on PPV. I know it won't happen. He's Hall-of-Fame bound.
Christian vs. Randy Orton
What I liked:
The whole match was great. It's probably the best No DQ match you can have in the PG era. I liked how both men were shown to have some expertise in hardcore matches. As in previous Orton vs. Christian encounters, this match could've gone either way. The RKO at the end really must of hurt both men as well.
What I didn't like:
Why would Christian spit in Orton's face again? When he did that the last time, Orton decimated him after Money in the Bank, and he knows that it's no disqualification. Orton can do anything to Christian, so why provoke him? I understand that Christian is a cocky heel, but there's a difference between cockiness and idiocy, and up to that point Christian was shown as conniving and calculating. Then he spat in a psycho's face. I'm guessing he went to the back and told Mark Henry he was fat, too. Then after that, he got no offense in; it was all Randy Orton. He put him through two tables, DDT'd him on a garbage can and of course RKO'd him on the steel steps. Lastly, Orton won. Thus giving Christian another short reign making him look weak in the process.
What I hope this means:
This was the last match in their feud. We may see someone different challenge Randy Orton for the title. Although I can't think who if Sheamus and Henry are facing each other, and Cody Rhodes is intercontinental champion.
What I hope this doesn't mean:
Randy Orton vs, Christian VI anyone?
CM Punk vs. John Cena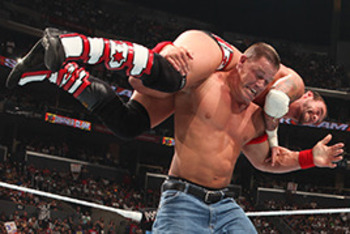 What I liked:
This match deserved to be the main event that everyone was talking about. The crowd was white hot for this match, and didn't stop chanting. "Let's go Cena" and "Cena Sucks" rang throughout the match. I will give the announcers credit for doing a good job of showing this match as the most important match in history, and that the match could've gone either way. The match also featured John Cena doing a dropkick, which was a shock. The match at Money in the Bank was a 5-star match among many reviewers. This match featured less botches, and Cena appeared to work harder.
What I didn't like:
This match was marred by the finish, and I'm talking about the finish to the match (not the finish to the show). CM Punk didn't win clean, and John Cena was accidentally screwed by bad officiating on Triple H's part. If that would've been the end of SummerSlam it would've been weak. Thankfully it wasn't.
What I hope this means:
John Cena will do more moves, and work as hard as he does with Punk as with other competitors.
What I hope this doesn't mean:
Cena goes back to the "five moves of doom."
Kevin Nash Attacks CM Punk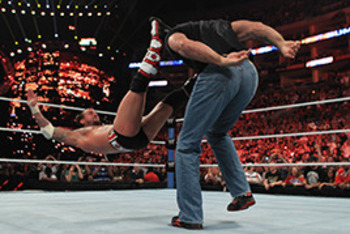 What I liked:
The total shock of Kevin Nash running into the ring attacking Punk and jacknife powerbombing him. It was a complete surprise, and then he just walks off without saying a word and leaving Triple H perplexed.
What I didn't like:
Apart from the action resulting in CM Punk losing the title...nothing!
What I hope this means:
Big Sexy is back and possibly used in a feud against Punk and Triple H, in which we see a big swerve!
What I hope this doesn't mean:
Kevin Nash is never mentioned again. This won't happen.
Alberto Del Rio vs. CM Punk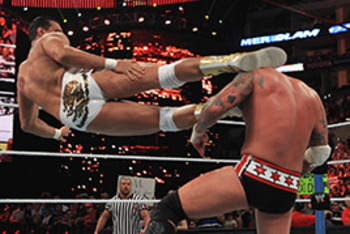 What I liked:
Finally, Alberto Del Rio's destiny is fulfilled and he is a World Champion.
What I didn't like:
An Enzuigiri? That was weird. I would've had Punk hurt his arm during the match and then have Del Rio come out and lock him in the arm-breaker—but what do I know?
What I hope this means:
On Raw, Rey still doesn't get a title shot setting up a four-way at Night of Champions: Alberto Del Rio the champion; CM Punk because he was screwed by Kevin Nash; John Cena because he was screwed by Triple H; and Rey Mysterio because he was screwed, too.
What I hope this doesn't mean:
Del Rio vs. Cena—simple as that
Final Thoughts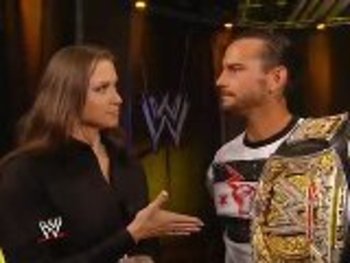 SummerSlam 2011:
What I liked:
The backstage segments with Triple H and Stephanie really teased that there was going to be a screw-job finish, yet WWE once again went a different direction, which I liked. Both main events were really well done, as well as the Bryan vs. Barrett match. This SummerSlam will be remembered, which is the main thing.
What I didn't like:
The announcing was really annoying, but I like each man individually as a commentator. Together they are irritating. I'd have definitely preferred Jim Ross calling the main event matches, if not the whole card! The first three matches were OK, if forgettable, but WWE did build this PPV around the main event, which would explain this.
What I hope this means:
WWE will start giving SummerSlam the matches and build upon that making it one of the top four PPVs of the year.
What I hope this doesn't mean:
WWE follows this up with a dud—Night of Champions in five weeks—we will see.
Conclusion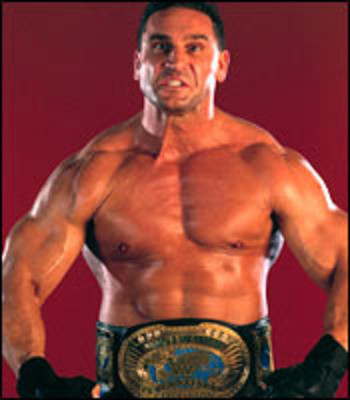 Well, that's my first PPV review. I hope you saw it as different from the rest. Feel free to leave your comments on the PPV and the slideshow, of course.
I leave you with another obscure Intercontinental Champion: Ken Shamrock
Champion for 125 days
Won the title in a tournament defeating X-Pac
Lost the title to Val Venis
He was an MMA fighter who went into pro wrestling as opposed to the other way around. He also got beat pretty bad by Vader, but who hasn't.
Keep Reading