The Cesc Fabregas to Barcelona Saga Has Reached Its Conclusion
August 15, 2011
David Ramos/Getty Images
Cesc Fabregas is officially a Barcelona player. The ongoing saga of Fabregas' transfer from Arsenal to Barcelona has finally reached a conclusion, as the player has signed a five-year contract with his boyhood club.
After passing his medical this morning, Fabregas was introduced to the press and more than 30,000 Barcelona fans in a ceremony at the Camp Nou.
Speaking to the media, Fabregas made it clear that he had nothing but respect for Arsenal, the fans and especially manager Arsene Wenger. Earlier today, Fabregas reached out to Arsenal fans via Twitter, saying, "To all Gunners: A big thank you for your unconditional support during the last 8 yrs. Just say that I will always carry you in my heart!"
Fabregas was signed by Arsenal from Barcelona at the age of 16. During his eight years in North London, Fabregas made more than 300 appearances and scored 57 goals. He was also one of the most prolific passers in the English Premier League. Despite being named Arsenal's captain in 2008, Fabregas always maintained his desire to one day return home to Barcelona.
A member of the Spanish national team, Fabregas has 58 caps, and was a member of the Spanish side that won championships at Euro 2008 and the 2010 World Cup in South Africa.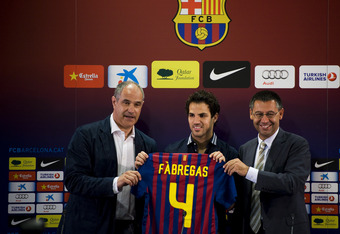 David Ramos/Getty Images
Cesc Fabregas will wear the number four shirt, which was made famous by current Barcelona manager Pep Guardiola.
Speaking of Fabregas' return to Barcelona, Arsenal's Wenger was philosophical, saying, "Yes, we lost a world-class player and we are sad about it. We did fight to keep him, but in the end we have as well to respect the desire of the player. This club is 125 years old this season and many big players have left the club and the club went on."
A number of Arsenal players took to Twitter to wish Fabregas good luck. The heir apparent to Fabregas' midfield position, Jack Wilshere, tweeted, "Good luck to my friend @cesc4official at Barca!Very sad to see him leave, learnt alot from him! Great role model! Best of luck mate!
Meanwhile, the up-and-coming Aaron Ramsey wrote, "Wishing @cesc4official the best of luck with his new club, great role model and a great guy!"
Fabregas' first appearance with Barcelona could take place this Wednesday at Camp Nou in the second leg of the Spanish Super Cup. Madrid will be the visitors, after a 2-2 draw over the weekend at the Bernabeu.