Duke Basketball: A Closer Look at Blue Devils' Overseas Trip Opponent
August 16, 2011
Paul Kane/Getty Images
There are a lot of questions to be answered by this young Duke team and answers will be revealed as they play against a professional team in China.
The Chinese basketball team may seem irrelevant now that Yoa Ming has retired, but they still have size and NBA experience. According to FIBA the average height of this team is 6'8".
Zhang Zhaoxu, the 7'3" starting center, played three seasons at California. Zhang played the Blue Devils before as Duke eliminated California in the second round of the 2010 NCAA tournament, although the Chinese center played a limited role.
At power forward, the Chinese could start Wang Zhihi, another 7-footer. Wang bounced around the NBA before moving back to the Chinese Basketball Association (CBA).
He was the leading scorer at the FIBA world championship in Turkey last summer which saw a Mike Krzyzewski lead USA to the championship. That team saw the emergence of Kevin Durant as a legitimate international star.
Mason Plumlee and Duke's frontcourt players should relish playing against China's frontcourt.
If these guys can handle China's size then it will be good test for Duke's next Big Ten-ACC Challenge where they will face Jared Sullinger and Ohio State.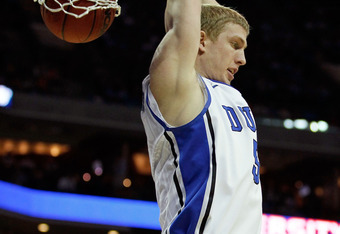 Kevin C. Cox/Getty Images
The wing players won't be left out. Yi Jianlian, a 6'11" power forward who is more comfortable on the wing, may play for China. Yi was a lottery pick for the Milwaukee Bucks in 2006.
He is currently a free agent but played for Washington Wizards last season.
Sun Yue, 6'9", has an NBA championship ring and was the second leading scorer on a Chinese team that did not advance from their group last year at the World Championships.
Sun was a second-round pick of the LA Lakers in 2007 and was a reserve guard when they beat the Orlando Magic in the 2009 NBA Finals.
Liu Wie went undrafted by the NBA but has a lot of international experience, playing since the 2002 World Championship. The 6'3" guard currently plays in the CBA.
Duke's players are no strangers to playing professional players, as most competed in the local Pro-Am League with NBA players such as John Wall, but this will be a more structured game.
Freshman Austin Rivers, Duke's projected top offensive threat, can learn on the job, just as JJ Redick did when Duke had their last overseas trip to London and were implementing six freshmen.
This season the Blue Devils have five new players but point guard Quinn Cook will be sitting out to rest his knee.
The games will be played under international rules, which means among other things a 24-second shot clock. Mike Krzyzewski has a lot of experience in the international rules as he will coach the USA team in the Olympics next year. USA automatically qualified after winning the 2010 World Championships.
The Chinese team, currently ranked 10th in the world by FIBA, will be preparing for the Asian Games shortly, the winner of which will qualify for the 2012 Olympics in London.
They may not use their full squad against Duke's amateur players in the first two games, as they are scheduled to play in a tournament in London to test the Olympic venue for next year. The full squad should be available for the third game on August 22.
Duke will play three games from the August 17 against this team. The games will be shown on ESPNU.
Due to a delay in flight, Duke will arrive in time for their first game but won't be able to practice first. The NCAA allows overseas bound teams 10 practices but it would have been nice to acclimate themselves to the new country before playing.