Chelsea FC: Draw Against Stoke City Shows Team Is Still a Player Away
August 15, 2011
Laurence Griffiths/Getty Images
It's not the start that Andre Villas-Boas had in mind when he signed on at Stamford Bridge, but Chelsea's 0-0 draw against Stoke City was encouraging nonetheless.
After a punchless first half, the West Londoners came out of halftime swinging. Chelsea dominated possession but ultimately could do nothing with it—a problem that got former boss Carlo Ancelotti sacked back in May.
Despite their inability to put one in the back of the net, Chelsea was able to create a number of chances, only to see Stoke goalkeeper Asmir Begovic thwart them in the end.
The brightest sign for the boys in blue had to be the form of Fernando Torres. El Nino dribbled in and around the box but lacked the proper support to make the most out of the Spaniard's talents. Salomon Kalou and Flourent Malouda, who flanked Torres to the right and left respectively, both played poorly and had as much to do with the Potters' keeping a clean sheet as the Stoke back four did.
Also contributing to the lack of offense was an uncreative midfield. While none of the three mids—John Obi Mikel, Ramires and Frank Lampard—had a poor game individually, none of the three did anything to break down a deep-lying defense. Sunday's result only cemented the team's need for Tottenham's Luka Modric.
After seven preseason friendlies and one league game, it's evident that a new manager is not the solution to Chelsea's problems. While Villas-Boas' approach has, seemingly, lit a fire under a veteran team badly in need of just that, Chelsea is still a player short of challenging Manchester United for the title.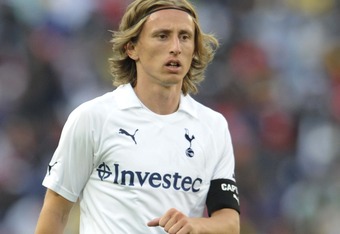 Gallo Images/Getty Images
If Roman Abramovich's checkbook is able to bring in Modric, then Chelsea will give United a huge challenge. Aside from the goalkeeper position, the Sir Alex's biggest worry has to be his center-mids; but Chelsea will not be able to exploit that without Modric or a player of similar class.
Add Modric to an on-form Torres and a healthy Lampard, and Chelsea's attack will look as potent as any in England. Less-talented teams—like Stoke—will no longer be able to drop deep and play for a point with a player who is able to break down a back four with a killer pass on the squad.
On the subject of available midfielders, I cannot come up with a good reason why Chelsea has not tried to lure Inter's Welsey Sneijder to Stamford Bridge. Not only would the team be adding an influential playmaker to the side, but they would also prevent Manchester United from strengthening an already-talented team.
After a decent performance against Stoke, Chelsea may not feel implored to spend more money during the summer transfer window, but they must if they plan on winning trophies this season.