Kimbo Slice: Is It Finally Time We Showed Him Some Love?
August 14, 2011
Robert Laberge/Getty Images
If you blinked your eyes last night, you may have missed something quite noteworthy in the world of boxing. Remember Kimbo Slice, that street fighter with the beard and the chains who everybody loves to hate?
He's back.
Kevin "Kimbo Slice" Ferguson made his long-awaited professional boxing debut last night, and sent James Wade flying through the ropes just 10 seconds in, once again setting the Internet ablaze with Kimbo-Mania.
Can you smell haters? I sure can.
From his days as a YouTube sensation to his short stay in the UFC, Slice has captivated fight fans for years with his intimidating power and even more intimidating beard.
Still, despite gaining worldwide popularity, it seems Slice has never been able to escape the shadow of doubt and nay-saying that has followed him throughout his career. Regardless of his performance, fight critics continue to tag Slice as nothing more than a publicity stunt or some sort of "freak-show" promotional tool.
While I'll be the first to admit that I have never been particularly impressed by Slice's fights, isn't it time that we finally accept Kimbo for what he really is? The guy is the epitome of a man who refuses to stop striving for what he wants, and you can't help but to love him for it.
Just look at his past.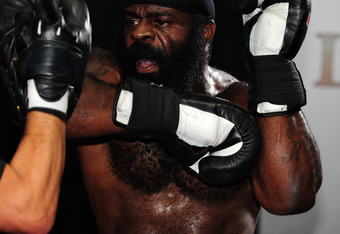 Robert Laberge/Getty Images
After an embarrassing Strikeforce loss to Seth Petruzelli, Slice vowed to continue training in MMA in hopes of one day signing a UFC contract.
UFC President Dana White notoriously said Slice would never have a place in the UFC, but Kimbo competed on "The Ultimate Fighter," eventually going on to win his UFC debut against Houston Alexander.
Finally, after being cut from the UFC following a TKO loss to Matt Mitrione, Slice bounced back once more, this time as a boxer, to win his professional debut in impressive fashion.
Kimbo may never be the unstoppable force he was talked up to be for so long, but the guy doesn't have an ounce of quit in him. He'll take on anybody at any time, and he may very well have a bright future ahead of him yet. He sure is easy to hate, but I think it's time we gave him the respect he deserves.