2011 Colorado Rockies: Does Todd Helton Belong in the Baseball Hall of Fame?
August 14, 2011
Christian Petersen/Getty Images
At the end of the day, Todd Helton may break all the rules of the Baseball Hall of Fame.
And not in a good way.
Any player who enjoys a full career in Major League Baseball and upon retirement, finds himself with a batting average over .300, an on-base percentage over .400 and a slugging percentage over .500 (what I have informally referring to for years as "the 3-4-5 Club") deserves strong consideration for the Hall of Fame.
Indeed, only 15 players since 1901 have finished their careers as members of the 3-4-5 Club with more than 6,000 plate appearances, and sure, why not, we'll list them here:
Ty Cobb, Stan Musial, Tris Speaker, Mel Ott, Babe Ruth, Frank Thomas, Ted Williams, Manny Ramirez, Jimmie Foxx, Lou Gehrig, Rogers Hornsby, Harry Heilmann, Edgar Martinez, Larry Walker and Hank Greenberg.
Three more members of this club are currently active. Chipper Jones will likely join this group when he retires (at .305/.403/.533, he would need at least one more holding-on-too-long season to fall out of the Club), and Albert Pujols is currently at .328/.421/.618.
The third and final member is Todd Helton, who currently weighs in at .323/.422/.551.
Obviously, the list of players in this club is not only a list of very good players but a list of some of the greatest players of all time.  With the exception of Thomas, Ramirez, Heilman, Martinez and Walker, the members of this club are consensus members of the top 20 players of all time.
Thomas, Heilmann and Martinez, if not one-dimensional, are at the very least regarded as two of the top 20 or so pure hitters of all time, and Ramirez would be too if not for steroid implications.
Jones, of course, is one of the top five or so third basemen of all time, and Albert Pujols is one of those once-in-a-generation players with a legitimate shot at one day being considered the Greatest of All Time.
And then there is Larry Walker.
As a member of the 3-4-5 Club who also spent the meat of his career with the Colorado Rockies, Walker has never seriously been considered to be on par with the other elites on this list, and whereas many of these players were Hall of Fame locks (and indeed, foundational members of the Hall), Walker garnered only 20.3 percent of the Hall of Fame vote in 2010, his first year on the ballot.
The reasons, of course, are obvious. Numbers produced since baseball came to Colorado are notoriously inflated, sometimes laughably so. In 1995, when Dante Bichette led the National League with 40 home runs, he hit 31 of those 40 bombs in Colorado.
Vinny Castilla enjoyed many Hall of Fame caliber seasons in Denver, but when he had the audacity to leave the Rockies for the Rays and then the Braves, he became a light hitting third baseman, a liability at the plate even.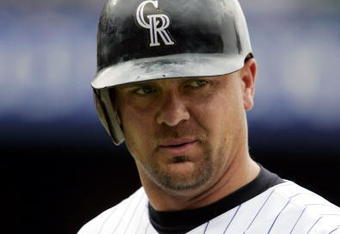 Brian Bahr/Getty Images
To Walker's credit, in his amazing 1997 season (49 HR, 130 RBI, 33 stolen bases, .366/.452/.720) for which he was rewarded with the NL MVP, he somehow managed to hit 29 of his 49 home runs away from home, and his OPS was higher on the road.
Furthermore, Walker's career road numbers are not terrible. His .370 on-base percentage and .865 OPS are both in line with what we might expect of the road performance of a Hall of Famer.
Wade Boggs, as one example, waltzed into the Hall with a .387 on-base percentage and a .781 OPS on the road for his career.
To the extent that Walker makes us ask, "What kind of player would he have been away from Coors Field?," we do have some indication.
In six seasons with Montreal at the beginning of his career, Walker hit .281/.357/.483 with 99 home runs in 674 games, and in two seasons at the end of his career in St. Louis, Walker went .286/.387/.520 with 26 home runs in 144 games.
If anything, the knock on Walker is not, and will not be, that his numbers were too inflated by Coors Field but rather that Walker's career was somewhat incomplete.
Walker was often injured, and in 17 seasons he played over 150 games only once, in that 1997 MVP year.
As a result, Walker's numbers fall short of the career milestones that we traditionally associate with Hall of Fame admission. Walker just barely topped 2,000 hits, 1,300 runs scored and 1,300 RBI and fell short of 500 doubles, 400 home runs and 4,000 total bases.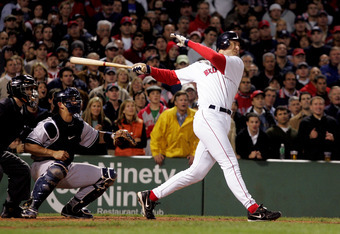 Jim McIsaac/Getty Images
No one argues that a player must get 3,000 hits, 400 home runs or 500 doubles to be admitted to the Hall of Fame, but playing in the era in which he played, Walker's numbers do not distinguish him.
Indeed, if one is to accept Larry Walker as a Hall of Famer, one must wonder what Dale Murphy must do to get into Cooperstown, short of buying a ticket.
Which brings us to Todd Helton.
Unlike Walker, Helton has spent his entire career in Colorado and has enjoyed a long, full career.
Helton played more than 150 games in nine of 13 seasons (not including 2011 or his 35 game call-up as a rookie in 1997) and played 140 or more in two others.
Helton is currently on pace to top 150 again, and is hitting .307/.389/.481 with a respectable 13 home runs and 62 RBI. He has now topped 1,300 runs and RBI, has over 2,300 hits, 550 doubles and 4,000 total bases.
In short, he has crossed all the thresholds which Walker crossed, but also a few of which Walker fell short.
And having spent his entire career in Colorado, Helton is a better litmus test for Coors Field candidacy than Walker.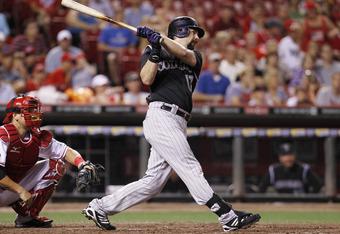 Joe Robbins/Getty Images
So what of Helton?
Should his combination of batting average, on-base percentage and slugging percentage, Hall of Fame caliber for so many other players, get him into Cooperstown?  
What if he crosses the 1,400 RBI and 1,400 runs thresholds? What if he finishes his career with over 400 home runs?
What if Helton gets to 3,000 hits?
At this point, while the home run milestones have essentially been dispensed with, it is difficult to imagine a player collecting 3,000 hits without going into the Hall of Fame, so let's put that aside for te moment.
What of Helton's other numbers?
These are good questions, and to Helton's credit he is not the first player to play in a hitter-friendly environment. At the same time, though, here's some food for thought:
Helton's career 137 OPS+, which is the measure of Helton's OPS taking ballpark and era into account, is comparatively ordinary.
he is currently tied on the career list in that category with Wally Berger, Jack Clark, Will Clark, Pedro Guerrero, Chuck Klein, Reggie Smith, Mike Tiernan and Ken Williams, a group of very good players, only one of whom (Klein) is in the Hall of Fame.
And there's this.
With 8,565 plate appearances, Helton is approaching another first baseman and near contemporary who had 9,063 plate appearances. This first baseman spent most of his career playing in pitcher-friendly parks and posted a career .301/.402/.464 on the road compared to his career .289/.394/.466 in his home ballparks.
With road numbers superior to Todd Helton's road numbers, one is left to ponder how his career would have gone differently had he enjoyed the career advantage of playing in Coors Field. Could he have been a better player even than Helton?
One is left to think that, if Helton is a Hall of Famer, then surely this player must also be.
And this player, whose name was John Olerud, has never seriously been considered a Hall of Famer at any time.
Perhaps, Helton should not be either.