Green Bay Packers: 2011 Preseason, a Lesson in Patience
August 14, 2011
Jonathan Daniel/Getty Images
Greetings from the Frozen Tundra, my friends!
Where did we leave off?  Oh yes...When this writer last wrote, excitement was in the air and a trip was planned with Manpig and Momlene to venture forth into the eastern part of Wisconsin to attend Packers Family Night.  Beer money was saved (Manpig and Momlene's idea), a sober driver was obtained (my idea) and a good time was set to be had by all.  While the thought of driving four hours—one way—was daunting, I was up for the challenge.
And then Manpig decided to take my car in for an oil change. Cue dramatic theme music.
Yup, when you go to lift the car off the ground and the wheels nearly collapse, it probably is a sign you shouldn't drive your car.  While I take "drive it 'til the wheels fall off" statement quite seriously, I do not, however, take it literally.
A plan was created to stuff Manpig's nearly 6'2" frame into Momlene's super fast, super sweet, super small Mustang.  After greasing up Manpig and using both a bat and a shoehorn to squeeze him behind the wheel of Mom's car, we were on our way.  Two miles before the county line, Mom's check engine light came on...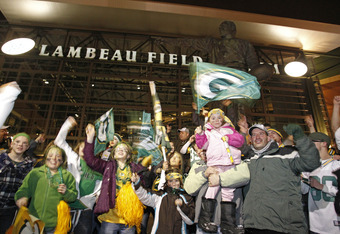 Matt Ludtke/Getty Images
I am rarely one to admit defeat, my friends, but this was one of those rare times when even I had to say, "It was not meant to be."  It was as if the football gods decided to play a really nasty trick on this writer.  You know, "Let her get the tickets, and then let's mess with her and see what she does.  It'll be fun!"
It is safe to say that a good time was not had by all. 
Family was called once I returned home, with the conversations going a little something like this:  "Hey, how would you like to go to Green Bay with your favorite granddaughter?  Ethel, I know you are 80 years old and Green Bay is four hours away.  I'll drive and furnish the beer and bail money...No, I won't drink and drive, you can drink, I'll drive...Yes, I know you go to bed at 6:30 every night...But Grandma, it's the Packers...WHAT DO YOU MEAN ARE THEY A BASEBALL TEAM?"
Friends, we may have to put her in the home next week for not knowing, nor caring, that the Green Bay Packers are a football team. 
It's probably a damn good thing that we didn't take Ethel to Lambeau, however, as she has been known to be a feisty one, with awesome pooper pinching abilities, when she consumes alcohol.  Imagine the devastation if I would've missed Packers Family Night because I had to bail my grandma out of the slammer after she went out onto the field and pinched poopers.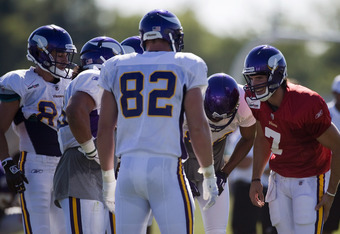 Hannah Foslien/Getty Images
Uff da (Norwegian slang for "oh my" in case you are wondering).  She's feisty, that one.
Friends, I even went as far as to call the other half of my gene pool (aka my dad).  Some of you may be thinking, "Big, hairy deal, Jack.  Why not call your dad to see if he would want to go to Lambeau Field to see the Green Bay Packers?" 
My dad's a Vikings fan.
There—I said it!  My confession absolves all shame from my heart!  I am a child of a mixed football marriage!
The conversation went a little something like this:  "Dad, I know you want to take me to Green Bay.  Come on.  Lambeau is awesome, and you can scope out the competition!"
"I am not going to Green Bay to see the Packers.  But if you take a day off from work next week, we could take a trip to Mankato to watch the Vikings practice.  Now that would be a good trip."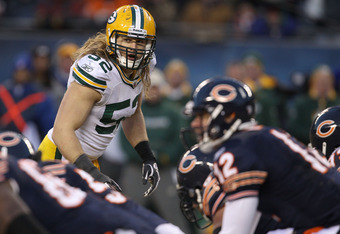 Jonathan Daniel/Getty Images
While I have in the past attended a Vikings game with my father, as tickets were purchased as a Christmas gift by my brother (a go-big or go-home Christmas gift), it does not hold the same fond memories as my previous trip to Lambeau.  The ride home from the Cities was not pleasant.
No. 1, the Vikings lost to the Seahawks during that game.  While this greatly humored my brother and me, it resulted in a football depression for both my dad and my sister. 
No. 2, when your brother says, "Hey, I know a shortcut home from the Cities" that results in SIX HOURS, rather than two hours, in a car with two ticked off Vikings fans and two cheerful Packers fans, it's never a good sign.  Christmas and our birthdays may have been cancelled that year due to our insubordination and comments.
Anyway, I sat at home on the couch with the hound for Packers Family Night.  I watched in relative misery as the stands filled up with happy families, all of whom were not betrayed by their vehicle.  I watched as the players took the field and looked out my window with hatred at my car.  I made little snarky comments, as you probably would expect.  "Oh oh...Brandon Underwood got hurt.  What in the heck do they mean Clay Matthews has a tweaked glute?  What in the heck is a glute?  Do you need that to play football?  Isn't a glute your butt?  How in the heck do you tweak your butt?  Did Ethel pinch his pooper?  Oh, good pass Aaron Rodgers!  Wish I could've seen that IN LAMBEAU!  STUPID CAR!"
And then the skies opened up over Lambeau Field.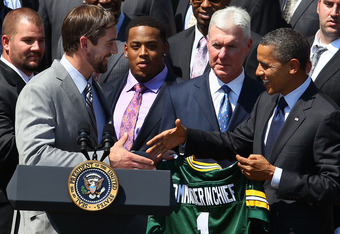 Mark Wilson/Getty Images
It was probably a good thing, as by that point Manpig had had enough.
Manpig turned to me and said, "If I would've rode in a car with you, and your mother, for four hours, ONE WAY, listening to the two of you go on and on and on, and got to see 15 minutes of football, you would've had to sedate me on the way home.  Do you feel better about not going now?"
I kind of did.  If I would've made it to Family Night, watched 15 minutes of football only to have the sky explode and have the rest of the events delayed/cancelled, and then would've had to chase a ticked-off, beer-deprived Manpig through the hallways and ultimately the parking lots of Lambeau Field, blow gun and tranquilizer dart in hand, I think people would've probably thought I was a little off and frowned upon that.  And what if I would've missed Manpig with the tranquilizer dart as he was fleeing through the crowd?  That could've resulted in mayhem!
Mayhem, I tell you!
Or, as it is also known as, just another Saturday night for me.
Anyway, the Packers went to the White House this week and gave President Barack Obama stock in the Packers, which resulted in the most well-known Bears fan in the world to say, "If I'm a part owner, what I'm thinking is we should initiate a trade to send Rodgers down to the Bears.  What do you think?"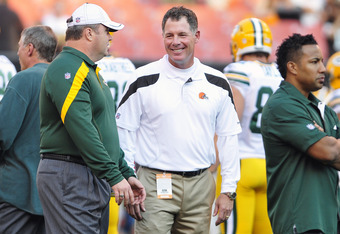 Jason Miller/Getty Images
I think, Mr. President, if you want to carry Wisconsin in the next presidential election, it would probably be a good idea to not make comments like that.  We take pride in the fact that Mr. Aaron Rodgers is our quarterback, sir.  You may have the power to ground planes in and out of Green Bay, but the citizens of Wisconsin have the power to make you one of the numerous unemployed.  Just some food for thought, sir.
Don't mess with the Packers.
What a kick in the face to Jay Cutler, too, by the way.  When the leader of the free world makes a comment that the Bears needs a different quarterback, you might want to hunker down and buck up, little buddy.  Jeez...
Which leads us, finally, to the preseason opener against the Cleveland Browns.  Last night, I had a mantra:  "It's only the preseason, Jackie.  Take a deep breath.  It's only the preseason."
I am choosing to view last night's loss as a decoy.  Ted Thompson and Mike McCarthy, in their divine wisdom, are throwing off other teams that are watching the champions by losing to the Browns—kind of like, if we don't win the first game, we aren't a threat. 
A comparison, if I may:  kind of like having a cute, elderly, Norwegian grandma who goes to church on Sunday (not a threat) and raises hell the other six days of the week (threat).
Please let that be the case. 
In closing, my patience, as proven by the above real-life scenario, is hanging on by a thread.  On to the Cardinals!  Have a good week, and most important, have patience!