PGA Championship 2011: The 5 Best Come from Behind Wins at the PGA
August 13, 2011
David Cannon/Getty Images
Atlanta Athletic Club, Johns Creek, GA – While it looks today like Jim Furyk, Lee Westwood, Steve Stricker, Adam Scott and even Phil Mickelson are too far back to win the PGA Championship, if history is any teacher, they are not. There have been five notable comebacks at the PGA since 1916 ranging from six to seven shots back of the 54-hole lead.   
With the lead at minus-7, anyone back to plus-1 or plus-2 has a chance if they post a great final round.  That includes more than 30 players.
In addition, since none of the top six—Brendan Steele, Jason Duffner, Keegan, Bradley, Scott Verplank, Steve Stricker, Anders Hansen or D.A. Points—have won a major in the past, the real lead is not minus-7. 
It is closer to minus-2, because that is where former PGA Champion David Toms and 2011 Masters Champion Charl Schwartzel sit.  They are the highest-placed major winners on the leaderboard,   Schwartzel showed what he could do at Augusta National birdieing the final four holes to win.
It also means that the outcome is totally unknown at this point. Names like Lee Westwood,  Luke Donald, Nick Watney and 2003 U.S. Open Champion Jim Furyk are within six shots.   Steve Stricker clawed his way back to minus-4, and Scott Verplank, winner of the 1984 U.S. Amateur, is at minus-5. It's anybody's trophy.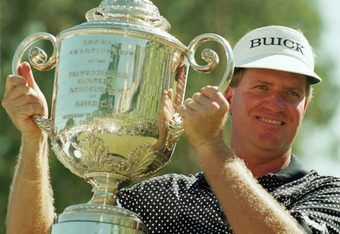 Getty Images/Getty Images
Who had the biggest comebacks in PGA Championship history?
In 1959, Bob Rosburg, who later went on to become famous as the ABC Golf, on-course commentator who said, " He's got now shot," won the championship.  He defeated Jerry Barber and Doug Sanders at the Minneapolis Golf Club in St. Louis Park, MN.  
The tournament opened with nine players sharing the lead at 69. Jerry Barber shot a record 65 in the second round to take the 36-hole lead, and he held it through 54-holes as well.  Rosburg, who was 33 at the time, fired a final-round 66 to finish with 277, one stroke in front of Barber and Sanders.
In 1977, Lanny Wadkins defeated Gene Littler in a playoff at Pebble Beach Golf Links.  It was the first time a major championship used a sudden-death playoff to determine a winner.  Lanny Wadkins rolled in a six-footer for par on the third playoff hole to won. 
Littler had held the lead for all three rounds.  Wadkins was still five behind him with nine holes to play.  Littler bogeyed five of the first six holes on the back nine which brought him into a tie with Jack Nicklaus. 
Wadkins, 27 at the time, was just one shot back of them. Nicklaus bogeyed the 17th. Wadkins pulled into a tie with a birdie at the 18th and won the playoff.
In 1989, Payne Stewart birdied four of the last five holes and shot a final nine 31 to beat 54-hole leader Mike Reid, as well as Curtis Srange and Andy Bean.  He overcame a six-shot deficit to win.  It was Stewart's first major championship. Reid bogeyed 16, double-bogeyed 17 and missed an eight-foot birdie putt on 18. 
In 1995, Ernie Els was the third-round leader at the PGA Championship at Riviera Country Club. He was six shots clear of the field.  But Sunday, Els faltered, and Steve Elkington fired a seven-under-par 64, and posted a 267, breaking the tournament record score by two strokes.
Within minutes, Colin Montgomerie turned in a 65 to tie him.  In the playoff, Elkington made a 25-foot birdie putt on the 18th, which was the first extra hole of a sudden death playoff.  Montgomerie missed his birdie attempt. 
The tournament was held the same year as the O.J. Simpson trial, and some of the LA and Brentwood landmarks had become attractions. The Paul Revere Middle School where O.J.'s daughter had her dance recital is just a few blocks away from the course.  In downtown Los Angeles, street vendors sold watches with second hands decorated with white bronco SUVs.    
In 1978, John Mahaffey came from seven shots back in the final round to win the PGA Championship, which was held at the brutally hard Oakmont, Country Club outside Pittsburgh.   Mahaffey fired a 66 to pull into a tie with Tom Watson and Jerry Pate after 72 holes. He won his first major with a 12-foot putt for birdie on second extra hole.  
Kathy Bissell is a Golf Writer for Bleacher Report. Unless otherwise noted, all quotes were obtained first-hand or from official interview materials from the USGA, PGA Tour or PGA of America.