MLB Round-Up: Future at New York Yankees DH Position
August 13, 2011
Al Messerschmidt/Getty Images
These past few days have been interesting for the New York Yankees. Alex Rodriguez is starting his return to the team, hitting a home run in his first at-bat. Jorge Posada had a stellar performance as the starting DH today against Jeremy Hellickson of the Tampa Bay Rays, collecting three hits (including a grand slam) and six RBIs.
What are the New York Yankees going to do with the DH position, though?
It seems very likely that Jorge Posada and Alex Rodriguez will be evaluated as the primary DHs. Posada has been decent this season as a lefty hitter. On the right side, that is a different story. To start the season, Hip-Hip went 0-20 from the right side.
This is why Joe Girardi has only given Jorge Posada the opportunity to DH with right-handed starters. Before this game against the Tampa Bay Rays, though, Girardi refrained from using Posada at all this week.
Now, the New York Yankees are looking for a player to DH primarily against left-handed starters. Typically, that person would be a right-handed hitter, being on the opposite side of the dominant left hand of the starter.
There are two players who are potentially qualified for the job, with one obvious front-runner.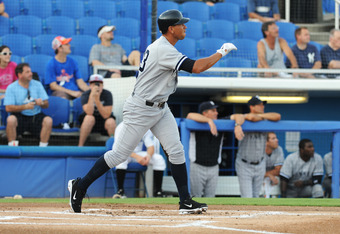 Al Messerschmidt/Getty Images
That front-runner would be third baseman Alex Rodriguez. He is coming off a knee surgery on his torn meniscus. Rodriguez can play stellar defense, but players like Chavez or even Nunez could fill in for him on days in which he DH's.
A-Rod has even expressed a small desire to DH for the second game in a row in High A Tampa. This does not mean that he will DH all of the time, as Alex Rodriguez is expected to play the field in an intrasquad game and in AAA games this upcoming week, but it shows that he will need days to DH and rest up a bit.
Another possibility could be Jesus Montero. If the New York Yankees were to demote Francisco Cervelli, they would not burn his option because he would be in the minors for under 20 days. I find this option highly unlikely, especially with Alex Rodriguez and Derek Jeter having the need to DH more often this season.
Jesus Montero will most certainly be a candidate for a September call-up. I for one hope that Montero is called up on August 31 or a little earlier. The New York Yankees need to see what they have in this kid. It would not be wise to call him up in September and discover that he could tear up big league pitching like no other rookie has this season.
I am not saying that Montero will certainly hit well, but the New York Yankees cannot take that chance. Demote Cervelli for the last two games; Russell Martin will be catching anyway. The odds of Martin getting injured those two games are slim to none. If needed, Montero could fill in and Jorge Posada would serve as the emergency catcher. I think this is worth a try at the end of the month.
Alex Rodriguez is my candidate for part-time DH, along with Jorge Posada. Do not judge Jorge on this one game, though, because things could easily change if he does not perform consistently as a more regular DH.