UFC on Versus 5: Hardy vs Lytle: Keys to Victory for "Cowboy" Donald Cerrone
August 13, 2011
With 29 professional kick-boxing bouts and 19 professional mixed martial arts contests, the seasoned veteran "Cowboy" Donald Cerrone enters the Octagon at the Bradley Center in Milwaukee, Wisconsin, to face-off in his biggest matchup to date.
Charles "do Bronx" Oliveira is a tremendously gifted challenger. A black belt in jiu-jitsu, Oliveira's ground game is second to none, and his transitions in the grappling department are awe-inspiring.
Ever-improving on his stand-up striking skills, "do Bronx" has added a lethal clinch game to his solid arsenal of attack including crisp boxing and complementary Muay-thai skills.
Not to be outdone, Cerrone is a truly gifted fighter.
Methodical, tactically precise, patient and very cerebral, "Cowboy" is an outstanding Muay-thai specialist.
Standing and trading with some of the best lightweights in the industry including Ben Henderson, Rob McCullough, and Jamie Varner, Cerrone's stand-up skills are equal to any challenge within the UFC lightweight division.
Previously utilizing his stand-up dominance to open up submission attempts in the jiu-jitsu game, Cerrone has compiled 12 tapout victories in his young career.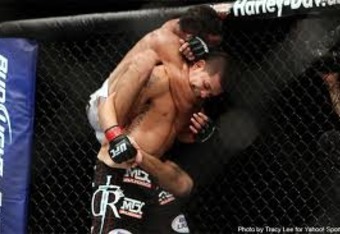 But this game plan will not work against Oliveira.
Outside of Jim Miller's submission victory over "do Bronx" at UFC 124 via kneebar, Oliveira has not tapped, or even been close to losing by a submission in his remaining 14 fights.
Cerrone's key to success in this matchup with Oliveira will be to keep the fight standing and execute a solid striking fight strategy.
"Cowboy" possesses the ability to keep fighters at bay by throwing a wide variety of striking combinations and by utilizing all of his weapons.
Incorporating leg kicks, straight punches, and fluid motion will keep "do Bronx" off-balance and incapable of securing a Muay-thai clinch and delivering damage on the inside.
If this matchup does go to the ground, Cerrone's best asset will be his ability to utilize his brilliant jiu-jitsu skills to re-establish the fight on their feet and continue to damage Oliveira in the stand-up department.
Fighting out of Jackson Submission Fighting in Albuquerque, New Mexico, I am sure that this top-notch fight school has prepared Cerrone for a three round battle with Oliveira.
As I stated in my predictions piece for this card, I believe that this matchup may earn Fight of the Year honors. 
Stay tuned to Versus this Sunday to witness a battle between two rising prospects within the UFC lightweight division.
I welcome your comments.
You can "Like" Todd Seyler on Facebook and/or Follow him on Twitter.