CM Punk Flashback: Thanksgiving Eve 2008 Podcast with the WWE Champion
August 13, 2011
Over the last five years I've done an infrequent hobby podcast called Loser Leaves Town. In November 2008, CM Punk did me a favor and recorded a show with myself and our buddy Rob Naylor (now the play by play announcer for CZW, Dragon Gate USA, and Evolve). I listened to it the weekend of Money In The Bank, and with Punk still on a roll with SummerSlam tomorrow, it's a lot of fun to look back on.
It was an interesting point in his career for a few reasons. He had won his first Money In The Bank contract that year at WrestleMania 24 in Orlando, Florida. Jeff Hardy had been scheduled to get the win, but he failed a drug test and was suspended. Who better than the Straight Edge Superstar to replace him? There were rumors that WWE was considering making him the first Money In The Bank winner to lose his cashed in title shot but thankfully that didn't come to fruition, as he won the World Heavyweight Championship from Edge in June after being traded to Raw.
He was booked as an underdog champion, and a lot of fans weren't crazy about that. Still, he embraced the role and did a good job. When the time came for him to lose the title, he was screwed out of it by being attacked by Legacy and taken out of a "Championship Scramble" match, which was won by Chris Jericho. That he didn't lose the title in the ring seemed like a relatively good sign, as it seemed to indicate that someone felt that he needed to be protected a little bit.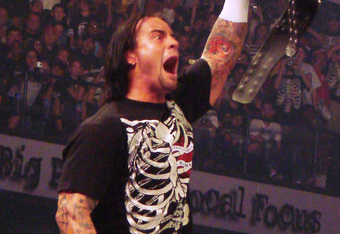 He lost his rematch against Jericho, but he got his revenge against Legacy a few weeks later by winning the World Tag Team Championship with Kofi Kingston from Ted DiBiase & Cody Rhodes.  Punk and Kingston were champions at the time of the podcast.
The most interesting thing about the timing of this podcast is that when we did it was becoming more and more clear that he was catching on as a hometown hero. Punk had been made Grand Marshal (well, "Sports Grand Marshal" for reasons discussed on the podcast, but realistically positioned as the actual Grand Marshal) of the Chicago Thanksgiving Day Parade. That's a pretty huge deal locally. You can see a clip of him in the parade on YouTube. As you can probably figure, it was pretty trippy listening to this before watching Money In The Bank last month with the insane level of emotion and noise in Chicago for Punk vs John Cena.
Anyway, this was the day before the parade so Punk was in a wonderfully non-grumpy mood, and we had a great time talking about his days as an independent wrestler as well as some stuff from his WWE run up to that point in time. Punk does some great impressions, a certain best friend of his makes a special appearance incognito that I come way too close to accidentally ruining, we learn that John Morrison's first Starship Pain was so beautiful that Punk almost forgot to kick out, and much more.
Here's how I originally wrote it up:
Rob Naylor co-hosts a Thanksgiving weekend spectacular where we interview one of of the World Tag Team Champions, former World Heavyweight Champion CM Punk! A great show (with them carrying me at times) where Punk discusses his past as an independent wrestler, his matches with John Morrison, burying the hatchet with Teddy Hart, having a bunch of merchandise, and much more, including a hilarious Tony Garea story that includes a fine vocal impersonation. Plus, Punk hands the phone to his good friend François Kevorkian (who may or may not be the same one who mixed for Depeche Mode) for a fascinating and enlightening discussion. Almost 80 minutes of the most (self?-)important Loser Leaves Town Podcast EVER!
You can check out the podcast here as an MP3 download or in a streaming Flash player.