WWE Summerslam 2011: Where Is the Rest of the Card Under CM Punk & John Cena?
August 13, 2011
It's the day before Summerslam 2011 in Los Angeles, California, and there are exactly five matches announced for the card.  Yes, five:
1.WWE Divas' Championship: Kelly Kelly (c) vs Beth Phoenix
2. Wade Barrett vs Daniel Bryan
3. Mark Henry vs Sheamus
4. World Heavyweight Championship: Christian (c) vs Randy Orton
5. Undisputed WWE Championship with Triple H as special guest referee: CM Punk (lineal champion) vs John Cena (sort of interim champion)
And that's it. The second biggest show of the year (as WWE sees it, the Royal Rumble may be number two among most fans) has five matches announced to fill the better part of three hours. I suspect just two of them to have much time allotted to them.  The matches for the two men's world titles will surely get plenty of time, especially CM Punk vs John Cena.  They're coming off of a 30-plus minute classic in Chicago, at Money In The Bank.
As for the other matches, I expect Mark Henry vs Sheamus to be a good match, but it shouldn't go more than 10 minutes.  Daniel Bryan could get something good out of Wade Barrett, but I don't see them getting much time.  Meanwhile, as good as Beth Phoenix is and as much as Kelly Kelly has improved, there's no way they're getting more than a few minutes—as is par for the course with most of the Divas' matches.
I'm sure they will throw in at least one or maybe even two new matches, but this is the most mysterious lineup I can recall for a WWE pay per view event.  I'm not sure what will get added.  John Morrison vs R-Truth would make plenty of sense with Morrison back after the injury angles, but they just had that match on Raw with R-Truth winning decisively.  Why not save that match for Summerslam?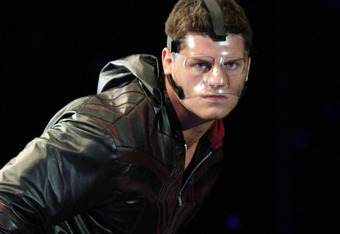 Gallo Images/Getty Images
Alberto Del Rio should have a spot somewhere, but his series with Kofi Kingston is seemingly done.  His quick, clean loss to CM Punk on Raw would normally signal that he's cashing in the Money in the Bank contract after the main event.  Having said that, WWE has been all about cancelling his title wins throughout 2011 because they were too predictable.
Dolph Ziggler vs Alex Riley on Raw ended indecisively, so I could see a rematch tomorrow.  Still, there's plenty of doubt here.
On the Smackdown side, there are a few potential matches.  Cody Rhodes won the Intercontinental Championship on Smackdown and could defend the title against Ezekiel Jackson in a rematch, or against a new challenger like Sin Cara.  Speaking of which, if WWE is running with the impostor Sin Cara storyline, Summerslam would be a great place to move it along.  Even if they're still unsure where they're going, Sin Cara in some form is someone who should be on the show.
Whatever they have planned, they're not showing their hand much.  Even given some of the stories we've heard about how often WWE changes plans, I do wonder if there is a plan in advertising so few matches.  Like I alluded to earlier, CM Punk and John Cena have a tough act to follow tomorrow night.  Not only was their match at Money In The Bank in Chicago one of the best matches in WWE history, but it was a very long match by WWE standards at almost 34 minutes long, had the most heat of any match in the company in at least 27 years and topped off an already excellent show.  Could they be going longer tomorrow night?