NFL Preseason Week 1: Analyzing the Snaps of Rookie RT Orlando Franklin
August 13, 2011
We all know we can glean very little from a preseason game, especially the first one. However, there are developments within any team that are worth paying attention to in these exhibitions, even if the final scores are irrelevant. One such development for the Denver Broncos is the progress of rookie right tackle Orlando Franklin.
On an offensive line that already contains two second-year players, there is much potential for chaos, especially when Franklin protects Tim Tebow's blind side if (when?) he takes over as starting quarterback. Bearing that in mind, I kept an especially close eye on Franklin for the short time he was on the field.
Overall, Franklin's performance in limited snaps was encouraging. There isn't a viable option behind Franklin, so the Broncos have apparently chosen to take their lumps with the rookie much like they did with Zane Beadles and J.D. Walton last year.
If Franklin struggles too badly, though, the team will be forced to pursue a veteran stopgap option until he is ready. The fact that they haven't done so yet is a testament to the faith the team has in Franklin's ability to learn quickly, which isn't exactly something he was touted for coming out of college.
Here are my snap-by-snap observations of Franklin's play against Dallas:
First snap: Franklin picks up a blitzing Anthony Spencer, but the pocket collapses on the other side due to pressure from DeMarcus Ware.
Second snap: Knowshon Moreno takes the carry through the B-gap while Franklin and Chris Kuper push for four yards.
Third snap: The line of scrimmage is crowded and Dallas rushes six. Franklin holds the edge and turns Ware deeper upfield his first time facing the All-Pro linebacker, allowing Kyle Orton the time to find a wide-open Eric Decker for a first down.
Fourth snap: Protection slides to Franklin's side with two tight ends set off his right shoulder. Franklin has nobody to engage at the snap but remains alert and saves a potential sack when Marcus Spears rips through the block of Kuper.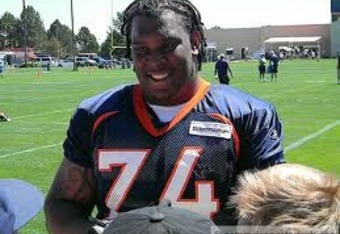 Fifth snap: Kuper and Franklin double-team Igor Olshansky, who doesn't even have time to set his feet before the duo drive him back into the second level. Moreno is able to take the handoff, cut back and follow Franklin's block for an easy first down, but Olshanksy spins out of Franklin's grasp and makes the tackle shortly thereafter.
Sixth snap: Willis McGahee takes a handoff while Franklin and Spears engage in a battle of leverage at the line, removing Spears from the play.
Seventh snap: The play is a designed run off right tackle and Franklin gets his hands inside on Spears but is unable to drive him back, much like the previous play. McGahee cuts back and gets the first down on the other side when Ware shoots in from the edge and loses containment.
Eighth snap: Discipline is an issue for the first time on Franklin's eighth snap, as he breaks for the second level too quickly and engages a backpedaling defender instead of Sean Lee, who shoots the gap and hits Moreno in the backfield.
Ninth snap: Another Moreno run through the B-gap on Franklin's side. Franklin holds Spencer up long enough for Moreno to hit the hole, but he is forced to the ground and unable to help at the second level.
Tenth snap: Franklin makes a mistake here. The play is a designed run to the left side by McGahee and Kuper pulls to the other side of the formation at the snap. Franklin's job was to take Kuper's assignment and take away the interior pressure first. However, Franklin wasn't quick enough and instead ends up lunging for air when Spears shoots through the gap created by Kuper and drills McGahee in the backfield. It's unclear whether Franklin didn't understand the blocking scheme on this play or if he simply wasn't quick enough to get a hand on Spears. If it was because he wasn't quick enough, it's understandable: Spears was penalized for jumping early, anyway.  
Eleventh snap: Orton throws a quick fade for Brandon Lloyd. Uneventful play for Franklin.
Twelfth snap: Franklin is on an island by himself defending the edge on his side. He doesn't quite get his feet planted and Spencer attacks his inside shoulder, driving the young right tackle back towards Orton, who is flushed out of the pocket. This is Franklin's first snap in pass protection in which he would be charged with a quarterback pressure, if such statistics were recorded in preseason games.
Thirteenth snap: Franklin and Kuper stuff one pass rusher at the line while Orton rolls out to the right. Jason Hatcher gives chase and Franklin tries to run him down before he reaches Orton but isn't able to do so, and Orton throws the ball away. It may appear that Franklin was responsible for the negative play, but Hatcher was actually center J.D. Walton's man and Franklin was the
only person in position to give chase when he broke away from Walton.
Like the rest of the Broncos offensive starters, Franklin was removed from the game after the first drive.
I am planning on going back to watch the film again over the weekend to analyze another rookie's performance.
If you have anyone in mind you'd like to know about without having to go watch the snaps yourselves, by all means please leave a comment saying so and I'll likely choose that player.